Probably the most stylish city wedding in the world...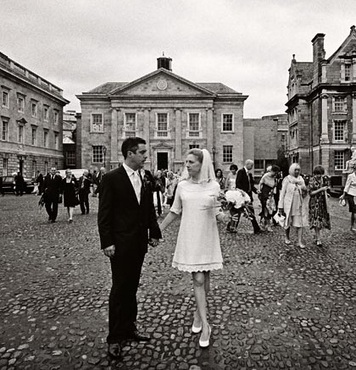 I remember when I first came across this wedding. After a long distance love affair with the city (not too distant however, as originally I'm from Clontarf!), I decided the time was right to take things to the next level, so I shacked up in a beautiful liitle apartment on George's Street, right in the centre of town...
I love the city, and yes there are the unfavourable aspects of it; it's not the cleanest space in the world, it has it's fair share of dodgy characters, the shopping isn't near as good as in the likes of London, Paris and Milan and on Saturday nights you have to be particularly choosey about the streets you take home from cocktail hour. But the crux of it is, Dublin is My City... and for every overflowing bin there's a beautiful secret park, for every dodgy character there's a national treasure, for every dicey saturday night there's a whispy Sunday brunch, and for every overpriced shopping experience there's history, literature and life.
As a city girl, my dream wedding is a city wedding. I have often thought of sauntering over the cobbled stones of Trinity College in a vintage ivory dress, flowing veil and colourful heels, dropping in for the Times and a coffee and creating a haven inside the walls of the beautiful Fallon & Byrne. Deirdre and Gerard Keating did it, with a little help from Studio 33 Weddings, and in it she created in my opinion one of the most iconic wedding images of our time, in the sometimes precarious, always facinating city of Dublin.
-Features Ed. Karen