Kay Douglas gives an inside look to the Irish customs and superstitions surrounding the rite of marriage. While it may no longer be fashionable to put faith in superstition, it is a wise couple who borrow from these charming customs.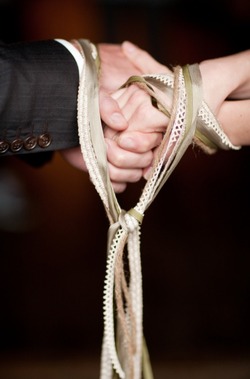 "A growing moon and flowing tide
are lucky times in which to marry."
Irish folk wisdom.
In Ireland, as it is in other countries, there is an abundance of customs and superstitions surrounding the rite of marriage. Some are well known, such as the bride carrying a horseshoe in her bouquet for luck or the placing of a piece of wedding cake under one's pillow at night for a dream of a future spouse.
Others, however, have been subtly absorbed into everyday practice and are no longer recognised as having been a part of marriages long ago. For example, the clinking of champagne glasses at a reception and the tying of tin cans to the back of a bridal car were originally attempts to ward off evil spirits.
While it may no longer be fashionable to put faith in superstition, it is a wise couple who borrow from these charming customs of old to add interest and joy to their wedding celebration.
When Niamh O'Carroll married Paul O'Sullivan a few years back in County Clare, they incorporated elements from their shared Irish heritage to make their wedding day personal and memorable.
To start they included an ancient Druidic blessing in their mass booklets for guests to enjoy and they partook in the custom of the "Groom's Declaration", whereby Paul presented Niamh with a small gift after the recitation of their vows. The gesture, long held as a uniquely Irish custom, symbolises a groom's willingness to share with his bride his worldly possessions.
At the reception, which took place in the beautifully restored Knappogue Castle, a lone piper serenaded Niamh and Paul and their bridal party from the garden to the entrance of the banquet hall. Once inside, guests were surprised to find themselves at a medieval banquet, complete with servers in costume, balladeers and even a dungeon. When toasting time came around, an Irish honeyed-wine, known as meade, was served alongside champagne and everyone raised their glasses to the couple's future health and happiness.
Whether you're looking for ways to bring blessings upon your new union or simply in search of ideas for making your celebration special, following is a selection of Irish bridal superstitions, customs, and folklore which are sure to help.
The Bride: If you look at the sun whilst leaving the house on the morning of your wedding, your future children will be healthy and beautiful.
Folk Saying: November is the time to wed, the harvest's in and it's cold in bed.
Horseshoe: Irish brides carry a small horseshoe in their bouquet in honour of a time when iron was considered a sacred and luck-bringing metal. In an old Celtic legend it is said that a brave warrior rescued the Emerald Isle from the sea by casting his iron sword into her rich soil. Having granted her life, the island became known as iron-land or Ireland.
Colour of Love: Green may well be the colour of Ireland but it may not be a lucky colour for a bride on her wedding day. It was once believed that the colour green belonged to mischievous fairies, who loved all things beautiful - especially brides. Rather than risk trouble, an Irish bride should wear something blue instead, as it is considered the true colour of love.
The Groom: If a groom wishes to bring luck to his marriage, he will follow the custom of ancient Irishmen and grow a beard for his wedding day. Beards were once very much a part of the Irishman's appearance and no chieftain went without one.
Druidic Blessing: We swear by peace and love to stand; Heart to heart and hand to hand. Mark, O Spirit, and hear us now; Confirming this our Sacred Vow.
The Kiss: To ensure good luck, the groom should always be the first to kiss his bride after the ceremony.
Wedding Toast: May God be with you and bless you; May you see your children's children. May you be poor in misfortune, rich in blessings. And may you know nothing but happiness from this day forward.
Cake: To have a vision of your future partner, take a piece of wedding cake and pass it through the bride's wedding ring three times. Take the cake home, wrap it carefully in a handkerchief and slip it under your pillow. During the night the face of your future spouse will come to you in a dream.
Warding off Spirits: When the bride and groom arrive to the reception, they should sprinkle a few drops of whiskey on the ground. It was once believed that this tradition would ward off evil spirits and keep a newly married couple safe from harm all the days of their lives.
Image found on:
www.stylemepretty.com