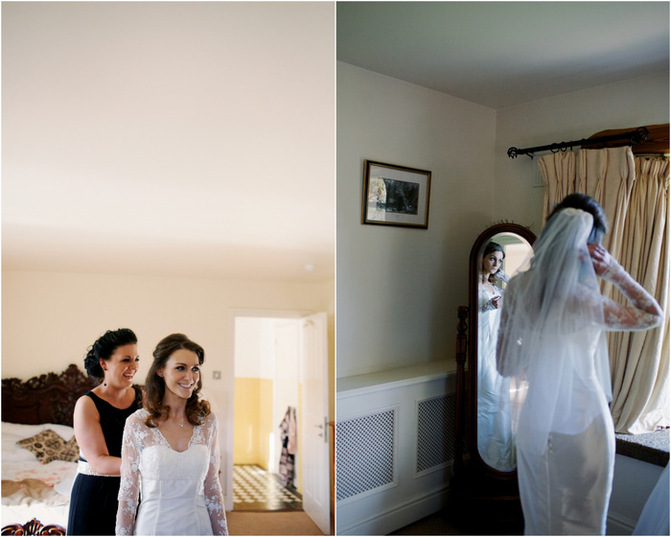 When you start shopping for your wedding dress, you should have with you a list of questions to ask when buying a wedding dress. Something magical happens the moment you try on a wedding dress; finding it, however, can be a crushing reality. So many gowns, so many styles, where do you begin? Bridal Shop Questions by Kay Douglas
You could race headlong into a bridal shop but chances are you'll only end up tired and frustrated. Before going anywhere, figure out the basics. Decide in which month you are marrying, the time of day, and the overall style of your celebration. Then, when you've got that sorted, keep in mind the following questions to ask when shopping for your wedding dress as you go along.
Main image by Moat Hill Photography
Questions to Ask when Shopping for a Wedding Dress
1. Have I a rough idea of how much I can spend on my wedding dress and accessories?
2. Does the bridal shop have an "appointment only" policy or can I walk in off the street and look at dresses?
3. Will I ask my best friend, sister, mother or someone else to go with me to act as my safeguard against pushy sales clerks and to give me their honest opinion when I try on dresses?
4. Will the store have strapless bras, shoes and slips to try with dresses or should I bring my own?
5. Does the store sell accessories (e.g., shoes, veils, jewellery, lingerie)?
6. Having gone into a store, are the salespeople polite and helpful? Do I really want to give them my business? Are they willing to work within my price range or do they keep showing me dresses that cost more than I'm willing to spend?
7. Can I have contact with the same salesperson from the first day or will I be dealing with a different person each time I phone or go in for an appointment?
8. Do dress, veil, and accessory samples ever go on sale? If so, when?
9. Having narrowed the selection, which dress is the most comfortable? Can I raise my arms, sit comfortably, walk up the aisle without destroying the effect of the train? Will I be able to dance the night away or will there be problems? Can the train of the dress be bustled? Has the sales clerk shown me how to do this?
10. Can my mother buy her dress in the same shop? Can my bridesmaids? What happens if they live out of town and cannot get into the shop for a fitting?
11. If we buy several dresses from the same place will they give us a discount?
12. Do I have to pay a deposit for my dress? If so, how much and when? When is the final balance due? Does the store give me a receipt stating the details of my order (manufacturer's name, order number, style of dress, size, price, delivery date, cancellation or refund policy)?
13. Should I expect alteration fees? If so, how much and when is payment due?
14. After ordering my dress, how long will it take to arrive into the shop? Can I place a rush order, if needed? Will it cost more?
15. Will the shop notify me when the dress arrives? Have they taken my details (phone number, address, mobile number, e-mail address)?
16. After the dress arrives, when do I return for a fitting? Do I need to make an appointment? What if I've lost or gained weight? Should I bring my shoes, lingerie and slip with me? How many appointments will be required?
17. When I bring the dress home, what is the best way to store it before the wedding? Do I remove it from the garment bag, take out the stuffing, and put it in the wardrobe?
18. Can the bridal shop suggest a reliable wedding dress dry cleaner for cleaning and preserving my gown after the wedding?
Related Content