A blisteringly hot day in Valencia and an iconic bride and groom, as shot by Studio 33 Weddings.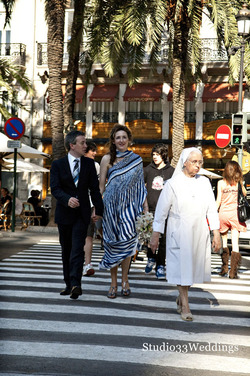 "Last June I got a last minute request to do a wedding in Valencia as the couple's photographer had let them down. As luck would have it I was going to be in Spain anyway attending the wedding of an old school friend in Marbella so it worked out well. Valencia turned out to be a real surprise. The couple, Rachel and Alan, were married on a blisteringly hot day in the beautiful San Juan del Hospital Church which dates from the 13th Century. The stroll from the church after the ceremony took us through the incredibly impressive City of Arts and Sciences which has been built in the dry river bed of the now diverted Turia River. This area was designed by Valencian architect Santiago Calatrava who also designed the James Joyce and Samuel Beckett Bridges in Dublin and it embodies his vision of the space age. It feels like another world and yet a short stroll took us back to the old city with it's medieval churches and tapas bars where the celebrations continued.
Certainly a place worth visiting if you get the chance!"
-Fionn McCann, Studio 33 Weddings