The ultimate addition to your wedding day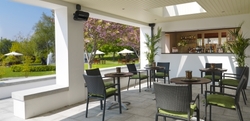 Sunday May 29th Saw the official launch of The Pavilion at Ballygarry House. This newest addition is a 5,000 square foot, purpose built, all weather pre wedding drinks reception and private event facility, comprising of an outdoor bar, bandstand and heated sun terrace.
The venue is specifically designed to add that wow factor on you wedding day and also to cater for your post wedding celebrations. Its contemporary and fresh design offers style, comfort and modern luxury and panoramic views of the Kerry Mountains. Your wedding guests will enjoy unspoilt garden and mountain views whilst sipping drinks and soaking in the atmosphere of your special day. The Pavilion blends with our 6 acres of landscaped gardens that provide the perfect backdrop for your photos.
For the day after celebrations The Pavilion's 'piece de resistance' is a custom made 9.5 foot gas fired grill barbeque, which can cater for up to 250 guests within an hour. You and your guests can enjoy The Pavilion and our new Barbecue menu- whatever the weather!