The Carlton Castletroy Park Hotel will take care of your every last wish to ensure that your wedding celebrations are as relaxed and memorable for you as they are for your guests.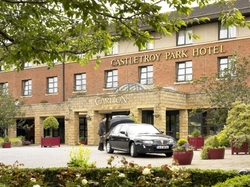 The Carlton Castletroy Park is pleased to announce that they are the first Wedding venue in Limerick to launch an exciting new online wedding technology called Moposa which enables couples to create a unique wedding experience for themselves and their guests. The award winning Moposa software helps couples share more of the experience with friends and family, simplify the wedding planning process and save time and money along the way.
Moposa takes the stress and strain off managing a wedding so couples can focus on enjoying every moment of the experience. They can use an online seating planner to drag 'n' drop their guests onto seating plans that are specific to the venue. In addition they can access tools such as guest list manager, task list manager, music planner and budget planner. Couples receive their own personal '.com' wedding website to enable them to share more of their wedding with friends and family. Guests can RSVP online, book a hotel room, check out weather forecasts and even get automated, personalised driving directions to the ceremony and reception.