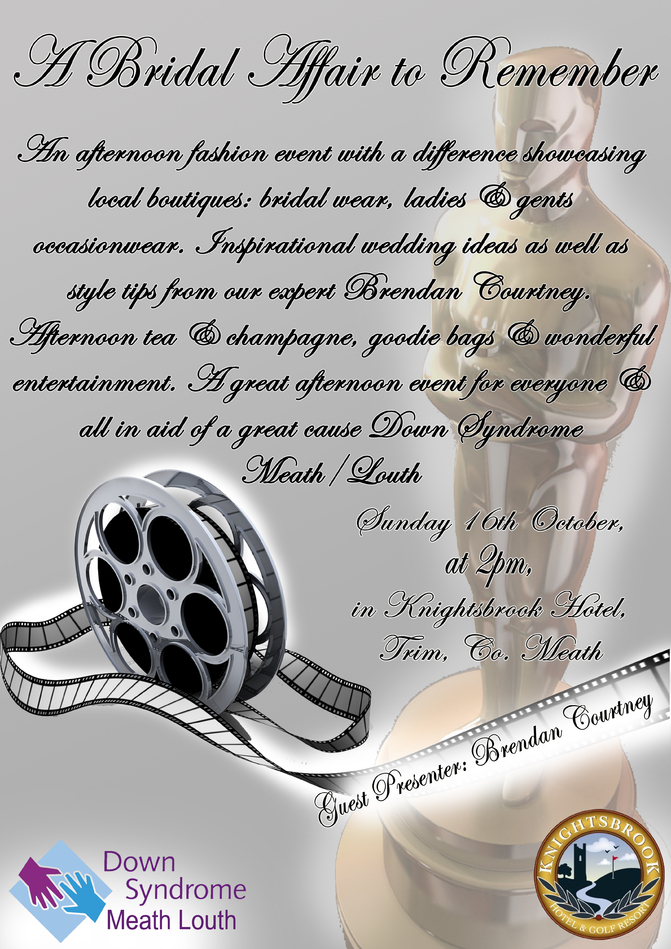 'A Bridal Affair to Remember' is on Sunday 16th October @ 2pm in Knightsbrook Hotel, Trim.
'A Bridal Affair to Remember' is on Sunday 16th October @ 2pm in Knightsbrook Hotel, Trim. All profits raised are going directly to Down Syndrome Meath/ Louth. This is a fashion show with a difference, models will be walking past the tables, so guests can see the clothes, hair & makeup up close & personal as opposed to on a runway. There will be bridal wear on show but also occasion wear, mother of the bride and mens formal wear. All boutiques taking part are local: Ebony, Stiletto, Diaz, Impressions, Lyn Mar Designs, Ollie & Mac, Ribbon Rouge, Abellé Bridal Boutique & Pat O'Byrne menswear.
For brides to be there will be the opportunity to see the fabulous venue of Knightsbrook Hotel & Spa, as well as inspirational wedding ideas that will be showcased such as a variety of table settings, wedding cakes, entertainment, candy buffet etc. It will also give brides the opportunity to see hair&makeup styles, as well as the option to speak to trained beauty therapists.
But the biggest and most important aspect of this event will be that all profits raised are going to Down Syndrome Meath/Louth, which will directly support this amazing society.
Its not just a chance for you to see wedding gowns & occasion wear,its also a great way to pass a gloomy October Sunday afternoon. Grab you friends and get a table & enjoy some fabulous afternoon tea (with champagne),sit back relax and enjoy the fashion show and listen to live entertainment and lets not forget our host for the afternoon Mr.Brendan Courtney (from RTE's Off the Rails) who will be presenting the show and will be on hand for any style questions...
This is an event for everyone, great wedding ideas: venue, dresses, hair & makeup, table settings, entertainment & much more for all brides to be. Great occasion wear fashion on show from local boutiques & just an all round fun afternoon in the beautiful setting of Knightsbrook Hotel & Spa with Brendan Courtney on hand to offer style info & advice
Please come along and support Down syndrome Louth Meath & also see what your local boutiques have to offer!
Tickets are €30 (which includes your afternoon tea, fashion show, entertainment & goody bag) and are on sale in Knightsbrook Hotel, (Trim) Ribbon Rouge Navan), Diaz (Trim), Stilleto (Trim), Ebony (Trim), Impressions(Trim), Pat O'Byrnes(Trim) & Abellé Bridal(Trim)