Here at WeddingsOnline we've pretty much seen it all. We've heard the horror stories of wedding dresses that didn't come in time, of nightmare in-laws, fake tan disasters, bad speeches and hair stylists who didn't show. We've also learned that even in the most dire wedding circumstances brides and grooms have an amazing ability to cope with the negative and have a wonderful wedding regardless of Auntie Marie's drunken outburst during the speeches.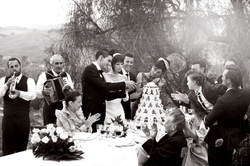 The success of a wedding doesn't depend on every detail going according to plan, but good organisation and attention to detail can prevent some of those pesky mishaps. We've compiled a list of the most common mistakes we see brides make when planning their wedding, in the hopes of keeping you stress free on your big day!
Losing weight after the final fitting
Lose all the weight you want in the months before your wedding, but after your last dress fitting you need to maintain whatever weight you're at. Nothing is worse than picking up your dress the day before your wedding and realising you've lost a whole dress size. Also, keep in mind that most brides lose a couple pounds in the weeks before the big day because of stress, so do your best to make sure you're staying healthy and eating proper meals.
>> Find someone to alter your dress in the WOL Directory
Not delegating
As the wedding day approaches and the to-do list grows, delegation becomes key to both your sanity and your wedding. It's simply not possible for you to do everything yourself. All the big decisions have been made, now is the time to bring in support to help you carry everything out. Your goal should be when the wedding day arrives you have nothing to worry about, because everyone knows their responsibilities, where they need to be and at what time. You will be stressed enough as it is and you don't need to be worrying about who is collecting the tuxes!
>> See groomsmen/bridesmaids' duties
Going over budget
You worked hard to come up with your wedding budget, so don't throw it out the window at the first sign of something new and shiny. When you are making your itemized list of expenses make sure to factor in the small, miscellaneous things like postage and gifts for your bridal party. Obviously, you will have unexpected costs and might want to change some of your original plans, but always try to sacrifice something else instead of spending more.  It's also quite possible you underestimated how much things would cost; in this case, you may need to rethink your venue, guest list or honeymoon, and if you still need more raise your budget as a last resort.
>> Register with WOL (it's free) to get your personal budget planner in MyHub
Forgetting your groom
This is an obvious one, but one that most brides deal with at some point in their plans...your wedding involves two people! Make sure your groom feels involved and important. He may not care about what flowers you choose, but he might care about the band or which of his friends are invited. So keep him in the loop.
>> Check out the WOL shop for fun stuff for the groom
Not being realistic about your guest list
The guest list should be one of the first things you do after you get engaged. It determines your venue, your budget and what type of wedding you will have.  Without careful planning, the guest list can also turn into your biggest wedding dilemma. Everyone from your parents, siblings, colleagues and even H2B will want something different, and it will be up to you and your fiancé to keep a cap on things. We suggest giving each set of parents a certain number of invites from the beginning so there isn't any miscommunication. It's also a good idea to overestimate who you think will come and add a couple extra onto the final number for good measure.  Be honest and realistic about your numbers, once you have the number stick to it!
>> Read 'How to Avoid the Pitfalls of the Guestlist'
Starting hair and make-up too late
We know it's tradition for the bride to be late, but don't make your guests wait even longer because your hair and make-up aren't done. Every make-up and hair stylist is different, so you should check with yours about how long it will take and plan accordingly. Make sure to factor in bridesmaids, mothers and anyone else who may want their hair and make-up done, and don't schedule yourself last.
>> Forums: Bridesmaids hair and make-up morning of
Not hiring professionals
Thinking that having friends do jobs that professionals usually do is a good idea, is an easy trap to fall into. It sounds pretty appealing to save a couple hundred euro by asking your second cousin to DJ instead of a professional. But just because second cousin Harry owns an iPod doesn't mean he knows the first thing about DJing or keeping a party going, it's not worth the risk! We see so many brides who are devastated after their wedding day because they didn't hire a good photographer or thought they could order their dress from eBay. Your peace of mind is worth the extra money, trust us! 
>> Ask Sophie for help finding the perfect suppliers for your budget
Skipping the rehearsal
Save your guests, the uncomfortable silences caused by technical problems or delays by making sure everyone involved in your wedding ceremony knows exactly what they are doing! It may not seem like a complicated thing, but coordinating a wedding ceremony is not easy. It's important that you hold a rehearsal where all musicians, readers, bridal party members and sound technicians are present. Go through the entire thing from start to finish at least three times and make sure everyone knows their cues.
>> See Cermoney advice, Suggested Readings
Lack of personality
Don't let your wedding fall victim to cookie cutter syndrome. Make sure you add details and touches that will make it personal and unique. This doesn't have to be costly or take a lot of time. Giving your wedding personality can be as simple as fun table names or writing notes to your guests as favours. Think about some of the things that define you and H2B and bring those to your big day!
>> Check out our blog where we have new ideas every day!
Losing perspective
Somewhere between saying 'yes' and saying 'I do', the temptation to lose all perspective gets the best of many brides. Your wedding day is important, it is a day you won't forget and it is worth the time and attention you are giving it, but make sure you are not forcing your friends and family to make it the most important day in their life too. The best way to keep perspective is by remembering what the wedding day is all about. You and the person you love most celebrating a lifetime commitment with your nearest and dearest, pure and simple.
>> Go and give your OH a hug (no link for that here I'm afraid! -KB)

Main image by Luisa Bianchin for Vanity Fair
Related Content