WeddingsOnline.ie is pleased to announce a new state of the art 'geo targeted' WeddingsOnline App, available for users on the iPhone/Android/Tablet Market, and a free feature for all WeddingsOnline.ie suppliers.
We recognise that over 20% of our traffic comes from mobile devices and this has been a growing trend over the last 18 months. We also expect it to significantly increase.
The App, which will be free for users and WeddingsOnline.ie suppliers alike, will allow the smart phone generation of brides and grooms to access all info on you, our suppliers, quickly and easily.
The App will allow users to access suppliers by:
Location
Proximity
County of choice
Industry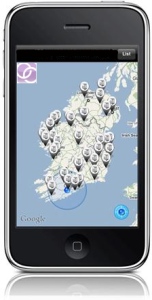 It will also give 'one touch contact' for email and phone, as well as 'one touch access' to images, content, contact details and a broadcast facility which enables suppliers to contact users of the App who are within a certain radius of their premises.
It also allows for special offers to be broadcast to users, and has many other interesting features. This app will be launched in December 2011.

What we need from you:
While this is completely free of charge for WeddingsOnline.ie suppliers, we do need your help. To ensure that you are live on the App for launch day, we need you to supply us with your full business address and also your GPS co-ordinates by Friday 28th October.
The easy way to get your GPS co-ordinates is to follow this link and input your address - http://www.itouchmap.com/latlong.html
When you get your GPS co-ordinates, please email them to [email protected] by Friday 28thOctober.
Thank you for your continued support of www.WeddingsOnline.ie - more than a website.