Glenview Hotel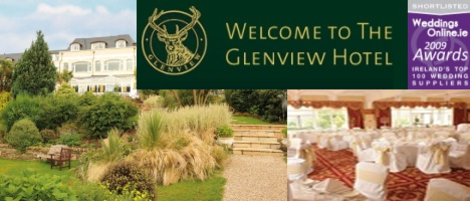 Supplier Details
Your Perfect Wedding Venue in Wicklow
Say I do at the Glenview Hotel
.. A few weekend dates available in 2012 … and 2013 menus available ..
Diamond package from €65 M/wk - €75
One wedding only … to make it your special place for your special day….
Stunning grounds … perfect location
Franc entertained the guests at the recent Wedding fair .. and gave loads of interesting tips on planning your wedding at the Glenview Hotel..
Contact our wedding team at [email protected] glenviewhotel.ie
We will give as a prize 2 nights BB  in a suite and 2 treatments  in the Haven. A relaxing pre wedding break ..  
Testimonials
Dear Gina,my partner and I would like to say the biggest thank you to you and your staff at the Glenview Hotel for the superb way you handled our ceremony party on 12th November last.
I had carried out alot of research on three other hotels in Co.Wicklow and also The famous Shelbourne Hotel in Dublin as possible venues to have our special party and none of them came close to the feel and vibe I felt when dealing with you and your staff. As soon as I started to describe what elements we wanted to include at our party, we just felt straight away that you and your colleagues were going to take care of us.
Our party was quite a complicated one, with many different elements, such as Casino entertainment, magicians,games,'Grab A Grand' competitions and music but it was never a problem to discuss these points with you and in fact,we never had to make too many calls at all because of the way you followed our requests to the letter. We had quite alot of guests staying at your hotel, another complication which was very easily looked after by your accommadation team and out of those thirty two guests not one of them had a single complaint, on the contrary, many of them would go back to The Glenview Hotel for their own holidays.At the party itself, the staff could not be more attentive. The service was fantastic and the food was only brilliant. Every person there commented on how good the food was and special thanks to the chef and his team for the little extras he added such as the carved food displays and the stand-alone cheese platter displays. To summarise once more Gina, we couldn't have asked for a better venue to have our party at. You and your team ticked all the boxes, you were so easy to deal with and your little extra touches brought the whole party together effortlessly. Thank you so much, Best regards.