Maryborough Hotel & Spa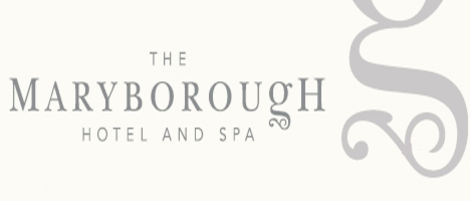 Supplier Details
Heralded as one of the most romantic hotels for weddings in Cork, the Maryborough Hotel & Spa is a magical location for celebrating one of the most important days of your life. Every detail of your Maryborough wedding will be considered and every expectation exceeded with the renowned service and iconic elegance for which the hotel has long been known.
Couples seeking a breathtakingly beautiful venue need look no further than the tranquil setting of Maryborough Hotel & Spa, one of Ireland's most enchanting venues. This landmark hotel is the perfect place for the perfect beginning.
Sip champagne & cocktails in the surrounds of 300 year old listed gardens, a photographers dream backdrop. The unique and exclusive Maryborough Dome will guarantee a private garden setting for all drinks receptions.
A seamless transition to the stunning backdrop of the mood lit ballroom with your choice of elegant candelabras, or freshly cut floral decorations awaits. Here you will enjoy a sumptuous banquet uniquely designed to your personal taste with the assistance of the Award Winning Executive Chef and your dedicated wedding co-ordinator.
At the end of your perfect day retire to your luxurious suite and relive the magical moments over champagne breakfast.
At the Maryborough Hotel and Spa you will enjoy:
4* deluxe hotel in 18 acres of 300 year old listed gardens & woodland
93 Exquisite rooms & suites
Full Leisure Centre (18m pool, sauna, steam room, Jacuzzi, 36 station Technogym gymnasium)
Award Winning ESPA Spa
Zings Restaurant & Café Bar
Sherrard Suite for weddings from 80 to 300 guests
Enhanced mood lighting combinations
Luxury Spa Packages for Hen Parties
Finishing Touches Studio for manicure, pedicure, bridal make up, waxing & tanning
Maryborough Dome - exclusive drinks receptions overlooking gardens
Affordable luxury for your perfect day
The Maryborough Dome set on beautiful grounds goes down a treat with brides
Cork brides can expect to experience something special and unique at Cork's premier wedding venue the Maryborough Hotel and Spa, having permanently set up the Maryborough Dome in the exquisite 300 year old gardens of the four star Douglas Hotel.
The Dome is the perfect location for a drinks reception for wedding guests as it is set in the grounds of the hotel, looking out onto the beautiful panoramic gardens. Guests can sip champagne & cocktails in the surrounds of 300 year old listed gardens which make a wedding photographers dream backdrop. The dome is very private and holds up to 250 guests at a time. It is the perfect way to take advantage of an outdoor setting in our unpredictable Irish climate while still having access to a great view.
New for 2011 - all inclusive packages from €58 per person
With our Compliments:
Dedicated wedding co-ordinator
Wedding Menu & Wine Tasting for Bride & Groom
Complimentary Half Day Spa Ritual for Bride & Groom
Complimentary Leisure Club membership & training programme for 3 months prior to wedding
Overnight accommodation in luxurious Suite
2nd night complimentary accommodation if required
First Anniversary Romantic Champagne Dinner and overnight stay
Red Carpet & Champagne Welcome on arrival for Bridal Party
Silver Cloching of Main Course & White Glove Service
Our Rooms
The warmth, luxury and character of our bedrooms will ensure that your nights are as restful as your days are enjoyable when you stay in the Maryborough Hotel and Spa. Please note that all rooms are non-smoking.
Testimonials
We got married at the Maryborough in August this year. Before we saw the Maryborough, we`d been to a number of other hotels in Cork City and Kinsale, but as soon as we saw the Maryborough, our minds were made up. They were accomodating of our civil ceremony, the grounds and also the interior of the hotel is gorgeous and the staff, especially Sinead who we mainly dealt with, were fantastic from the word go. We found we had such an easy time dealing with Sinead that when we got close to the wedding it felt almost like we`d forgotten something major because everything went so smooth and there was no hassle- I had imagined (also from hearing other peoples` stories) that there`d be so much running around and stress- our day didn`t turn out like that at all. The hotel took care of every last detail, the food was amazing, all of our guests were well looked after and all loved the hotel. I can`t wait to see how our pictures turn out! Also, just as a final glowing endorsement- the bridal suite is out of this world- we didn`t see it until the day before the wedding and it took our breath away, you`ll be well & truly spoilt there!

In our view the correct venue is critical to the wedding experience. The service and the attentiveness to our requirements from the staff at The Maryborough was first class. From day one through to the big day we felt confident and relaxed in the care of these professionals, just what you need under the circumstances. We couldn't have asked for more and the guests praised the event for a long time to follow. Thanks again to all the staff at The Maryborough who made our wedding such a special day.

A big thank you to all at The Maryborough Hotel for such a wonderful experience: both the day itself and the lead up were extremely well organized and stress-free. Thanks to your personal touch, David and I have great memories from our wedding day. Our guests were delighted with the beautiful setting, relaxed atmosphere and high level of service. We were all very impressed with the attention to detail and professionalism of the staff. The food surpassed our wildest expectations with guests commenting on the quality and presentation. Our wedding day was truly memorable and an utterly unique experience: our enduring memory of the 'big' day will be of sipping champagne in your beautiful gardens soaking up some unexpected April sun!

Sinead, Sean and all the team at the Maryborough ensured our wedding day on January 1st was a truly memorable one. The unique setting, the food, the service and attention to detail was second to none. Overall a beautiful hotel with high standards and impeccable service

We had the most magical day of our lives this march in the Maryborough hotel.

Every detail was catered for no matter how big or small. We spent many a morning with Elaine going through our thoughts and Elaine gave her expert opinion without fail. Eliane is like breath of fresh air, she was on the ball with everything and we were totally confident that our day would be very special.

Everything from start to finish was 100% perfect. Every member of the hotel staff and management were smiling, friendly and professional. All our guests raved about the food and atmosphere in the hotel. I even had someone tell me that our wedding was better than her own wedding! That was some complement as you well know every bride thinks their wedding is the best ever !!

We would do it all over again and change nothing.

We can not say enough good things about the Maryborough. From the day I rang to enquire about dates and making an appointment to view, Sinead stood out as being different to the rest. Maryborough was the 5th hotel I rang that morning – I had a list, I was put through to Sinead and she was so friendly, the first thing she did was congratulate us on our engagement

I realised at that moment that this was the first hotel that had done that – and it was just a lovely touch but also it made me thing the hotel were friendly and didn't seem bored but the whole wedding planning thing. We met Sinead that week and she was just lovely – seemed genuinely excited for us and very willing to take the wedding planning journey with us

While it was the first hotel we viewed we viewed another 7 after and each one was a disappointment in comparison

From the Manager standing us up, to another manager being 40 minutes late for our appointment, and then another hotel told us have a wander ourselves and see how we get on

It made us more and more aware of how different the Maryborough and Sinead had been. So obviously we booked the Maryborough and they were just super to deal with

I think our favourite bit was we dealt with Sinead each time – one of my friends is getting married and every time she meets her hotel it's a different person. We were able to build up a relationship with Sinead and she kept track of everything we asked for and made sure it all happened on the day. We only met with Sinead 3 times in total from viewing to the big day but there were a good few email and phone conversations. There was no task to great for this hotel, anything we asked for was looked after. Also on price we found the girls very fair to deal with. The day itself was perfect – with all our guests commenting on the service, the food, how lovely the rooms were.

We left the Maryborough after our wedding totally delighted and we have both said there wasn't one thing they could have done better