Muckross Park Hotel & Cloisters Spa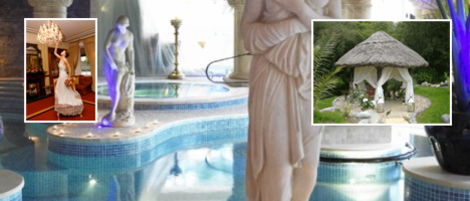 Supplier Details
The 5* Muckross Park Hotel & Cloisters Spa is the only hotel located in Killarney's majestic National Park with 25,000 acres of magnificent mountains, lakes and streams on our doorstep. A five minute stroll will take you to magnificent Muckross House, the Abbey, the traditional farm and the shores of the lake.

The Muckross Park Hotel & Cloisters Spa has 68 luxurious guestrooms and suites. Each room has been designed for your comfort and furnished with beautiful antiques and luxurious fabrics.
The monastic themed "Cloisters Spa", which offers a unique approach to beauty & wellbeing, is Ireland's most exclusive 'health and wellness" Spa facility. The Cloisters Spa aims to give the ultimate Spa experience that extends to a deeper level of relaxation and rejuvenation.
The Muckross Park Hotel & Cloisters Spa has a dedicated and experienced wedding and events team along with professional staff that can help you plan a magical day which reflects your own personalities.
Every care and attention has been taken in the compilation of our wedding menus by our Executive Chef using the finest and freshest ingredients available, which are purchased on a daily basis.
We can cater for up to 180 guests in our Medieval Atrium and Abbey Suite, 150 to 260 in the classic Valentia Suite or for a more intimate wedding the Bourne Vincent room is perfect for 10 up to 30 guests. Which ever room you choose, with the spectacular Killarney National Park as the romantic backdrop, Muckross Park Hotel really does make your dream day come true.
The Medieval Atrium
A bright and airy Medieval reception hall with walls of glass and stone interior is a perfect location for your civil wedding ceremony or can be used for the drinks reception. Our Atrium is an idyllic setting with a warm and inviting atmosphere. It is decorated with literary themes of Irish writers, a beautifully sculptured chandelier and authentic mahogany Tudor fireplace. It has its own private garden with a wishing well perfect for those wedding photographs.
The Abbey Suite
Situated above the Atrium the Suite, overlooks the Killarney National Park. The suite also boasts Tudor mahogany panelled walls and fireplace and wooden floors and bar facilities to complete the perfect atmosphere for your special day.
The Valentia Suite
Perfect for the larger wedding and classically designed. Our newest banqueting suite is well proportioned with large windows overlooking the slate fountain. In the room is an elegant granite bar for cocktails after dinner.
The Bourne Vincent Suite
The Bourne Vincent is housed in the original part of the hotel and is adorned by antiques and beautiful artwork, making it a unique venue for your guests.
With a maximum of 30 guests, this is the perfect venue for an intimate wedding.
Your Wedding Package includes:
Complimentary accommodation in our Luxurious Bridal Suite for the Bride and Groom with Champagne breakfast in bed the next morning
A red carpet arrival
Champagne for the bride and groom on arrival
The menu of your choice
Complimentary tasting of your chosen menu prior to your wedding
Floral decorations and church candles on each table
Silver Cake Stand & Knife
Complimentary First Anniversary Accommodation to revisit the memories
Complimentary access to the Vitality Pool and Thermal Suites in the Cloisters Spa to relax together before or after your wedding day
Reduced rate bridal package in Spa (in preparation for the big day)
Reduced rate accommodation for your guests
Testimonials
We had our wedding at the Muckross Park hotel in July 2010 and it was the most amazing day of our lives. The setting was perfect, the hotel is full of character and luxury and the staff in particular Niall and Erwan could not have done enough for us and our guests. the food was outstanding and the atrium and abbey suite are so dramatic and make for a great party. The same staff looked after us all day from early morning until 5am the next day! cant wait to go back to this magical hotel

The surroundings are amazing and we had a beautiful sunny day so that just added to the day for us.

Muckross Park Hotel treated us like royalty during our Wedding weekend this year (2005). Edie, Shane and the staff are friendly and helpful to everyone, not just the bride and groom. Flexible, open to suggestions and went along with our wishes as well as organising everything very professionally. We had a fabulous weekend, we were waited on hand and foot and we had loads of fun with the staff too. Sound bunch and they're running an excellent venue for brides there! Feel free to contact me for more info if you're curious.