Tahnee Morgan Designs - Tiaras and Headpieces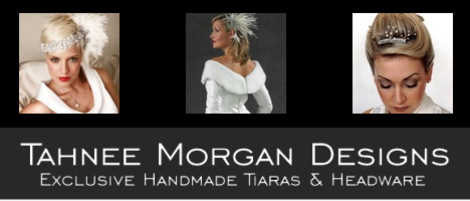 Supplier Details
"Bursting with energy and passion for her craft, Tahnee Morgan has been creating custom-made headpieces for weddings and special occasions for over ten years".
Tahnee has a flair for detail making a visit to her Bridal Tiara Studio in the heart of Dublin, a must for every bride to be.
The exclusive, professional and individual advice that Tahnee offers stems from her wealth of experience in dressing both Irish and International Brides.
Tahnee designs a wide selection of tiaras, crowns, combs, and Alice bands - from traditional to the ultra modern, as well as a selection of individual designer accessory items.
Noted for her exquisite craftmanship Tahnee Morgan designs offers perfect designs for your special day!
Click thru to Tahnee's website to view her most recent collection and to read more on her high profiled career to date.
Testimonials
Tahnees studio was like nothing I have seen before. Her collection of handmaid headpieces was something to marvel at and her attention to detail was second to none. Even though I was just a bridesmaid at my aunts wedding, Tahnee made full sure that my aunt and I were both very well looked after. Tahnee carefully teamed colours and textures of her materials to fit with the ideas and colours my aunt, The Bride, had chosen.
With all the other stresses that come with planning a wedding, we had no stress with Tahnee. She was so professional and really knew what she was talking about, we knew we could trust her judgement with the headpieces for the bride, bridesmaid and flower girls. We were so impressed with Tahnees work that we recommended her to many of the guests for the wedding, but also for any other occasion. Tahnee helped make that special day, that little bit more special!!

As a guest at my sisters wedding i didnt expect to be complemented so much on my outfit. I had been looking forward to the day for 6 months after buying my dress abroad. I had no idea what hat to wear, but after visiting Tahnee in her design studio I was shown that there was no end to the options I had in regards to head pieces. Tahnee spent lots of time and gave over loads of advice on what I should wear and how to team it with the dress and other accessories.
In return to thanks Tahnee I pass on her details to anyone planning a wedding or event.

What can I say about Tahnee - only that she is a legend.With just two weeks to D-day, I finally got the chance to try on my dress and veiltogether, only to realize how ridiculous the ensemble looked. Hence, I landed flustered and freaked-out in Tahmee's bijou Blackrock studio and beseached her to help me with an alternative to the veil. Working in the fashion industry I'm a bit jaded by fasicinators and vintage slides and wanted something different - well what bride doesn't? So we played around with a few options, rummaged through realms of fabric and beading samples and within an hour had settled on a Greek-inspired applique headband which Tahnee added a modern twist to by adding a gold and pearl rose slide, to sit at the end of the band Tahnee had samples made up for me within the week and she duplicated versions of the rose so my bridesmaids could echo the theme in their hair and likewise made a butterfly version for the flower girl. On the wedding day I was bombarded with compliments on my accessories - and as the pictures testify they really pulled the entire look together. I've already ordered more pieces to wear at fashion week and the races next year from Tahnee and cannot give her creativity and conscientious attitude enough praise.

Bridezilla no more, this is where the drama came to an end.....
After months of searching and sore feet traipsing about the country looking for that something special that would complete my wedding dress, I was thankfully pointed in the direction of the wonderful Tahnee Morgan.
Coming from a design background I understand the fundamentals of creative design & detail, also being the bride I understand the need and desire to look amazing on my big day. She had a tough customer on her hands.
When I stepped into Tahnee's Boudoir in Blackrock my heart far from sank, I was in awe, I had just walked into a world where design has reached a new level. Her attention to detail, the multitude of design concepts, a world of sparkle and delight, the only problem was what to choose..... !
Tahnee and I sat down and I described what Image I was looking for, equipped with my dress of yards of ivory silk under one arm and her knowledge and ability under her arm, Tahnee produced what I can only describe as "the piece de resistance" A headpiece unlike no other, a flourish of delicate feminine feathers, discrete sparkling gems. I thought my dress was "Fab" before, but adding the headpiece made me feel out of this world. I felt like Elle Mc Phearson (minus the 6ft leggy frame ) strutting her stuff down the catwalk, Now all I had to do was wait an antagonizing 2 months to wear it.....
After a plethora of compliments on my big day last September, numerous friends & I have returned again and again to the Blackrock boudoir of Tahnee Morgan for head pieces for weddings, parties and whatever excuse we can find to wear one of these fabulous creations.
Some great things in life should be shared; Tahnee's designs are one of them.

I went to Tahnee to get her to design a headpiece for myself and my bridal party for my recent wedding . I was wearing a simple dress and wanted a unique head piece that stood out.
With her experience as a designer she offered her expert advice in selecting the right headpiece for myself, my bridesmaids and flowergirls.
Tahnee designed me an absolutely stunning vintage inspired silver and pearl slide. I couldn't have been more pleased with the finished headpieces. My headpiece was an outstanding feature of my outfit and everyone commented on how stunning all of Tahnee's headpieces were.
I couldn't recommend Tahnee Morgan Designs more- her service is second to none as are her amazing creations.
I have included a photo of the butterfly headpieces that Tahnee created for my flowergirls.

I saw Tahnee's work in Irish Brides Magazine,
I needed something small for my hair as my
daughter was getting married in Italy in June,
She made me small pieces that looked like
something out of channel it was black with cream pearls and velvet flowers.Many thanks Tahnee I have recommended you to all my friends. (wedding on June 2010)

I met tahnee at her stuido in blackrock and was surprised at the amount of styles and colours in her headpieces,she even measured my head for my tiara which was beautiful .It now lives in a glass box in my bedroom.

I would highly recommend using Tahnee for any bridal headpieces. She made me feel completely at ease and had lots of different ideas that I was able to try in her studio, some things that I would never have thought of trying. She made some beautiful pieces I was able to put under my veil that worked perfectly when I took the veil off. She also made small pieces for each bridesmaid that perfectly matched their dresses.Tahnee has a lovely manner and she made the whole experience thoroughly enjoyable and fun. I cant recommend her enough!

My friend introduced me to Tahnee Morgan last year. So when I visited Ireland in May 2010 I did not hesitate to make an appointment to visit her studio. I was so excited to see the variety of hair pieces she had created. I was looking for a piece to wear to the annual summer ball in our golf club. I purchased a beautiful pink and purple creation with diamonds - it just finished my dress off to a tee !!! I have since passed on Tahnee's details to my friends and family. The hair piece will be back on show this Christmas and New Year - it was a good purchase and I know I will get to wear it many times over the years. Next time in Ireland I will make sure I visit Tahnee again to purchase another piece. I wish her well in business.
Best wishes

I just want to say a big big thank you to Tahnee for making exactly what i wanted, I am a nurse working in Dublin i got her details from the girl at my work i am from Philippines. i was looking for something that looked oriental she made me a piece called China!!! it was really beautiful and smaller ones for my bridesmaid, i was so happy with her work she is a lovely and kind person best wishes

I just purchased my head piece from Tahnee. She is so easy to work with. I sent her a swatch of fabric from my dress and she made exactly what I asked. It's great to have something that was made especially for me. It was a pleasure to visit her studio where she showed my sister and I various pieces she had made and allowed me to try them. I will definitely be purchasing something from her again as she made the process very simple and affordable for a one off product!!

Contact Details
Exclusive Handmade Tiaras, Headwear and Fascinators
By Apt only, Studio location, Blackrock, Co. Dublin
Dublin
Contact name: Tahnee Morgan
Phone: 01 2788497
Fax: 01 2788497 (call first)
Mobile: 086 8778932
www.tahneemorgandesigns.com

Interact