Rangoli - Hair Accessories & Jewellery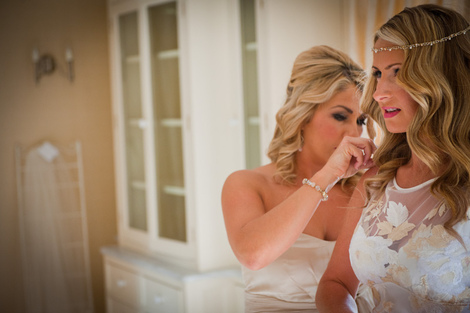 Supplier Details
Blog: rangolijewellery.blogspot.com
Do you need help and advice on styling your elegant bridal look? Would you like to have accessories designed specially for you? Aisling Nelson designs a range of delicate bridal jewellery and hair accessories. These delicate and feminine collections incorporate semi-precious stones, Swarovski crystal and pearls.
Aisling has a studio in The Design Tower in Dublin. Here she has a spacious, elegant showroom where she exhibits her range of jewellery and headpieces. Dealing on an appointment basis, she offers her clients a friendly and personal service. During an initial consultation, the bride can try on a variety of different styles and discuss the type of look she would like to create. Pieces can be easily customised to match a particular fabric or colour theme that you may have. Working from the simplest form of hair or neck adornment to the more elaborately decorative pieces, each design is created to suit the personality of the wearer.
Rangoli designs include a variety of hairbands, hair combs and pins, and a selection of delicate hairwires, which can be woven through the hair. The jewellery ranges include necklace, bracelet and earrings, which can be bought individually and are available on gold or silver chain.
Aisling designs for brides, bridesmaids and mother of the bride, offering a number of collections available directly from her showroom. She also works to commission where she will work in consultation with the client to design a one-off piece.
For more information and images of Rangoli jewellery visit www.rangoli.ie or contact Aisling to arrange an appointment to visit her showroom.
Testimonials
I made an appointment with Aisling with a specific look in mind for my headpiece - but after chatting to her and trying a few styles - I found the one! Aisling is extremely professional, friendly and most importantly gives an honest opinion - would highly recommend her.

I found the most stunning hairpiece in Rangoli, and I just felt fantastic wearing it. I have gotten so many complements on it, as it was different and so elegant. Aisling was lovely to deal with, a very genuine, interested and relaxed lady. It was one of my favourite shopping experiences as a Bride-to-be.


Aisling made my hair and neck pieces for my wedding. I was absolutely delighted with them and they matched my dress perfectly. For any bride to be out there who is considering getting their wedding jewellery designed exclusively, I can highly recommend Aislings work.


I have a brief comment to make about Aisling's work in Rangoli. She is such a lovely person to work with; we designed the most perfect pair of earrings for my wedding day. I love them to pieces. The whole experience with Aisling was relaxing and enjoyable and she really listened to what I wanted.
I cant wait to wear them on my wedding day. To all brides out there we need to treat ourselves to something special and definitely getting something made by Aisling is the perfect treat. Thanks Aisling,


Today I picked up my hair pins and spray from Rangoli and it looks absolutely fantastic. Aisling is very helpful and listens to all ideas you have, to make your dream hair accessoires. There are also a lot of beautiful necklaces, tiaras and earrings on the shelfs to have a look at. Its hard to make a decision what to get...
Can't wait for my wedding day to wear it...


I ordered a hair wire and clip from Rangoli. The order came in time for my hair trial which was brilliant. Aisling is very professional and helpful. The hair accessories are absolutely stunning and you can see the work that went into them. I look forward to wearing them on my wedding day.

Contact Details
Studio 67 The Design Tower, Trinity Centre
Grand Canal Quay,
Dublin
Dublin 2
Contact name: Aisling Nelson
Phone: 01 6708476
Mobile: 087 6355655
[email protected]
www.rangoli.ie

Interact