Dreamscapes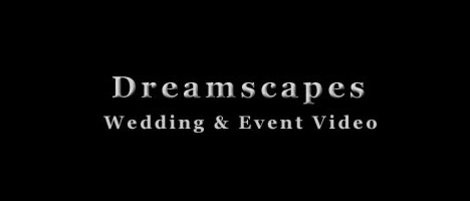 Supplier Details
At Dreamscapes, we have always taken great pride in our dedication to quality.
We create imaginative, entertaining and innovative movies. We use High Definition compact digital cameras and employ a discrete, photojournalistic style. We are completely unobtrusive, yet with a two camera shoot, don't miss a thing.
Our goal at Dreamscapes is simple... to provide you with the finest video reproduction possible of your wedding, while delivering customer service of the highest standard.
All our wedding packages can be fully tailored for each client's specific requirements. We meet you before the big day to find out exactly what you want. We can start filming at the bride's house or begin with the ceremony. We can finish filming after the first dance, or after the last dance!
All weddings are filmed with two cameras. This allows us to be much more discreet at the church and during speeches. A two camera shoot also allows for a much more dynamic production. The footage from both cameras is edited together seamlessly in post production.
Our most popular package covers:
Photomontage featuring old photos from your past
Visit to bride or groom's house (camera 1)
Arrival of guests at ceremony (camera 2)
Ceremony (cameras 1 and 2)
Post ceremony. Greeting line, Photo shoot, etc.
Arrival of wedding party & guests at reception, photos, etc.
Bridal party entrance to reception hall
Speeches (cameras 1 & 2)
Finish filming at 10pm (usually covers first dance and small portion of dancing)
Slow motion synopsis of the day
Please visit our web site or email us for more information:
Web: www.dreamscapes.ie

Testimonials
We both adore the DVD, and you and your wife have been an absolute pleasure to deal with from start to finish, so thank you so much for capturing the memories of our very special day in such a professional and friendly manner.

Again, we are delighted with our DVD so thanks again so much for everything on the day and with the fabulous job on the editing! We will be passing your details onto all of our friends!

We received the DVD's last week and we absolutely love them! Thank you so much for capturing so many amazing memories for us of our special day. It was so well edited and put together, its something we will cherish for ever! 

Thanks a million Martin for this.  We loved the DVD it was great and got all the best bits .... I would seriously recommend you both as I never even noticed you were there.

Just wanted to drop you a quick mail to say a massive thanks to you for the DVD. We are both amazed at the work you have put in here and we are both extremely happy with the finished article. Everyone that has seen it so far cannot say enough good things about it. We could not be happier with the way it turned out!

The dvd is fab, thanks so much, we really love it!

The 2 of us cried like big eejits watching it, we are absolutely delighted with it and dd loved watching herself on TV! Thank you both so much for all your hard work.

Hi martin..got them ok thanks,they are brilliant and we are extremely happy with them..we will be recommending you both to everyone we know getting married..thank you so much again.

Thanks so much for a brilliant job on the day. The cameras were so discreet during the Mass service and for the rest of the day. This is evident from the relaxed clips of family & friends - they weren't even aware the cameras were there!

The dvd's are fantastic. It was great to see so many moments we missed on the day. The feedback from family & friends is excellent too. Everyone has remarked on how it was edited & put together and the choice of music placed at the different parts.

We really can't thank you both enough for such an amazing job and I'll have no hesitation in recommending you, in the highest regards, to friends & family in the future.

We were absolutely thrilled with the DVD. So happy we decided to go with yourselves and will highly recommend you to anybody we know. Couldn't have asked for better and couldn't find fault with…


The Dvd's are fab !!!! Thanks again for all your wonderful help ! U really captured the moments !!


Just wanted to say a massive thanks for the amazing job you did with the DVD.
David and I are thrilled with it. Everyone we have shown it to over the last week can't say enough about it.
We couldn't be happier with the way it turned out.


Thank you so much for such a fantastic DVD of our wedding day. We are both so pleased with the outcome. We couldn't have wished for anything better.


We just watched the DVD and it is brilliant. We are so thrilled with it. We could not have imagined it to capture so much of our day. It is truly a spectacular job.


Highly recommend Dreamscapes. We met them a few times before the day and Martin was great to deal with, very laid back and basically did exactly what we wanted. On the day they were great, they captured everything that we wanted and because there are two cameras it was a lot more relaxed (well it was for me!)
We both loved the video and everyone looked relaxed on the day which is what we wanted.


Just wanted to thank yourself & Antonia for the brilliant job you both done with our DVDs. Both ourselves and our families & friends were amazed at the quality of it. It is by far the best wedding video/dvd we have seen. We have watched it several times over the weekend and are thrilled with it. The extras/bonus material is brilliant, we loved the black & white film & the old movie.


Just wanted to let you now that we are absolutely thrilled with the DVD. Absolutely amazing and you both really captured the spirit of the day.


Our DVD package arrived today and I want to say an absolutely HUGE THANK YOU to you both for such a FANTASTIC JOB. I laughed and cried watching the DVD and never imagined that it could be so brilliant. I really appreciate all the effort and time you spent on making it so good. Many many thanks for everything.

Contact Details
Dublin, Lucan,
17 Weston Court,
Dublin
Contact name: Martin or Antonia
Phone: 01 6217019
Mobile: Martin at 087 2242179
www.dreamscapes.ie

Interact