Digital DJs - Nationwide Wedding DJ Service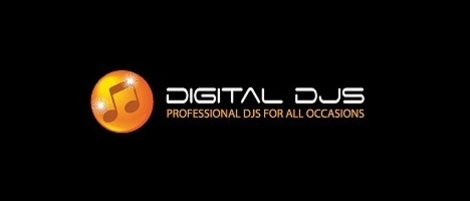 Supplier Details
May we take this opportunity to congratulate you on your upcoming wedding. For the most important day of your life, trust Digital DJs to provide you with the very best entertainment to make your day one to cherish for years to come. Weddings have been the very cornerstone on which our business has been built on.

Since formation in 2003, the company has gone from strength to strength establishing itself as one of the leading players in the market providing DJ entertainment. Since our formation we have provided DJs for in excess of 1500 weddings. We continue to remain high on the list of recommended suppliers by clients, hotels and wedding bands.
Entertainment plays a crucial role in how your guests perceive the wedding. Our professional djs have years of experience and hundreds of weddings under their belt. They are approachable, experienced, friendly and professional and have a dedication to ensuring that your wedding is a success.
Our policy on music for weddings is simple. We want it to incorporate and reflect the couples' tastes while being suitable for the broad range of ages that is typically attending. For some, Abba and YMCA are a must play while others cringe at the thought of having them played. At Digital DJs we listen to and deliver what you want. We tailor the music to your tastes while ensuring the music is suitable for your guests to dance to. We never approach a wedding blind with a philosophy of playing a "typical" wedding set.
Once we assign a dj for your wedding, the dj will liase closely with you until the big day regarding timings and music to ensure everything is perfect. Rest assured that you will receive the personal service you require.
Testimonials
Just want to say a huge thank you to Stephen from Digital DJs for doing such a brilliant job at our wedding last month. Everyone had a ball, the floor was never empty. Stephen was just setting up and sound checking, and people were already up dancing with excitement. And when Sam Maguire made his entrance, Stephen played the best selection of celebratory music, UP THE DUBS!!
We've had great feedback from our family and friends regarding Digital DJs, and a lot of people have asked for contact details, which we wouldn't hessitate to pass on. Thanks again for making our day so special, and best of luck for the future.

Digital DJs was perfect. The service is very straight forward, you don't need to worry about anything, you pick the package, pay the deposit and the DJ shows up early, sets up and starts at just the right moment. On your wedding day you are dealing with tens of vendors and many do not do as they promise, this is not the case with Digital DJs. They are reliable and know what to do so there is nothing to worry about on your end.
We picked most of our playlist and the DJ added in the transitions, fun lights, great commentary when appropriate and changed up the songs when it seemed like something wasn't working or the group wanted to keep dancing.
They also were very kind in downloading a handful of more obscure songs and playing them, including a goofy German Octoberfest song that my friends like to dance to.
We had many compliments on our wedding but the most flattering and the most important is when people said "we had such a great time at your wedding" and they wouldn't have said that if it weren't for the music (and the copious amounts of wine that helped everyone get in the dancing mood).
Digital DJs is fantastic. They know just what to do, are very professional and will follow your requests even if they include something strange like a German Octoberfest song. Our DJ Paul was great and Darragh was a delight to work with.
I can't say enough about how grateful we were to have one of hte vendors be so low maintenance the day of the wedding. If for just that reason, we would recommend them. But, honestly, they did a great job with the music. It really made the event. You're in good hands if you choose them as your DJ provider.

Darragh from Digital DJ s provided the music for our wedding. We were absolutely delighted with him. Extremely professional & the dance floor was full all night. He played all the songs we requested & he read the crowd extremely well. So many people commented on how good the music was. Would highly recommend Darragh from Digital Dj s. Many Thanks for a great night & especially for making our first dance so special.

We had Stephen as our DJ a few weeks ago & he was absolutely brilliant. He kept the floor full & played whatever was requested. People are still talking about him & he really made the night for us

Stephen is the best wedding DJ ever, playing the exactly what we wished and reading the crowd perfectly, without even taking a break. We had him playing all evening as we did not book a band and it worked out to be the best thing we did, as there was no break in the music all evening. Thank you so much Stephen for the best night ever. I saw people dancing at my wedding I never thought I'd ever see dancing, you were brilliant. We've recomended you to a few friends who are getting married this year.


Philip was our DJ for the night on 30th Oct 2008 and he was excellent. Along with his bro, they started early with a disco for all the kids and then proceeded with a range of music that had everyone up - including our parents who are v much non-dancers! Everyone had a brilliant time and we all were sad when it ended. I had been abit apprehensive about having only a DJ for the whole night but I would recommend them completely. MrsG


We had Darragh for our wedding on 3rd December 07 and he was very good. We'd sent him a song list and he played it along with much more. we were very impressed with this company, they are very professional and I'd definitely recommend them!
Tweetykar

Karl Ruffley was our Dj for the night and he was fantastic. He stuck exactly to the kind of music we wanted and made our night really special. We had a ball dancing to all the oldies and reminiscing about our teenage years!

From the start we were worried that people would notice the absence of a band from our night but Karl really made the evening so enjoyable and everyone had a fantastic time.

I would highly recommend Digital Djs to anyone thinking of a Dj for their special day.

We had Dan Noonan of Digital DJ for our wedding and he was absolutely brilliant. We didn't have a band and where a little worried that this might not work out but Dan was excellent and everyone was up dancing all night.
I would highly recommend him to family and friends


Chris from Digital DJs looked after us in Galway.
He was fantastic. He sent me a huge playlist in advance from which we could request songs. We submitted our whole playlist in the end, but he also played requests on demand, and he kept everyone out dancing for the whole set. He was really punctual and dressed smartly. Couldn't recommend them highly enough!


We had Darragh for our wedding in Liffey House Hotel on 11th of March and he was brilliant. We had loads of comments on what a great night everyone had and it was all down to Darragh. We didn't have a band so keeping the dancefloor packed for 6 hours is a real achievement.


Digital Dj's were fantastic.
They were on time and had all the equipment set up in no length.
Many strange requests were made but they had music to suit everyone from the very young to the very old.

I would recommend them highly to anyone looking for a 1st class solution for their wedding.

Mrs. Marion Shaw :-)

Fergus did our Disco for the night and kept the party going till the wee hours, was never a blank spot on the floor!