A Piece of Cake - Wedding Cakes Tallaght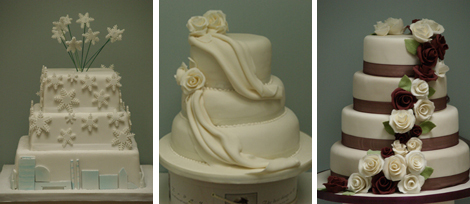 Supplier Details
Situated just beside the Firhouse Road and Old Bawn Junction apieceofcake.ie have been in business for almost 10 years. A bright modern showroom brimming with the latest designs awaits you. All tastes are catered for, among these are fruit cake not auntie's scorched offerings but delicous rich moist cake, Belgian chocolate biscuit always in huge demand, baileys chocolate biscuit cake - enough said! Carrot and walnut cake, soft chocolate-chip cake, natural lemon madeira and lavazza coffee for the sophisticated palette, complete the lineup. At present there are fantastic deals with up to and some cases over 20% discount available. To visit gallery and for tastings please allow a two hour time frame, that said most couples choose Saturday as their day of choice. However Ted is available 10 to 5. Monday to Saturday. Phone 014526271 0868521870. 3 minutes exit 12 firhouse ............Eastern health board monitored
Testimonials
Hi Ted, thank you so much for wedding cake for 3rd sept it was fab lemon sponge and choc bisuit cake everyone loved it the sponge was my fav but the choc bisc was the most fav. I will defo remember you for a cake for a special occasion.thanks again

I met Ted at a wedding fair and decided to go to use him as my cake supplier as he was only down the road from me. The display of cakes in his house were fab and his house was spotless! I picked the 3 tier Lilys and Bear Grass with chocolate biscuit filling. Ted took a sample of my bridesmaids colour and sprayed the inside of the lilys to match my colour scheme! I thought it was going to be very expensive but it was actually very reasonable! The cake got devoured that evening, but kept some for myself for when I got home the next day.


Ordered our wedding cake yesterday, and I have to say Ted's cakes look amazing and they are wonderful value for money. Had a taste of the choc biscuit cake and now I can't wait for our full size one, roll on September :):)


we got married this august and I had booked a piece of cake a year previous. i have to say that the cake tasted fantastic and there was hardly any for us to gobble up in the next few days. the chocolate biscuit cake is to die for and i tink i may even order some sort of christmas cake this year with the choc biscuit in it!! thanks ted


We got married last Aug and had shopped around for different prices. We called into The Piece of Cake premises and Ted was only to happy to allow us into the heart of his bakery and see some cakes!
We decided there and then to go with a Piece of Cake. The warm service and sound advice was great. Ted even dyed the roses a few times to get the colour right but alas Fuschia and icing colour don't really mix! (or else I'm to fussy?????)
Thanks again!