EDITHOUSE Wedding Videography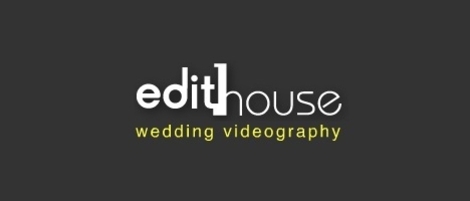 Supplier Details
Edithouse is a unique company based in Blackrock, Dublin that specializes in captivating wedding videos. Emma Walkin set up Edithouse in 2003; she has a degree in Film and Editing and has extensive experience in that field. Having studied for 4 years in New York she returned to her native Dublin to set up her Company.
Emma established Edithouse to inject a more artistic and documentary style into wedding shoots. It is well known that editing is an art in itself, and our unique form of editing sets us apart from the rest.
The team at edithouse are amongst the top videographers in Ireland. We provide a professional, but personal service with each wedding DVD individually designed and tailor made. We film all over Ireland and have experience shooting destination weddings in Spain, France and Italy.
Edithouse works with many of Ireland's top wedding planners and photographers including Tara Fay, Xena Productions, Barry Moore, John Ryan and Mark Griffin. We regularly shoot in some of Ireland's top venues including The Ritz-Carlton, Castle Leslie, Kilshane House and Durrow Castle.
Our unobtusive and imaginative style has produced countless DVD's that elicit rave reviews time after time. We are currently taking bookings for 2009 / 2010.
Check out or website for complete details www.edithouse.ie
Testimonials
Dear Emma,
Just a note to say a HUGE thank you for our amazing wedding film! We were blown away by how fantastic it is and have watched the highlights over and over :) All our family and friends have really enjoyed the highlight disc too...most have said it's the best wedding video they've seen! Also, a big thank you for being so professional (& practically invisible!) on the day, we've been recommending you to everyone :) AND to think we initially weren't going to have a videographer!! Now it's something we'll enjoy forever.
Best wishes for 2012

Hi Emma, I want to thank you so much for the DVD of mine and Hilary's wedding day, the editing was absolutely amazing. There were shots on the DVD we didn't even know you were filming. Thank you for being so discreet and capturing our special day in a way we will always be able to enjoy.

Hi Emma, just want to say a huge thank you from me and Paddy, we love, love love our dvds!! When we watched the highlights one first we were completely blown away by it.....and still are every time we watch it with family and friends! The editing is amazing, and it's great to have everyone that was there on the day captured on film at some moment or another. And to think we weren't going to have a videographer at all for our day, we're so glad we did, everybody has enjoyed watching the dvd as it really captured the fun we all had. Thanks for everything on the day too :) Would highly recommend Edithouse to everyone!!

Hi Emma, just want to say a huge thank you from Ciaran and I for doing a fantastic job on our Wedding DVDs. We absolutely love them. They are pure class and we just can't stop watching them!! All our family and friends were really impressed by them also. You were an absolute pleasure to work with, very easy going and made me us all feel very at ease. The editing and shots you captured were brilliant. Thank you for being so discreet and capturing our special day that we can always enjoy. We would highly recommend Edithouse to everyone.

EMMA,A big thank you for the pefect weddding day video.Have had great fun watching it with family and friends. Love the content and music editing ,perfect quality.Wishing you sucess in the future ,excellent work.Cheers

Hi Emma, just a quick note to say thanks so much for our amazing DVDs. They are wonderfully edited and captured so many great moments...it really looks and feels like we remembered the day. You really did a fantastic job. We are delighted that we decided to go with you after an emphatic recommendation about Edithouse from our friends..they said at the time that having your DVD was so much better than any photo and I really have to agree. It's so wonderful now to have this to look back on and be able to relive the day. Thanks for being so great on the day too. Wishing you all the best in the future x

I originally wasn't keen to have a video at our wedding as I have found a lot of videographers at weddings to be very intrusive and obvious on the day. Emma from www.edithouse.ie couldn't have been more discreet. I barely noticed her at all on the day, and yet she has managed to capture all the key moments on film. The editing work is great - she has put together a really classy wedding video, no corny cheesy cringy bits : ) Their online video samples show what I mean. I would highly recommend Edithouse to anyone.

Hi Emma,
We've just watched the dvds and LOVE them. Thanks a million - you've put them together really well, great editing. I can't believe how much we had forgotten about the day so it's absolutely lovely to have it all on film as a reminder. What a lovely job to be able to do that for people.
Sincere thanks,

Emma, I can't thank you enough for your wonderful wedding DVD. You were terrific on the day and somehow managed to be both unobtrusive and calming. We will treasure our DVD, which is beautifully edited and manages to capture so much of the mood and emotion of the day. Planning a wedding can be so stressful but looking at the DVD is like the edited version of all the best bits that make it worth it. I married the man of my dreams and what a gift to be able to re-live that precious moment in colour (and black and white!) however many times I want to...

Thank you so much Emma for our amazing wedding video. We were unsure as to whether or not we wanted a video of our wedding, but after seeing your work and meeting you, we were certain that the right choice was to video our special day. We weren't disappointed. On the day you filmed away in the background yet managed to pick up all of our special moments and also capture all of our familiy and friends. We were both very relaxed in your company and this made a difference to the video. We are delighted with the final product and so glad that we went ahead with it in the end. We particularly loved the way you edited the video and timed actions with the music, it's great.
Wishing you every success in the future.
Best Wishes,

Emma was an absolute pleasure to have as part of our wedding day. Her approach could not have been more perfect - lighthearted and personable yet practical and caring with a wonderful eye for detail. We only recently received our wedding dvds and we are soooo happy with them. Emma really does tick all the boxes and we wouldnt hesitate in recommending her to anyone.

We were absolutely delighted with service from EditHouse.
Dealing with Emma was a complete pleasure from start to finish.
In the beginning, Emma ensured we had seen her sample work before we committed to the booking which was a great assurance on quality and integrity.
On the Wedding day, Emma travelled over to Mayo, was on time, and everything went smoothly for us. We felt (and feedback from our family and guests too) Emma was very relaxed to be around, was very friendly and warm to everybody.
We were completely comfortable in her presence. She was very subtle too and we forgot all the time that she was there! We ran slightly over on time in the morning, but Emma was still able to capture everything we wanted. She was on the move all day relentlessly.
Emma was very quick in turning around the finished DVD for us - we've watched it loads of time especially the 20 minute version. We are so delighted with it...we absolutely love Emma's artistic editing and energy she has brought to it.
She seems to have captured everyone in a way that shows their personalities.
There are even some shots that we may even consider getting converted to photos.
A big recommendation for Edithouse for anyone searching for videographer.

Dear Emma,
We just wanted to say a big THANK YOU for an absolutely fantastic DVD. We love it and so has everyone that's seen it. You did a great job and we will heartily recommend you to anyone we hear is getting married.
All the best,
(Ps) how did you choose the music? We couldn't have got it better ourselves!


Hi Emma,
Thank you for being so discrete on the day...We are so delighted to have got the DVD now! (Garrett especially, who was totally anti-video in the beginning!!) I'll recommend you to any forthcoming wedding couples we know.
Best wishes for the future.


Dear Emma,
We would just like to thank you very much for the fabulous work you did on our wedding DVD - it is really fabulous work and we are so happy with the memories that you have given us now and for all the days of our lives. It is probably no surprise to you that we see something new everytime we look at it!
So thank you so very much - we are absolutely thrilled that we chose Edithouse to be with us on our special day!
Best wishes,


Emma did the most incredible job on our wedding video … I have never seen anything like it. Its totally incredible. We are so delighted with all of her hard work. I want to show this video to the world!


Emma, thanks a million for doing such a brilliant job capturing our day. We really think the DVD is brilliant. We couldn't believe how well everything looked despite the lashings of rain coming into the Church! I was quite concerned about that part I must be honest. It wasn't exactly the grand entrance I had hoped for! But despite the weather, it still looked classy, funny and romantic (even if my nerves were showing a little, damn that rain!)
You matched the music to the mood perfectly and really got across the relaxed, fun atmosphere we wanted and hoped to create on the day.
"The end" still makes me cry every time I watch it! Between the music and the brilliantly put together shots of our fabulous day, there wasn't dry eye in the house when we showed it to our families. I think I told you at the time we booked that at the start, we weren't too bothered either way on getting a DVD. Now that we have it, I am so glad that we did and now have a fantastic reminder of a wonderful day.
Thanks so much again and best of luck for the future.


Emma,
How are you? We both finally sat down to watch your DVD last night.
You really did a fantastic job, we are both over the moon. The DVD you produced with the editing and the soundtrack was first class. It even had 5.1 surround sound which is far from the norm.
Thanks very much for capturing the day for us. It means a awful lot.
I would recommend Emma and the Edithouse team to anybody would want the most important day of their lives captured in a beautiful fashion.
Take Care


We were delighted with every aspect of the job done by Edithouse. They offer an amazing two-camera package meaning both bride & groom are shadowed from early in the day – the only opportunity for the couple to see how the other was that morning! Emma & Conor were outstanding – amazing to deal with both before, during and after the wedding. So discreet you wouldn't have known it was being recorded. The end product is something we adore – it's fun, it's beautiful, it's perfect! Pricing is reasonable for the excellent quality and you get tons of copies so parents and in-laws are happy too! They gave us memories we will cherish forever…
Thanks


Dear Emma,
A huge thanks for your great work on our wedding dvd - we love it! You were great to have around on the day - good fun, calming but very professional. We are thrilled to have used you and will definitely recommend you - your work is incomparable with others.
Take care