French Wedding Cakes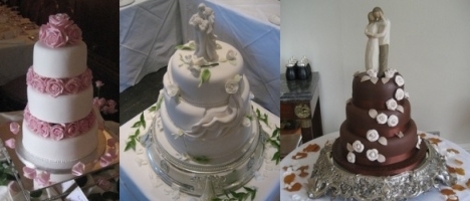 Supplier Details
Personalised wedding cakes by award winning French chef Julien Drapeau.
Let me offer you a selection of my cakes to take home and tell me how your dream cake looks like.
I can also set it up at the venue on the day to make it easy.
Lots of pictures, cake sizes and reasonable prices on my website.
Keywords: Wedding Cakes Dublin, Wedding Cake Dublin, French Wedding Cakes
Testimonials
Julien made our cake for our winter wedding November 2007 and it was out of this world. He was so accomodating, kind and truly a genius. He had great ideas to help make it unique and when we saw it on our big day we were left speechless. Our guests commented on it so much and it tasted fantastic. If you want a masterpiece that tastes as good as it looks then here's your man!! Honestly can't thank you enough Julien xx


We'd just like to say THANK YOU Julien!!!!!! The cake you made for us was amazing! Our guests were in awe at the masterpiece you made for our wedding! The flavours were even better than what we remembered from the samples we tasted. You will be our number 1 cake guy from now on! We will certainly be recommending you to anyone who is looking for a fantastic cake for their occasion.


Working in a hotel I have had the pleasure of seeing a number of this gentlemans cakes.
They are exqusite! He is a true confectioner and an artist. His cakes are the most beautiful creations.


Julien made a fabulous Croquembuche for our January 2008 wedding - it was absolutely stunning - a real show stealer! It tasted fab too!!

Julien was a pleasure to deal with, very talanted, and he was very helpful - would happily recommend him.

Julien made our cake for our wedding which we had recently. The cake decoration, fillings and presentation were excellent. I would highly recommend him to everyone. Thanks Julien. Martin & Annmarie. Sep' 07.


The French Wedding Cake that Julien made for me in June was a work of art. It was a feature at the wedding and everyone commented on how amazinig it looked, not to mention how it tasted. Thank you so very much Julien, the cake was everything I had hoped it would be. You are extremely talented and I wish you the very best of luck.

My guests said they never tasted anything like the cake Julien made, it was out of this world and I think about it all the time. Thanks you Julien it was perfect.