Cakes and Co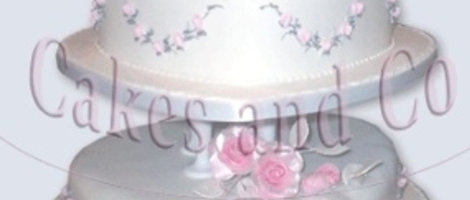 Supplier Details
The cutting of the wedding cake is one of the celebratory highlights of the wedding day. However, the wedding cake that the bride and groom are cutting in the year 2010 is no longer the traditional fruit cake with the plastic bride and groom on top. Trends in cake flavour, style and decoration are moving quickly, so much so it is often hard to keep up! When deciding on your wedding cake, your first consideration should be to choose a cake that suits you, and your fiancee's, personality and decorating tastes. Following are some of the latest wedding cake trends to keep you up to date.
FLAVOUR
Many different flavoured cakes are now rising in popularity. While chocolate biscuit cakes are probably the most popular choice, carrot cakes, madeira and chocolate madeira are also frequent selections.
The filling inside wedding cakes is becoming more modern and straying from the traditional solid fruit cake. Fillings provide the bride with a wide range of choice, and extend from chocolate ganache to chocolate, lemon or vanilla buttercream.
Rolled fondant icing has become the stylish choice for brides who want a very smooth and elegant look to their wedding cake. White chocolate leather/icing is also becoming a firm favourite.
Many brides are choosing multiflavoured cakes. This is a sensible option if you can't decide on one flavour alone.
STYLE
Brides are using their imaginations to think of different shapes for their wedding cakes. The traditional circle is still a popular shape, but hearts, squares, ovals and hexagonals are also popular choices.
While the traditional tiers are still widely selected, the plastic pillars while still popular, are being replaced by perspex and steel stands which separate the cakes.
The most popular cake at the moment is the 'roses & drape' which allows the Bride to incorporate her dress colour as well as the colour of her bridesmaid (s) dress.This cake is styled in the shape of square, gift wrapped presents, each tied with a bow (either real or made of icing). The presents are then stacked on top of one another and the bows are left to cascade down the sides of the tiers. A positively stunning cake.
Theme cakes are becoming more popular, such as a seashell or starfish design. For a more modern look, some brides are choosing their tiers to be made in different shapes. For example, one square tier, one round tier, and one oval tier.
DECORATIONS
While plastic bride and grooms are still available, more popular choices are ceramic figures, sugar caricature figures and sugar flowers. Fresh flowers as always remains a popular choice.
Brides are putting more thought into the design of their cake and are being very creative. Decorations are becoming unique and individual as both the bride and groom are designing their wedding cake together to suit their personalities.
Ribbons are popular decorative items. Brides whose wedding will have a particular colour scheme, such as ivory and edible gold are decorating their cake entirely around this colour theme.
Many brides are decorating their cake with detail copied from their wedding dress or invitation in particular celtic themes.
opening Hours Monday to Friday 9.30 to 5.30; Saturday 9.30 to 5.00
We-Do Promotion: 10% OFF all cakes when you present your We-Do card at time of booking.
Testimonials
We got our cake from Cakes and Co.....They were a pleasure to deal with......Cake was fantastic and everyone said how gorgeous it was...They had the cake delivered for us...Would recommend to anyone ! thanks very much.


We purchased two layers of chocolate biscuit cake from Cakes and Co for our wedding on 2nd August 2008. Lot's of guests said it was the nicest chocolate biscuit they had tasted. Thanks Cakes and Co. Claire & Paul.


I would just like to say the service was perfect and that everybody at our wedding commented how nice the cake was!!!!!