Caricatures by Niall O Loughlin - Irelands leading celebrity caricature artist.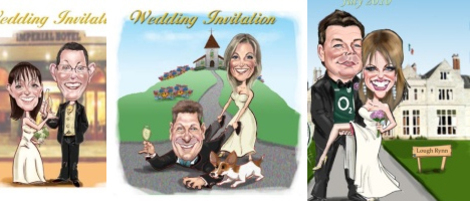 Supplier Details
Wedding caricatures
Looking for something different to entertain your guests for your wedding reception???
Want something a little more exciting than a harpist????
Then why not have Irelands No1 cartoonist draw hilarious pictures of your guests.
All Niall's drawings are extremely flattering, especially of the women!  and with 20 years experience Niall is also Ireland's fastest caricaturist, drawing one person every 3-4 minutes!
Every page is pre-printed to have personalized text which includes the Bride and Grooms name and date of Wedding printed on every page, which means your guests will remember your wedding day long after it's over.
Wedding Invitations
Tired of the same old boring wedding stationery? Hand made, ribbons, fancy paper, at the end of the day they all look the same!
Amaze your family and friends with these unique and original wedding cards, that will take pride of place in the recipients homes for years to come!!!
Every set of cards is exclusively designed to suit your exact requirements, you decide what you want, and all artwork is approved by you before it goes to print!
Fancy a unique Guestbook/Signboard for your Wedding Day?
These guest boards are a fantastic alternative to the traditional guestbook.
They are displayed on an easel which the hotel/venue provides and can be signed by your guest throughout the day. The board can then be framed at later as great keepsake .  Keep in mind you can use the artwork from your stationery to have one of these made up at no extra expense.
Web links:
Check out Niall's Wedding Invitations page
Check out Niall's Wedding caricatures page
Check out Niall's Guestbook page
Testimonials
Niall did the wedding invites for our wedding on the 7th August. We were absolutly thrilled with the end product. from the minute our guests started to receive them they were texting us to tell us how thrilled they were with the invite and it really got the excitement started for our wedding. Niall was extremly easy to deal with and was able to provide us with an invite that we were thrilled with! I definatly think that if you want something a little different from the norm then Nialls invites are the way to go. Thanks again niall for all your help! Maree

Niall
I just wanted to say a huge thank you to you. We only sent out our invites this week, using the miniature version of the guest board pic you had printed up for us and the reaction we have been getting is incredible. I've heard other brides say that getting rsvps from people can be painful, well so far we are having no such issues....people are raving about the invites and at the same time are letting us know that they will be attending - score!!! Absolutely thrilled....cant wait to display the guestboard!
Thanks again


Hi Niall
A big thank you for all your hard work the day of the wedding in the Hamlet Hotel Enfiel, April 24th. Everyone loved your drawings. A nice touch to the wedding. I have my guest board hanging and its a great keepsake to have. Thanks so much.


Hi Niall,

Just to let you know im even more delighted that i have selected you to do our wedding board. i have just been visiting my brother who is home from Australia with his wife for a holiday and their friends as a wedding present gave them a piece of your work. It was a drawing of my sister in law in her all blacks jersey and my brother wearing our dundalk football teams jersey, holding his favourite drink (Guinness). The resemblence of my brother in the picture is uncanny. Im sure it will take pride of place in their home in Oz. Cant wait til i get mine next year now!

Hi Niall,
Thank you so much for the fantastic work you did the night of our wedding! Everyone loved it and said you were great craic!! Hope you enjoyed it too!
We really appreciated you coming all the way to Donegal!
Thanks again for everything!


Dear Niall, It really was a pleasure to meet you in Cabra Castle yesterday. I am thrilled - thrilled - with the picture you drew of me and my friend, and I felt proud to be your first subject of the day! As I explained to you, I cannot smile. My facial paralysis is one reason why I shy away from cameras; I always look so cross in photos. You made me look amused by picking up on my tendency to twitch my lips and so made me look friendly (and wonderfully enigmatic - I do chanel the deep and intense look!) without attributing me with a fake smile. I first noticed how well you depicted my eyes, and today, having looked at the picture more closely, I appreciate how you captured my button nose and cheeks, and I love how my pout seems more Angelina Jolie like! I hope to see you in the future; I will remember you if ever I am organising a function myself.

All the best,

Hello Niall,
at long last I am getting some feedback to you about the invitations you did
for our New Year's Eve wedding!

First let me thank you for the fantastic job you did. Everyone commented on
how great they were and how like us they were - from 'The invite is feking
class' to 'Love the invites - worth keeping'! I was in my uncle's house a
month ago and he still has his sitting on the fireplace! We have the big
picture up in the landing and the same uncle just stops and stares at it
every time he is in the house!

Thanks again for the great art work. I have been recommending you to
everyone who is getting married or may one day host a corporate event!
Good luck with the coming year,

Hi Niall

As promised a note to let you know the reaction to the cards!

Well we got all of our rsvps well before the date and I think its due to
the cards as everyone was in touch to say how great they were and what a
super idea! So thanks a million we were really happy with them and lets
hope the big day gets the same comments!

Thanks again,


Hi Niall
We wanted thank you very very much for the great entertainment
you provided on the night of our wedding, people are still talking about
the caricatures and the great laughs they had while they were being
done, you were brillant and we really really appreciated it

Kind regards,

Niall,
Just wanted to say thank you for the brilliant caricature guestboard. It
was a real talking point, everybody at our wedding thought it was brilliant
& in turn signed it so we now have a fantastic keepsake of our day.
Thanks again,