ElectricEvent.com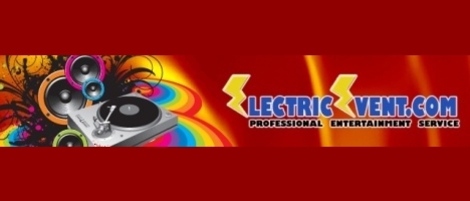 Supplier Details
Professional DJ service
Quality Sound, Custom Lighting, Great Music
"I aim to round off your special day with music that you (and your guests) want to hear. I will send you my Event Planner in advance so you can tailor my service to best suit your requirements. By working together, we can ensure that the guests leave your reception with the lasting memory of a great night out !"
Testimonials
Everyone, and I mean everyone loved his music. He had the dance floor full for most of the night. So many people have come back to me saying he was great.

Wedding advice- Book DJ Riain, you won`t be disappointed! We hired DJ Riain for our wedding in August having seen him play at a couple of other weddings and been impressed with what we felt was an eclectic mix. We had quite a long list of requests for our own big day and found that DJ Riain was happy to accomodate all that we wanted. We did not have a band for our wedding and my one big fear for the whole day was that nobody would dance, but dance everybody did, all night, thanks to Ric- I needn`t have worried. Thanks DJ Riain, you were great to deal with and if we ever have a party again where we need a DJ, we know who to call. Cheers!!

DJ Riain played for me Dec 2009 in Garyvoe and he was fantastic, I gave him brief description of crowd and what I liked and all night long I was on dance floor along with all my other guests. Number of guests commented to me after that he was best wedding DJ they had ever heard. Would highly recommend him.

We booked DJ Riain to DJ our wedding on October 30th, 2009 at the Rochestown Park Hotel and we still can't get over what an excellent night it was. We decided not to have a band and have a DJ for the whole evening, and we have never been more glad that we did. We met up with DJ Riain a while before the wedding and he proved to be smart and friendly, absolutely open to us providing him with a list of music to work from - I'm sure in the end that list proved to be longer than the five hours he played and I can say with full honesty that there was not a moment he was playing that the dance floor was empty. He played his set to perfection, judged the crowd extremely well, somehow managed to cater for the eclectic tastes of myself and my wife seamlessly and kept the party going on the most important night of our lives. I could not recommend him enough to anyone looking for a wedding DJ, and we are more than happy that we were able to relax and enjoy the atmosphere with all of our friends without once worrying about the music or the atmosphere because he got everything spot on. Thanks DJ Riain.

DJ Riain was fantastic, we booked him for our wedding in the Carlton Hotel, Kinsale in Oct 2009. We didn't know who to book so we just found his details on this website. He was probably the most professional supplier we dealt with during the wedding planning process. The dancefloor was packed and everyone enjoyed themselves immensely, he played a wide variety of music as per our request. Just book him and tick another job off your wedding to do list with confidence.


We were lucky to find DJ Riain. I won't reiterate everything that was said above; it's all true! The most important thing is that the dancefloor was packed! He created a great atmosphere, I have no trouble recommending him highly.

DJ Riain was the DJ for my wedding in Actons on 22nd Sept. He was great and everyone was out dancing all night! He played the songs I requested as well as all the songs that were requested on the night. Everyone said to me that the music was great and people I had never seen on the dancefloor before were out dancing which was brilliant!

I booked DJ Riain from Electric Events as the DJ for our wedding in May 07 after finding him here on this website. From my initial enquiry and throughout the planning stages I found DJ Riain to be friendly, courteous, efficient and extremely professional. He offered a service that was everything I could have hoped for. The dance floor was never empty throughout the night. There was one great floor filler played after another! DJ Riain also paided great attention to all our wishes on his planning form. He played music from all the bands we liked and steered clear from all the tacky wedding games/novelty songs which we hated. He was in constant contact with us in the run-up to the wedding to ensure that everything ran smoothly on the night. He was also able to source some obscure songs which we wanted played throughout the night and he happily took requests from our wedding guests.
DJ Riain had all the equipment and lighting for the night set up earlier on the wedding day so there was no delay waiting for the music. He was dressed smartly for the occasion and did a fantastic job as MC throughout the night. As you can see from the above, I have nothing but complimentary remarks for DJ Riain and electric events. All our family and friends are still taking about how good the music at our wedding was! I would highly recommend this service to others!!

I booked DJ Riain of Electric Event for our wedding on Sept 30th 2006 in the Silversprings Moran Hotel. We were very impressed with his work. He supplied us with a list of songs from which we were able to choose our favourites. We were delighted that he stuck to our list all night because we knew the type of music our friends and families enjoyed. Everyone really enjoyed the music and the floor was full all night. DJ Riain was recommended to me by 3 different people who also found him to be excellent. I would highly recommend him for weddings and I also know that he does parties too. He really supplies an Electric Event.

We booked DJ Riain of Electric Event for our wedding in Actons Kinsale on Friday 30th June 2006, having found him here in the suppliers section of weddingsonline.ie - I highly recommend him. From my first contact with him he was friendly & efficient, he emailed me a comprehensive play list to choose or veto music from, I was able to quickly & easily put together a favourites list and also request new songs which he added to his list for us - he played every single song we wanted, and as a result we had a dance floor full of boogie-ing guests, what more do you want? Loads of our friends commented on our DJ - extremely good value for money (plus you get a discount for saying you found him on weddingsonline.ie), and he is young so you don't have to worry about some ancient Elvis look-alike in a Hawaiian shirt...We were so pleased that I think I am going to book him again for my 30th in a couple of months time. Book him, you won't regret it!