The Station House Hotel & Award Winning Signal Restaurant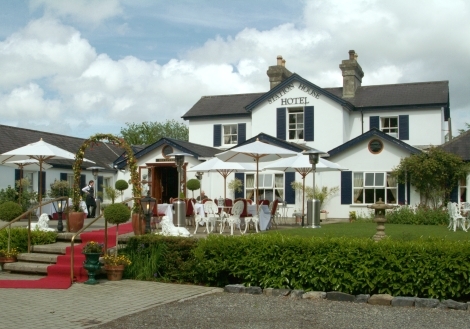 Supplier Details
Nestling on twelve acres of beautifully manicured lawns and tranquil woodlands in the quiet village of Kilmessan, Co. Meath, The Station House Hotel & Award Winning Signal Restaurant has been a first class destination for guests for over twenty years. With a reputation for weddings that is unsurpassed, the hotel, with its open fires and country charms, benefits from a luxurious and romantic setting that cannot fail to impress.
The charm of the hotel lies in the fact that it has been lovingly restored from a converted railway junction. Having benefited from an additional refurbishment, the hotel has kept the magic and charm of its former identity, but with a warmth and service that puts it in a class of its own.
Walking through the award winning gardens and tasting the clean country air it is hard to believe that it is only 20 miles from Dublin. Indeed it has been said that the hotel has all the charm of a stately home, with a peaceful, rural setting among the rolling plains of Meath. The hotel sits on expansive grounds, with sunken rose gardens and wooded backgrounds that make it the perfect location for that special wedding photo. The grounds are full of old railway memories from their 300-year history.
A stone turntable and railway bridge adds that extra magic to wedding pictures, while various railway memorabilia lend a nostalgic and romantic charm to the setting. These include an old station and a safe where travellers once purchased tickets to America.
Click here to view our Full Online Wedding Brochure including our All Inclusive Packages and Extensive Menu Options
The Station House Hotel is proud to introduce their New Fully All Inclusive Wedding Package.
All-Inclusive Wedding Packages from EUR6,295 for 100 guests:
Includes:
5 Course Meal
Tea/coffee & homemade scones for all guests
Champagne for immediate bridal party
Evening finger food
Floral arrangements in hotel with centrepieces, personalised menus and table plan
Choice of cake stands & knife
Bar Extension
Chair covers
There's more.................
Photographer
Band & Dj or just DJ
3 tier cake
Flowers - bridal, church & button holes
Car
Based on 100 guests we have packages from EUR 6,295 therefore EUR 62.95 per guest.
Click here to view the full all inclusive package details

This is amazing value and is available in both our hotel and our sister hotel the Waterside House Hotel, Donabate County Dublin
Every aspect of a wedding at the Station House benefits from a personal touch and attention to detail that has put is in a class of its own. Denise Slattery, the hotel manager and her banqueting team are on hand to provide a friendly, personal service that lasts from when couples make their initial enquiries to when they depart for their honeymoon. The hotel is the perfect location for that special day, being able to cater for weddings of up to 180 people.
The Bridal Suite (once the Signal House) is situated away from the main building. It contains a separate living room, bathroom with whirlpool bath and bedroom with a four poster bed. With a splendid view of the Hill of Tara evoking the romances of ancient Ireland, this converted Signal House is the perfect romantic location for newly weds.
Awards


We are delighted and honoured to have received the "Wedding Venue of the Year" (Leinster) Award from Weddingsonline.ie. In recognition of outstanding achievement as a wedding supplier in 2009, as voted for by the brides and grooms of weddingsonline.ie and assessed by a panel of independent judges and market research agency, Direction Research.



We were also delighted to have been shortlisted for the Top 50 Wedding Venues in Ireland 2011.

Our Head Chef, David Mulvihill has been awarded "Best Chef" in Co. Meath by the Irish Restaurant Awards 2010, sponsored by Louis Latour wine producers in association with The Sunday Independent Life Magazine and the Restaurants Association of Ireland - independently assessed by a panel of renowned judges and public vote of confidence. This is a huge achievement for ourselves and Dave and we would like to thank everyone who voted for us, our management and all the team at the Station House Hotel.



Other achievements for this year include, AA 2009-2010 Rosette Award for Culinary Excellence in association with Villeroy & Boch, Michelin Guide and Georgina Campbell's Ireland 2010, independently Assessed & Recommended and numerous others.
Using fresh local produce, the food is a traditional fare cooked to the highest standards. The detailed, elaborate A La Carte and Table D'hote Dinner menus will make your mouth water from the second you begin to read them. Open for breakfast, lunch, dinner and breakfast seven days a week as well as bar food served daily.
A little extra to offer its wedding couples is a newly refurbished Silver Spur Rolls Royce or S class Mercedes. Drivers are arranged and discounts given to wedding parties booked at the Station House Hotel.
For more information please telephone 046 9025239, email: [email protected]sehotel.ie Web: Wedding Venue Meath
Click here to see more information
Testimonials
Hello all!

on behalf on my husband and myself i would just like to say a huge thanks for all your kindness and help on the day of our wedding. everybody had a ball and the food was amazing. we were so happy with the personal nature of your hospitality, the engraved glasses were stunning and we will keep them forever.Henry was super and made us feel so welcomed and comfortable so can u pass on our thanks to Henry and all the staff who worked that day. you made our day so very special and we will be eternally grateful. we will certainly be recommending the station house to all our friends. Best wishes

David and I would most sincerely like to thank Derek, Henry, Sarah and all the staff for making our day so so special and memorable. It was like a dream and was even better than we had hoped for it to be. Everyone remarked on what a magical, unique, picturesque setting for our ceremony and how the staff were so pleasant, helpful and went out of their way to make sure everyone was looked after and how great the food was. If we were to do it again we would most definitely be arranging it again at your hotel and could not recommend it highly enough to anyone who is going to get married. If they have half as good a day as we did they'd be lucky!
Again thank you so much for making our day even more special than we could have imagined.

We just wanted to say thank you all so so much for giving myself and Ciaran the most wonderful day of our lives on the 9th of July last. The hotel in its own right is amazing but this would be nothing without wonderful staff, food and an atmosphere in the place that is second to none.
From the very first night we went to look at the hotel, we were met by a friendly receptionist and we got a really good overall feeling about the place and knew it was the hotel for us.
From dealings with Barbara, Patrice, Sarah and Henry, to name a few, nothing was too much trouble and you all made us feel at ease and that everything was taken care of, which on the day, was to the highest standard. It really is no accident that you continue to win awards for your culinary expertise and as wedding specialists.
Friends and family are still raving about the quality of service and the food and what a gem the hotel is. Relations and friends that never knew of the hotels existence have, since the wedding, returned to lunch and dine and continue to rave! Even one of my best friends decided to return the following week after our day to book her own wedding with you and is getting married next March. Another old work colleague of mine is getting married in September and has been in contact with me to ask about our day and I have told her not to worry about a thing; everything will be taken care of 110 percent.
The only thing I can say that let us down on the day was the good old Irish weather!! Hand on my heart it didn't matter to us one iota!
There were ample umbrellas at every turn and lots of the guests were commenting on how many there was going back and forth.
Lastly, I would like to thank you for not rushing us out of the honeymoon suite the next morning even though you had to set up the next day for another wedding. There was no rushing and we were met by Sarah who was just "great" and got us supplied with a full Irish which was very welcome indeed even at our late check out time.
I really could go on all day thanking you all. From the moment we arrived back in Feb 2009, to arriving on our special day, to the amazing entrance we had into the room; just everything was perfect. We couldn't have asked for anything more and I cannot stop talking about the hotel.
Looking forward to returning soon for some food and cannot wait to experience our friends wedding now from the other side in March next year.
Thanking you ever so much and with warmest Regards


Hi Sarah and Henry,
Wanted to say a Huge Big Thank You to both of you and to all of the Staff in the Station House Hotel. From the day we booked our Wedding, back in September 2009, until the day itself, we couldn't have asked for more. No question was too much and everything on the day was perfect. The little touches you added on the day were fantastic and made the day all the more special. Everyone has been raving about it ever since and they all agree it was one of the most relaxed weddings they have been to and I have no doubt that was mainly down to the venue and the professionalism of the staff. The food was wonderful. We couldn't have hoped for better.
Kind Regards


Hi Sarah, Kate, Henry & All the Gang,
Just wanted to send a quick note from our honeymoon to say a BIG Thank You for how perfect you all made our wedding day. Every single person in the Station House was excellent and so courteous and friendly to all. We have had rave reviews from all our guests - everyone thoroughly enjoyed the setting and the gorgeous food.
We just wanted to let you know how delighted we were to have had our wedding in the most idyllic spot in Ireland.
Best regards and see you soon,


I had my wedding in the Station house in nov 09 and it was the best day of my life! From the planning and weeks leading up till my big day the staff at the station house ie. Sarah and Patrice and Henry coulnt have done enough. they took all the big stresses out of the plannig and organising. On the day we were greeted by the hotel owner which was a lovely touch and our every need was taken care of by Henry, who i can easily say is one of the nicest people you will every meet, he is funny kind and makes sure the day runs smoothly. the food at my wedding fantastic i had 135 guests and evryone of them has since complimented the food, it was piping hot and just gorgeous! The bar staff and servers were so nice too.
overall i would recommend this hotel for anyone who is thinking t getting married it realy is the pefect location, i look forward to going back for meals and weekends away.Thank you to everyone at the station house for making my day so perfect


To Sarah and All The Staff at the Station House Hotel,
Thanks a million for what a wonderful day we both had! I just couldn't fault the hotel in any way. You all just couldn't do enough for us, and I cant believe it all over now. Everybody is still talking about what great day it was!
I really just dont know what else to say other than a massive thank you to all the staff at the hotel!! Fantastic job!!!!Im all depressed now that it's all over!!!!


We the most amazing day at the Station House Hotel. Henry, Sarah and the staff were fantastic and everything ran without problem. All our guests couldn't praise the food and staff enough, the venue is the most beautiful and quaint location and perfect for every photo opportunity on the day.
A big thank you to you all at The Station House, you really exceeded our expectations and we and our guests have recommended you to everyone we know celebrating a special occassion


I had my wedding in the Station house hotel in November last year and they were brilliant they couldn't do enough for us your treated like royalty the food was excellent and they made the day so special for us. the honey moon suite is beautiful and i loved the king and Queen chairs in the reception rooms. i would really recommended them.