www.DIYWedding.ie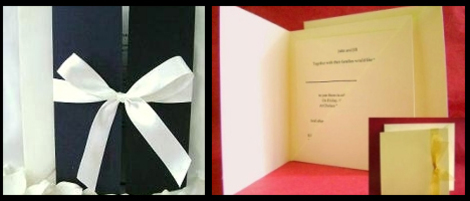 Supplier Details
www.diywedding.ie is Ireland's first online store for making your own, unique handmade wedding invitations using our easy to use kits! Prices start from just €0.90 per invite kit, including envelopes, ranging up to €1.95. All kits use beautiful handmade papers such as Indian Cotton, Mulberry Tissue, embroidered and embossed papers, and beautiful pressed and paper flowers.
All kits come with a downloadable MS Word Template - you just replace the text with your names and print!! You don't have to be experienced to make your own invitations - all instructions are provided.
The site also allows you to design your own invitations, shop by your chosen colour scheme, and features other great accessories such as wedding favour bags and table confetti.
As featured in the Irish Times, Daily Mail and the Irish Star, come and visit www.diywedding.ie today!
Testimonials
Dear DIYWedding! I received my order today .. and I just wanted to thank you so much for everything!! Your online service is so easy to follow and everything arrived in record time - with no problems! Everything is such fantastic quality and exactly what we were looking for - we just wanted to thank you for providing a service that not only takes the stress away from choosing stationary and having to pay an arm and a leg for it - but also gives us the opportunity to really make our wedding stationary a personal statement! I am looking forward to spending time assembling the invitations with my fianc้ for our big day.

Thank you again

I have bought a number of things from your website and just wanted to thank you for your excellent service and great quality products! My wedding invites looked amazing and so different - just what I was looking for!

Thanks again

I just wanted to confirm receipt of the package and let you know that we are extremely satisfied with the goods and the level of service received. There is no option to leave testimonials on your website, but we wanted to let you know how happy we were. Thanks again for making this such a smooth process. Kind regards

Thanks very much for your prompt reply on my query. I just want to compliment you on your site, the materials available are perfect for all that I required and the prompt delivery is very much appreciated. I will be recommending the site to anyone that I know who is getting married.

I have to say I'm really impressed with the quality of your invites!

Hi. I just wanted to say thank you for your very prompt service at sending out my wedding invites. I received them first thing friday morning. I was delighted with them,they were better than I imagined they would be.

Thank you again

Fantastico! By the way, I have been really delighted with your service to date. Thanks a mill!

Hi! Your parcel came today! May I say how impressed I am with your efficient and friendly service, the quality of the packaging, and the speed of delivery. The papers are delightful. I would also like to say thanks and well done for being willing to include the glue roller as an add-on. Having dealt with other firms that can be unaccountably obstructionist, it is refreshing to make your acquaintance.

Hi all. Just to let you know that I received the materials I ordered from your site. These arrived in record time and the quality of the materials is excellent! I will be recommending your site to friends.
Thanks for the fantastic service and expect more orders for me in the future.

Thanks so much for your speedy delivery! I got all the booklets done! Thanks a million again and I will make sure everyone knows about you.

Congratulations on an excellent website! I just wanted to say how well designed your site is. It's wonderful to see an Irish company come on board with reasonably priced wedding invitations and excellent instructions. I will be placing an order shortly!

Hi. I recently ordered invitations through your web-site and wanted to tell you how pleased I was with the quality of the order and how quickly and efficiently it was processed. I will be happy to recommend your site.

Hello, I just wanted to express my satisfaction with your service, I received my order today and I only ordered it on Sunday! From the very start you have been so helpful and efficient. I will be making one more order before my wedding so I will be in contact again soon.

Thank you so much for the swift delivery of all the samples i ordered! I'm delighted that i can now get going on them and have a weekend full of fun making them all! Thanks a million!

I have used Cara Craft Supplies many times since discovering them through WOL. I bought my supplies for my wedding invites and will also be buying supplies for my Mass booklets. I love the website. The products are great, the delivery is reliable and the prices are low. I also find the site very inspirational. It's well worth a visit for all your craft needs.