JMB Videos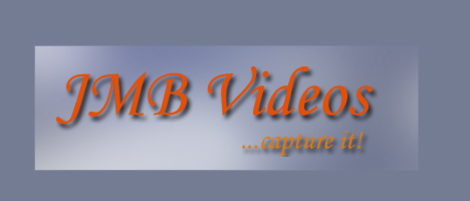 Supplier Details
At JMB Videos we offer a friendly and personal service to all our clients.  From your first contact with us right through to the delivery of your finished wedding DVDs, customer service is priority.
On the day itself our main aim is to capture the events as they happen without interrupting the natural flow of the day for yourself or your guests.  Use of modern audio/video equipment teamed with our years of experience in wedding Videography enable us to operate in a discreet and unobtrusive manner and still get the footage needed to put together the standard of finished product that our reputation is built on.  One of the things that we are very proud of is the fact that most of our bookings now come from referrals by past clients, either by word of mouth or on the Weddings-on-Line forums. The fact that those people are willing to recommend JMB Videos to their own families and friends, is in itself is a testament not only to the quality of our work, but also to the service that we offer each and every customer.
We have various packages to choose from, so there is sure to be one to suit the budget and needs each individual couple and we have recently teamed up with a leading Irish wedding photographer to offer a combined photographyand videography package at an unbelievable price. Anybody booking this photo/video package also gets over €500 of extras absolutely free.  For more details on this or any of our services please see our web site www.jmbvideos.com
We-Do Promotion: 10% Discount on all Monday, Tuesday, & Wednesday "Full Day" Wedding packages. (Excl. Bank Holidays)
Testimonials
We used JMB Videos for our wedding and right from the initial email they were full of advice and answered any questions we had. They were amazing to deal with in the run up to the wedding and were always on top of things making us feel assured that they cared as much about our wedding and how the DVD turned out as we did. On the day they captured every moment we could have ever wanted and more. They blended in so well that we barely even knew the lads were there. Our DVD is AMAZING and we're both delighted with how it turned out. I would honnestly reccommend them to any couple looking for a professional, friendly company to record your day.

Just wanted to say a Massive thanks for the great job you did on our wedding day. We love the video and so many people have commented on what a great job you did and how you nearly went unnoticed all day. Its great to have such a important memory captured on video and even better when it is done so well and so quickly. Being able to pick it up so soon after coming back from honeymoon made coming home a bit more bearable. I would gladly recommend you to anyone I know that is getting married, besides my sister of course, who has you booked already :-). Thanks again for a wonderful job, couldnt be happier with it. It was a pleasure to deal with you.

Guys, thank you so much for the DVD, it is beautiful! We love it, absolutely amazing job. Thanks for all your work, hope ye weren't too cold. Ye did such a great job, hardly noticed ye on the day, it was so great working with ye. Thanks again, for everything and we'll talk to you when we get back from the states.

Like most couples, we were a little bit nervous about having a videographer in case they 'Got in the way'. However, with JMB nothing could be further from the truth. We hardly noticed them on the day, and yet they didn't miss a thing. Easily the best supplier we had for our Wedding, nothing was too much hassle for them, and while we often waited days for other people and suppliers to get back to us, JMB Videos usually responded to our emails within minutes. I can't recommend JMB Video highly enough. You'll regret it forever if you don't get a video of your day made.

Just wanted to let you know that we got our video the other day and love it!! I think I've watched it about 6 times already, think I need to put it away for a bit before I can re-enact it word for word!! So glad we got 1 now and thanks so much for a fantastic job!

First of all, we would like to thank you for our wedding DVD. You did an excellent job on it, the sound is brilliant throughout and the editing is perfect. Also, we were delighted to get it back so fast, and everyone that has seen it so far has said how good it is. We certainly wouldn't hesitate to recommend you to any of our friends or relations.

You were so discreet during the ceremony on Friday that I was unaware of you presence. Our paths may cross at some celebration in the future but in the meantime may God bless you and your work.

Thanks so much for everything. You have done a fantastic job, and we will be recommending you to everybody we can find! Stuart also says his thanks, you really put him at ease (which is no easy task), and he has been raving about how great the video and photo people were.

We loved every minute of working with JMB Videos, they made us feel comfortable from the very first meeting. On the day they were very professional, and very discreet but yet managed to capture every moment a Bride/Groom could want included in the DVD. We would recommend JMB Videos to any bride and groom to be.

Excellent service. We were really delighted with our wedding dvd. JMB did everything possible to make it perfect for us. Very discreet and professional I didnt even notice them on the day. They caught everything even some things we didnt notice ourselves. I would definatley reccommend JMB Videos to everyone because they really care about capturing your day in detail and delivering a top class product.

Superb! Jimmy and Mike captured our day on the 25th of May and we are over the moon with the result. Not only were the highlights available two days after the wedding but we got our disc package the day after returning from honeymoon, which certainly took the sting out of it! The footage is beautifully shot and brought back so many parts of the day that we had already forgotten or hadn't even noticed on the big day. Highly recommended!

We are absolutely thrilled with our wedding dvd! We really think that having two cameras on the day captured our wedding perfectly. We would definitely recommend JMB videos to our friends and family.

I have say everyone commented on how discret and unnoticable ye were throught the cermony. A truely proffesional service in every way from the first day we contacted ye until the day we received our DVD's. Superb! JMB Videos captured our day and we are over the moon with the result. We got our disc package the day after returning from honeymoon, which certainly took the sting out of it! The footage is beautifully shot and brought back so many parts of the day that we had already forgotten or hadn't even noticed on the big day. Highly recommended!

I cannot thank you enough for the fabulous DVD that we have of the most amazing day of our lives. Any wedding advice I can give as a newly wed is PLEASE PLEASE YOU MUST HAVE THESE GUYS RECORD YOUR WEDDING DAY. YOU WILL NOT BE LET DOWN.

JMB Videos offer a very professional and discreet service as we hardly noticed being recorded on the day. In no way did we feel our day was intruded. Having our special day recorded is one of the best decisions we made and throughly enjoyed watching the video. Without hesitation we can say you will have no regrets in booking JMB for your wedding. The quality of picture and audio is second to none.

JMB recorded our wedding day (07-09-07)and I was extremly happy with the service they provided. I thought that with two cameras that it would be impossible for them not to get in the way, but I was wrong, I hardly noticed the guys at all. Jimmy was very helpful all day and knew when to back off a stressed out bride. They edited the dvds very well and even threw in a bottle of wine to boot! I highly recommmend JMB videos as they are one less thing you don't have to worry about on the day.


We booked Jimmy & Mike for a wedding a year in advance after looked at alot of sample DVD's from people. After speaking with Jimmy, who was relaxed and felt like someone we knew for years, and after looking at the sample DVD we knew they were the one. On the day we barely noticed the two of them their filming and were absolutly delighted with the end product which captured different things we would never have saw. They were also very reasonable with their price and had the DVD back to us just over two weeks after the wedding, just what you need to cheer you up after the Honeymoon! Would definitly recommend them.