Your Dream Wedding In Spain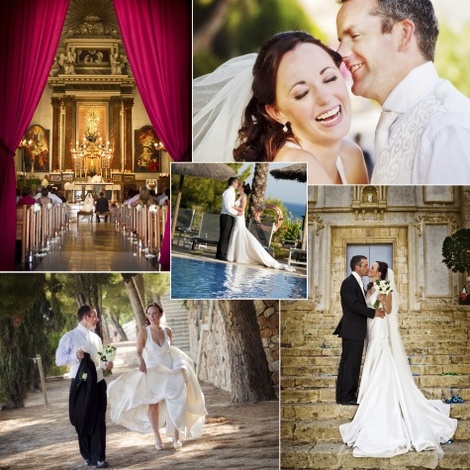 Supplier Details
Planning a wedding in your home town can be daunting enough, but planning one in another country might seem completely impossible.

Couples are faced with a mountain of things to consider, so they need someone who can support them and understand their needs and vision.
Marcella originally from Co.Mayo in Ireland is founder and executive hands-on director of the highly successful dot-com company; "Your Dream Wedding in Spain", which over the last few years has successfully organised hundreds of glamorous & elegant weddings throughout the Costa Blanca.
From the very first meeting "Your Dream Wedding in Spain" will work with you to design a matchless, tailor made wedding that represents you and your partner. With their reputation for unique creativity, attention to detail and total reliability "Your Dream Wedding in Spain" will make all your dreams come true and ensure your big day is truly special and spectacular.
Message from Marcella:
"My aim is to make each couples dream come true by providing only the highest quality service possible. We use only the top suppliers in the business and understand that each couple is different and needs bespoke ideas to achieve their dream wedding. The most important thing is to understand the couples vision and to make that vision a reality."
It is precisely this, which makes Marcella one of the most sought after wedding organisers on the Costa Blanca, Spain.
"...from flowers to firework displays, all in a days work for Marcella & her team at "Your Dream Wedding in Spain"
Testimonials
Our wedding was in the beautiful Costa Blanca Region in a little town called Altea. We had the most fantastic day that i have dreamed about for a long time and i just want to share it with you all.

We arrived in Alicante airport on Friday 23rd Sept. All our family and friends were coming on the Sunday/Monday so it was just us and 1 of my aunts and uncles. I was so excited. After having a manic week at home of ironing shirts/collecting dresses/packing it was so exciting to be eventually on the plane with my hubby to be! When we first arrived it was raining - I couldn't believe it. Obviously me being pessimistic feared the worst but it was only spits and the weather right up and including our special day was just bliss. Blue skies and temperatures soaring near 30 every day. We soon settled in to sun, sea and bliss. We were staying in the town of Calpe just 15 mins away from Altea town. The reason for this was that it was just a bit livelier for our wild guests!! Calpe is beautiful but a lot more built up with a gorgeous beach/shops/restaurant and also includes a beautiful old town.

We met up with our wedding planner Marcella on the Saturday. She excited us even more. We were sitting in the gorgeous Sol Y Mar hotel in Calpe looking out over the beach having a chilled out drink. Marcella calmly went through the whole process of the day from start to finish. She couldn't have made me any calmer. I am a total stress ball so it takes someone to make me this relaxed! She went through from when the hairdresser and beautician arriving to my room the morning of the wedding, to the flowers, timings of bus etc. At this stage of it everything was arranged anyway as I had been in constant contact with Marcella and she had all the best suppliers so it was just a few last minute preps at this stage. She stood us up and made us practice our vows - it was so lovely and made it all feel so real. Any questions I had she had the answer at the tip of her tongue - of course she has probably heard everything 1000 times before! There was no stone she left unturned. She also went through the exact routine of the ceremony and we went to the hotel were we were having the reception to go through our table plans etc and iron all little details out. That evening myself and hubby to be were relieved that all was in order.

For the next few days we just relaxed by the gorgeous pool at the hotel and greeted all our guests that arrived. All our guests apart from a few stayed in the Sol Y Mar Calpe with a lot staying in their apartments. My guests could not get over the apartments. They were huge and so so modern. Everyone was delighted and no bad reports at all. Of course I had all these really nice cocktail bars and restaurants picked out in the town, but to my despair, there was an Irish pub right beside the hotel and this is where my party pretty much retired for the whole week!! I didn't mind at all though as the atmosphere was just great. The barmen went to so many lengths for us putting banners up the day before and day after the wedding. They were delighted just to get the business. I have to admit in the day or 2 before the wedding I did, through my own fault, get fairly stressed and emotional. When I look back now I am not sure why or what about, but I was a bride, and well I just wanted everything to be so perfect!

The night before the wedding we had a few sociable altogether in the Irish pub. Of course I was keeping to tradition and my Mum and Dad made sure I was out of there by midnight. It was great fun. My sister (bridesmaid) stayed with me that night. Didn't sleep a wink and woke up at one stage and thought it was lashing rain. But no, when we did get up it was a picture perfect day. I agreed with my hubby that I would be back in my room for 10.00 am as he as staying in the hotel too. So I went to breakfast with all my family. Then back to the room to start the preparations! The hairdresser and beautician arrived at the hotel shortly after. I was pacing the apartment while all the girls and mums got their bits done. Jo our hairdresser had brought extra girls with her for the guests to get their hairs done in a separate apartment - it was excellent to have this service that we had everything come to us in the hotel and didn't have to rush around to them! One of my best friends who were moving to Australia that day gave me a surprise phone call to wish me good luck and of course that set me off! But Marcella was up shortly after to give me a hug and calm me down in hand with a bottle of Cava! Yum! So after the girls and Mums were done my prep work started for hair and makeup. I felt like an age and didn't know quite how I would look after it was all completed but I have to say that I was gob smacked at the results they were able to achieve but for me, my bridesmaids and my Mum. My Mum wouldn't be used to all this treatment so she was delighted. My hair was exactly how I wanted and she added in extensions to give it that volume. I was delighted with my make up also - both of them did trials on before also.

In between all this commotion - Heidi the flower lady had arrived up with my flowers - which were absolutely gorgeous - every little detail was just amazing. Then the photographer arrived later and started picturing little details like my dress, the rings, my little flower girl etc. At about 2.45 I could hear this big bus taking off down on the street and had suddenly realized it was my hubby to be and all my guests taking off for the church! I was too busy thinking about myself!!! Marcella had planned to take them all up to the village where the church was, which was La Nucia in Altea Hills. Up there she had organized that the little pub across from the church was reserved for the guests to have a chilled out drink before the ceremony at 4pm! They loved it!! They also had little Spanish drummer boys playing while walking down the cobbled streets!

So I was all ready to go - it was a bit of a tight squeeze in the end for time and well my poor mum and bridesmaids got the brunt of it when they were trying to lace up my dress telling them to hurry up!! In the end I actually ended up being a bit early and the car had to wait up the hill before going in. I loved my car - I was unsure about whether to spend money on this but in the end went for the old Rolls Royce - it was everything I ever dreamed of and was so special going up with Daddy in it. The chauffer was the nicest man ever and made us feel so relaxed. The views were so amazing on the way up the mountain with the breeze in our hair. When we got to the church the little drummer boys kicked off again to let the guys in the church know I was there! I felt so special, this whole build up was for us!! My ma was there outside to give me a hug before going in. As I walked up the grand steps to the church I soaked it all in. Marcella was standing there to give me a hug and fix my dress as I had such a long trail and was all pleated so needed to sit just right. She guided the bridesmaids and us exactly when to walk. It just felt amazing - walking down with my dad to Songbird by Eva Cassidy sang by the gorgeous Sophie - again supplied by Marcella. When I got to the top I was just shaking. But he was just as nervous too. He put his arm round me and held my hand the whole time. I just couldn't believe our time was here. Lighting the candles was a bit of a disaster! I could not hold my hand still that my Dad had to come up and help me!! The music was just divine throughout and it was just so nice to hear all the songs we had chosen sang so beautifully. So we got hitched, had a big smooch and were so happy!! My favourite part was walking back down the aisle as the guests were blowing out bubbles and clapping. Then when were outside all celebrating Marcella let off these bangers and everyone was so excited!! It was great. We took a bunch of pics of course as the steps outside the church were just divine. Everyone ventured back to the pub for one in the meantime. We took off in the car before everyone to get some pics in Altea town. The photographers - Schillings Photography were the nicest couple ever. She kept telling me how beautiful I was and they were so easy with us. The great thing was that I didn't feel that hot in my dress at all and we had to climb some hills!! We then ventured up the Villa Gadea were everyone was waiting for us. They were enjoying the cocktail reception outside when we were introduced. Everyone kept saying to us how they could not get over how beautiful the place was. It was superb - looking out over the Sea with the gorgeous gardens of the hotel. Everything I could have wished for. That was when I was glad that we stayed somewhere else from where we were having the reception from as it leaves an element of surprise there.

Around 7.30 pm we sat down for our meal. Everyone enjoyed and the wine was flowing. We then had the speeches after which was great fun. Then the party began. The DJ came on first so we could do our first dance. We danced to "It Feel Like Home to Me" from the Notebook and My Sisters Keeper. It was amazing and Marcella let off steamers and smoke. Everyone else joined in for a few more slow ones and then the Band started - Stickland plus an Irish girl called Niamh. They were just fantastic - they even played Irish songs, such as Irish Rover, Galway girl. The craic was just flowing - i even produced some Irish dancing!

At 12pm we had to move in doors to the banquet room although we would have just loved to have stayed outside but rules are rules. The DJ started and we danced and laughed to the wee hours. We did the whole removal of garter, cutting of cake and throwing of bouquet. Marcella knew when to call for everything. DJ Darrell was great, he played all requests and kept the party upbeat although many were smokers and sat outside!

Eventually at 3am we started to dwindle. Myself and my new hubby were staying in the Villa Gadea and everyone else was going back to Calpe.It was lovely to have the honeymoon suite there. Marcella had the room organized lovely with my bouquets on the bed with flower petals everywhere. We had strawberries and chocolate (yum) and Cava and had our own Jacuzzi outside. It was bliss.

So that was my experience in a nutshell! I really had the most amazing day. Without our wedding planner Marcella we could not have done it. But she and her suppliers could not have made it any easier for us. For any of you picturing and wishing for a dream wedding in Spain I would urge you all to follow your dream as I got everything out of my day that I ever wanted. The only regret I have is that I stressed for no reason at all! So just relax and enjoy it all. Marcella if you are reading this thank you so much for being such a wonderful person and listening to me for the last year to ensure my day went perfect. xx

Hey Marcella,

I hope you are well. I have finally gotten time to sit down and write you an email after digesting all the craziness over the past few weeks!

I can't tell you how pleased Peter and I are with how everything went, we just keep saying how absolutely perfect everything was and we can't believe that there is nothing we would have changed about the day. Having you there to make sure it all goes smoothly was a god send. I can't imagine how nervous I would have been if I had to deal with all of that myself :) And I really enjoyed your little surprises throughout the day. I swear everyone thought they were back in belfast when they heard the fire crackers go off haha some of them actually ran for cover!!! lol it was very funny.

Jo and Maria are absolute beauty geniuses! I can't tell you how much I was impressed with Maria's makeup skills. I originally planned to do my own and changed my mind. I'm so glad I did as she just made me look amazing! My mum had major reservations about getting her makeup done, and even she was very impressed!! She's a hard woman to please. Jo has opened up new possibilities for me with the hair extensions haha it's amazing that you can just show her a pic and she does the job :)

Paul and Jolanta were amazing, I think it says a lot that a photographer can make you feel very comfortable and not feel stupid for "posing". We had a great day with them, they are really lovely people. We're so happy with the photos that they have taken and all our friends and family keep saying they look like something from a bridal magazine.

The winery is such a great place to have a wedding; I just loved wondering around with my cava soaking up the atmosphere with the Spanish guitarists. The service and food provided by Christina and Co was second to none, all of our guests were so impressed with everything. I really want to send them a small gift, but I'm not sure what to get.

Of course the music throughout the day was brilliant and it was very nice of Strikland to let us have a spot while they were on their break :) Again everyone commented about how good they were.

Everyone is still talking about the wedding and saying it's the best they have ever been to and that it will be hard for anyone to beat it! That's exactly the kind of comments I wanted to hear :) You should definitely be very proud of the work you do. To each couple, their wedding day is so important to them, you can see how much I'd built it up in my own head, and it all centres around hoping everything goes ok. Your experience and ideas are what makes the weddings so amazing. And most couples have never done a wedding before, so they don't really know what works and what doesn't. Without you, we never would have found our dream venue and your great suppliers. We managed to have an amazing day without going over board on budget.

I really want to visit El Xato again and this time manage to eat everything on my plate!!

Thanks again for everything and replying to millions of emails, your quick response to small queries really does help with a brides sanity! lol

Good luck for the rest of your weddings this season :)

Marcella

We just wanted to thank you for everything you did for us from the moment we met you. I can honestly say with hand on heart that I wasn't at all stressed or worried about our day knowing it was all in your capable hands. I can relate to brides that have said their day flies by because I can't believe how fast it went, from the morning getting ready to the ceremony itself to the dinner & reception. I am sad its over now!!

I want you to pass on our sincere appreciation to all your suppliers.....
Jo - what a lady, an incredible professional full of love and laughter, she would put anyone at ease. She has a friend for life with my sister Aishling!!!!!

Maria - All I can say is I put all my trust in her, I know she felt a little overwhelmed with the amount of information my gang thought they knew about make up but I just let her do her thing and looking back now she got it spot on.

Fr. John & Fr. Juan - they delivered a memorable and beautiful mass that we will keep in our hearts for the rest of our lives. Fr. Juan nearly had me in A&E when he was looking through our files but how nice of him to say how beautiful I looked.

Passion Doble & Sophies - For all our guests and ourselves they were one of the best parts of the day. I think they had everyone in tears with the beautiful music they performed in the church, they really were exactly what I wanted and gave me goose pimples going up the isle. They are fantastic artists.

Spanish Guitarists & Fan Fair - well I think these guys started off the day so well and prepared guests for what was to come. I was as cool as a cucumber until I got out of the car at the church & the lads started playing, I couldn't control my emtions and ended up walking up the isle like a blubbering idiot!!!! The spanish guitartists at the hotel were a great for getting people talking and mingling. Great fun.

Coach Transfer - I hear there was great banter on the bus going to and from the church, I can't say thank you enough for him making the pit stop at Benidorm to pick up some of our guests.

Heidi - All I can say is WOW WOW WOW, she didn't half disappoint. Everyone was raving about our flowers and centre pieces, she did an AMAZING job and I even managed to bring my own bouquet home to treasure forever. The colours and arrangement was exactly how I had imagined it and she went over and beyond to deliver.

Vanessa - Well I think everyone will talk about that cake for a very long time. I am sooooo happy I decided to go with something quirky as I believe a beautiful tradional cake will soon be forgotten. Ken couldn't believe his surprise and it was worth all the secrets. The cake was brilliant to look at but nicer to eat, I managed to get some cake back to Ireland aswell!!!!!
Strikland - they were amazing, I was worried the atmosphere wouldn't be like a wedding at home with so little guests but those guys are tru professionals, they just got the party started and it never stopped!!! Would go see them gig the next time we are over.

DJ - For the life of me I can't remember his name which upsets me because he really was a character, I enjoyed him so much and if any of your brides want a recommendation I couldn't fault him. He played everything and even sang - great character, a great find.

Paul & Yolanda - well what can I say about these guys. They made our day. We can't wait to see their shots and get our hands on our book. They are both so professional but they treated us like friends. No-one felt uncomfortable around them and they were not intrusive of our day at all. I can't say enough nice things about them they are one in a million (well two I suppose!!!!) and they will both remain in our hearts for a very long time.

Emma & staff - everything about the day went so well, the drinks flowed & the wine never stopped!!! The food was cooked to perfection and I cannot fault one aspect of the day. I know we were hoping to eat outside but believe me when I say there was nothing better than having the reception drinks outside and moving the party inside. I really appreciate how much Emma, the waiting staff, drinks staff and the Maitre D did for us, first class service.

And finally to you Marcella, our dream wedding planner. I think you were the key that brought our whole day together. You were amazing and I can't speak highly enough of you. All our guests are still talking about you and how brilliant you were on the day. You are a true diamond, a professional and to me a great friend. I felt so at ease knowing you were looking after us, so much so I believe I gave up contacting you as the wedding drew close!!! We will never forget you Marcella and want to send all our friends and family to you to arrange their weddings!!!! Although then ours wouldn't be the "wedding of the year" as one guest commented - poor Kate Midleton eh, little did she know a small Cork wedding in Altea would out do hers!!!!! If you ever want to use us as reference or would like us to write a testimonial for your website all you need to do is ask, I believe we are forever in debt to you for making our dreams come true.

So with all that said, I can't wait to come back and visit Altea and you and Emma again. I miss you all so much and its been no more than a week since we left the shores!!!!

Hi Marcella ,
Myself and Alan just wanted to say once again how delighted we were with how you looked after our wedding for us.
From the very first day we met you we knew our wedding was in safe hands. You and your team are so professional and so efficient.
Everybody kept commenting on how calm I was on the day!! I was so relaxed because I knew everything was taken care of and all I had to worry about was enjoying myself.
We had 107 guests over with us and they all had a fantastic time. They loved the Villa gadea hotel. It is such a gorgeous hotel in such a lovely location.
My favourite was the church in La Nucia. When we look at our photographs we have to pinch ourselves because it is so fabulous.
It was an absolute fairytale wedding.
Maria and Joe were brilliant. I loved my hair and make up. My mam looked fab aswell and she was so delighted to be made a fuss off. My two bridesmaids looked stunning aswell. Our flowers were perfect. Heidi listened to everything I said..right down to the little jewels in my bouquet. The room looked so lovely with the centrpieces. Vanessa did a fantastic job with the cake. Again she did exactly what we asked for and it was fab!!!
What can I say about Lesley. She was brilliant. She was with us all day and she was such a pleasure. We love the photographs and cant want to see our album all done. She was such a pleasure. She never intruded but got all the shots that we asked for. She was so lovely with my mam and the bridesmaids. I had such a lovely time getting ready that morning. Ricardo aswell.. he just seemed to melt into the background. Cant wait to see the DVD.

Fr. John is such a sweetheart. The ceremony was lovely. It was so relaxed. When we look through our photos we can see him smiling away.

Of course yourself!! We just cant say enough. Our guests were all talking about you!! They were telling me about you given them the tour on the way up to the church in the coach. It made our wedding so personal. You had everything organised to a tee. Again you were never intrusive but got our guests were they needed to be.

A very sincere thank you to you for honestly making our day so special.

Our guests loved the drummer boy on the way to the church. The little bar at the church aswell was great. Everyone loved all the fireworks. All the little touches made the whole day so special.

Would you believe very few of our guests had never been to a wedding in spain and they werent sure what to expect. Well they are all converted now and they could not beleive how brilliant it was. In fact a few of our friends are re-thinking their own wedding plans. We loved the fact that we could provide a free bar for all those who travelled over.

For anybody considering going to Spain to get married I would so go for it. It was a truly magical week. I would howver make sure to choose Marcella and her team beacuse I can honestly say they are brilliant!!

It is an absolute pleasure to deal with Marcella. We never felt like we were 'just' another wedding. We were made to feel special and it was like our wedding was the only one in the world. Even though I know for a fact Marcella is so busy.
Once again Marcella myself and alan want to say a huge thank you for everything.
Miriam & Alan. 16th June 2009

Hi Marcella ,

Myself and Alan just wanted to say once again how delighted we were with how you looked after our wedding for us.

From the very first day we met you we knew our wedding was in safe hands. You and your team are so professional and so efficient.

You had everything organised to a tee. You were never intrusive but got our guests where they needed to be.

A very sincere thank you to you for honestly making our day so special.

For anybody considering going to Spain to get married I would so go for it. It was a truly magical week. I would however make sure to choose Marcella and her team because I can honestly say they are brilliant!!

It is an absolute pleasure to deal with Marcella. We never felt like we were 'just' another wedding. We were made to feel special and it was like our wedding was the only one in the world. Even though I know for a fact Marcella is so busy.

Once again Marcella myself and alan want to say a huge thank you for everything.

Marcella, we can't thank you and the girls enough for giving us such a
fantastic wedding day. Every single detail of the day was covered to such
perfection and in such a professional way. My Nana recons that you should be
given the Victoria Cross for organising the two of us and 128 of our mad
families and friends!!

Since we came home from Spain everyone has been talking about the day, even
people who weren't there! Every single element was so perfect, like a
magazine wedding but soo much better!

Heidi's flowers were just so beautiful, she just knew exactly what would
suit us. The colours were stunnning and they are the first thing that people
who see the pics have been commenting on. The little lanterns and petals up
the ailse were, such a beautiful finishing touch, I just can't describe how
much I loved everything.

As for vanessa's cake, WOW. It was so cool, the firework on the top really
made it, usually wedding cakes look great but doesn't taste to good but not
Vanessa's- It was gorgeous. I had really left the design quite open for
vanessa I didn't know what to expect. We were blown away. She really gives
her idol "Peggy Portion" a run for her money!!!

Sophie and Pasion Doble really made the ceremony, their music was magical
and really moved our guests. Dermot and I were so sorry that we never got an
opportunity to thank them in person for giving our wedding ceremony a
fairytale atmosphere.
Darrel and the Splashes were just fab in the evening, once everyone got onto
the dancefloor they didn't leave. We danced all night and had such a great
time. Darrell judged the crowds taste in music perfectly and had the perfect
mix of everything, he finished off with Queen's classic, Bohemian Rhapsody.
I'll never forget it!!!!

Jo and Maria were brilliant, patient and proffessional, they managed to make
quite and unruly bunch look pretty glamorous on the day!! Jo is hillarious.

Your house keeper Jill was really lovely, she kept us all calm, made us feel
really comfortable and made a great cupppa!

I can't forget Lesley, she was brilliant, kept us moving on time on the day
and made us all feel really comfortable and relaxed. We've heard so many
nightmare stories about wedding photographers but Lesley is totally
different and she let us enjoy have the time of our lives with minimum
interference but with maximum outcome.

God there are so many little things to thank you for. Agreeing to take us on
in the first place, putting up with my brutal communication and
procrastination. The fire crackers outside the church, scary but really
cool. Apparently you were a great tour guide for our guests who knew more
about the area than we did!! The lovely pressie that you gave us which has
pride of place on our new mantle piece. Thank you to Lee and your boys for
letting us use your beautiful home that just must be filled with such love
from all the emotions that it soaks up.

We really have a Special thankyou for Fr Pablo for letting us use his
beautifull church for our special occasion and for all the lovely people of
Alcalai who let us invade thier village and take over the bar for a life
changing couple of hours. Your Village will always hold a special place in
our hearts. Everyday I remember somthing different, another detail about the
wedding. It really was, as promised, Our Dream Wedding in Spain.

Thankyou Marcella, from the very bottom of our hearts,

All our love,


Hi Marcella,

Hope things have dyed down for you a bit..

Now we are settled back into things back here, seems like it was all a long time ago.

I just wanted to say a big thank you for all your hard work in the lead up and on the actual day, you were fantastic. You made it a very special and unforgettable for both of us, and for everyone else... People are still talking about it now, saying how it was a fairytale wedding and one of the best weddings they have been too...

It really was a great day... You did so much and it showed!!!!

Thank you so much

Time Of Our Lives
Hi Marcella,
We just really wanted to thank you for an absolutely fabulous day. You and your team are priceless and on the day don't get the credit you's deserve.
From the moment we both got up on Friday everything was just perfect and down to a tee right up until we went to bed. When you guaranteed us your services we never expected what we got we were and still are gob smacked by the quality and detail you put into our day. We're home now since wed and people just haven't stopped talking about it and most of all the question who was your wedding planner she was amazing. You and your team should be really proud of what you's do your all amazing. Thanks again so much Chris and Karen and all 82 guests.


As the name suggests, 'Your Dream Wedding in Spain' ensures that your wedding day turns out to be everything you dreamed it would be and more!
We got married on October 1st 2007 in Altea and there is not a single thing we would change about our dream wedding. Marcella's attention to detail and professionalism are second to none.
The whole wedding package supplied by Marcella and her wonderful team meant that the stress of organising our wedding was lifted from us which afforded us the luxury of putting our feet up and relaxing for the 4 days leading up to our wedding day in Altea.
During our weding day, Marcella made sure that we did not want for anything. It was amazing to have Marcella there during the day as she ensured that the day flowed effortlesly us allowing us both to be more relaxed and enjoy ourselves even more.
The location and quality of the hotel were first class. Every detail from the food and drink right down to the fireworks and music were amazing leaving all our wedding guests with that 'WOW' factor that we wanted to achieve.
Without a doubt, we would never have been able to have such a spectacular wedding without the Dream Wedding team with us.


Hi Marcella, I feel so bad that I haven't been in touch for ages. Things have just been absolutely hectic here from the minute we got back from honeymoon. I'm up and running in the business. I'm absolutely loving being self-employed but you really don't have a minute for yourself!! Anyway, enough of me making excuses.
Marcella, we had a really really fantastic time in Spain and I cannot thank you enough for everything. Everything on the day from the scenery on the way to the Church to the Church itself; the string quartet to the fire-works was absolutely perfect and we could not have asked for a better day.
Our honeymoon was just brilliant, Maurititus in particular. So, we're an old married couple now and we're very, very, very happy!


Marcella, Marie & I have just watched our dvd's and
we're absolutely ecstatic over them, they really are
superb! Please thank Ricardo for doing such a
fantastic job! We'd both just like to thank you & all your team, our wedding was absolutely perfect and that's due to the efforts of all involved. We really couldn't have asked for anything else! Not to pick favourites from your team but Lesley was absolutely brilliant & we just can't thank her enough for the album & photos, they are just unbelievable. Hope you & your family are keeping well & best wishes for the future. Kindest Regards


Thank you so much for making my day so special. I would do it all over again tomorrow. everything was perfect better than I ever imagined it was magical from start to finish. Please pass on my thanks to Vanessa
the cake was perfect just what we wanted even got compliments written on the guest book about the cake!! And also please thank Heidi for me, my flowers and everything was beautiful she did everything so perfect I loved it. Thank you again for everything and I will keep in touch (hope max's arm is on the mend ) Give my email address out to people who want to speak to me for reference or anything I will leave them in no doubt about getting married in Spain, with you as the wedding planner.....I am so glad I got married in Spain no one will ever have the fab memories that I have. Irish weddings everyones day is the same nothing will ever top mine !!! Thanks - Aisling


Re: DVD - We LOVE it! it is so funny in parts!!! we can't stop watching it! Ant has even had his mates round while I have been at work to watch it!! We are getting the family together this Saturday so we can call watch it together. It really is fantastic & we are over the moon! Everything about the wedding was just perfect! so thank you again and again.


May 2007