Sweet Creations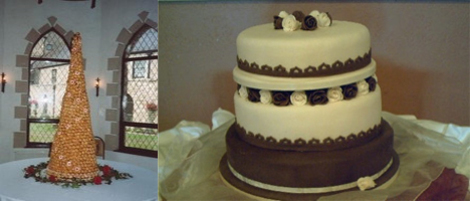 Supplier Details
Sweet Creations is based in County Wicklow, but designs cakes for all over the Midlands and indeed Ireland.

At Sweet Creations I prefer to work closely with the bride and groom to design a wedding cake which is unique to you, and which will co-ordinate with the theme and colour scheme of their wedding day.

Cakes can be created for any occassion christening, novelty wedding cakes, birthday, anniversary or any other occassion you would like to celebrate.

Your cake can be delivered and set up at your reception venue, helping take a little of the stress from your day.
At Sweet Creations, only the finest ingredients are sourced and used in your wedding cake, to ensure that you fully enjoy what has been created for your pleasure.

You can choose whatever flavour you wish, from rich fruit cake, chocolate fudge cake, carrot cake, lemon Madeira, strawberry, biscuit cake or chocolate rum. Then choose your favourite shape: square, round, oval, hexagon, petal, heart or bells, or you may wish to blend different shapes for your own unique design.

If you have special dietary needs, I will do my very best to accommodate these while making your cake. Fresh flower arrangements can also be provided to enhance your cake.

Testimonials
Thanks so much for creating such an amazing cake, it added a real wow factor to the dessert table along with the scrumptious croquembouche - everyone had their plates piled high! It was such a lovely detailed design, exactly what I was looking for. The 3 tiers tasted gorgeous aswell which was no surprise. Thanks so much again, I'd highly recommended you to anyone looking for their cake.