The Brehon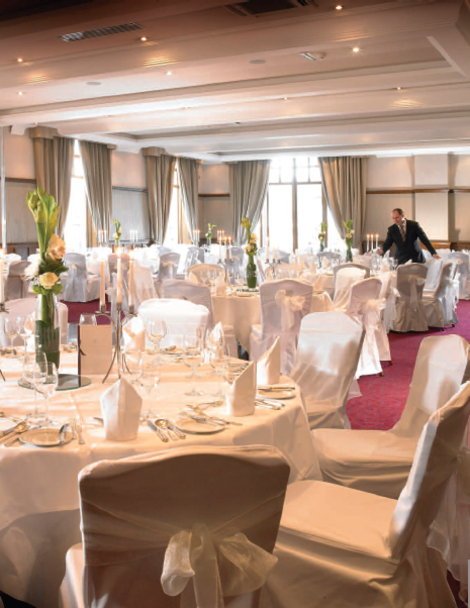 Supplier Details
The Brehon Hotel - Killarney
Ireland's Best 4* Hotel in 2008
Where Luxury Meets Style
As you step on to the red carpet, Your Wedding Co-ordinator at The Brehon will be waiting with Champagne & from this point on we ensure that your wishes are granted & expectations excelled
Our aim is to make your Wedding day the most enjoyable day of your life. To achieve this we treat you & your guests to a truly delightful Fine Dining Experience, catering for up to 200 guests. Our attention to the finer details ensures that your day is unique.
Affordable Luxury at The Brehon Killarney
Your All-Inclusive Wedding from €65 per guest (Click here to view our brochure)
A Brehon Wedding is Tailor-Made to your Exact Requirements
From initial consultation, we will entrust you with:
Your dedicated Wedding Planner who will be with you through every step
Complimentary Menu Tasting to present options to you
Complimentary Wine Tasting with our Resident Sommelier
Assist you with choosing your flowers of choice for the Reception
Complimentary Massage in our Thai Angsana Spa to relax the Bride before her Special Day
Complimentary Drink Reception and Entertainment in our Beautiful Mezzanine Lounge
These are just some of the reasons why The Brehon was Ireland's Best 4* Hotel in 2008 and is renowned for creating unique and amazing wedding days.
Call The Brehon for a private wedding consultation on 064 663 0700

Email: [email protected]. Web: www.thebrehon.com
Let Us Amaze You - Contact Our Wedding Team and arrange a consultation today.
Testimonials
The Brehon Hotel Killarney, is an amazing hotel. We had our wedding there on 22nd September 2007 and I must say the staff and venue were fantastic. We dine in this hotel on a regular basis. The atmosphere is fantastic as well as the outside scenery. The staff are kind, loving, warm and generous. Personally we feel that the staff are hand picked because they are so amazing. From the time one enters this hotel and the time you leave you are treated with complete courtesy. Our wedding was a dream and my husband and I would highly recommend John Abbing and all the staff. On our wedding day, we were greeted at the door. The reception was carried out exactly to our requirements. The meal was exactly on time and no delay in between coarses. Everyone was commenting on how well all the tables were layed out and the meal was top class. My sister in law did an amazing slide show for us on the night and John gave up some of his valuable time to assist her in setting up this slide show. Total professionalism. Thank you all so much Aisling and Ulrich Schraewer


The Brehon Hotel Killarney is the ideal place to forget about the stresses and strains of life and relax in the beautiful surroundings of Killarney.
The building itself is awe inspiring, and you know that there is something special and magical about it. The reception is area is tastefully designed and welcoming and merges all the beauty of yesteryear with the high standards of a luxury hotel.
We were shown to the honeymoon suite which was fabulous, the suite is spacious and pleasant with everything you need and more available for you, including a Television Juke Box! The views over Muckross and the Killarney Mountains are breathtaking too.
The Angsana Spa is really worth a visit, I don't think that I could write anything that would do it justice, the pool is lovely, the hot & cold Jacuzzis invigorating, the Sauna and Steam Rooms interesting and like none other I have visited. Everything is colour and scent coordinated which gives you an overwhelming feeling of relaxation and satisfaction. The "Tropical Shower" is a novelty and there is much, much more available in the Angsana Spa so that a morning or afternoon would simply disappear.
The restaurant in The Brehon was extremely pleasant to eat in, gourmet cuisine coupled with high levels of service. The food was excellent and the little extras including the home made bread and chocolates made it special.
I would not hesitate to recommend the Brehon for a visit and would love to be the guest at a wedding there in the near future.
Thank-you & hope to visit again soon.