Cameron Boardman Photography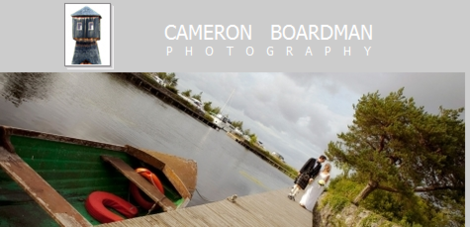 Supplier Details
It has been a great year shooting happy couples in venues all over the country. It's been a privelege to work in Adare Manor, Dromoland Castle, Carton House and many other venues.
I never lose the sense of Joy you get when people come back to you and are so happy with their photographs,it motivates me to approach each wedding with a renewed sense of enthusiasm and professionalism to enusre I maintain the highest artistic standard possible.
I've been lucky to shoot many summer weddings this year and they are generally breezy and chilled from a photographic point of view as there is a greater window of opportunity to shoot in daylight and they are great fun to do no doubt. Over the last few years I have committed myself to perfecting the art of  ' winter weddings ' as it requires a different approach and a little creativity to get the most out of the day. Having shot many over the last few years I feel I have gained invaluable insight and experience and feel equally as relaxed about weddings at any time of year. There are many examples on my site www.cameronboardman.com (Click 'Clients' on the homepage to get a comprehensive view of recent work)
To sum up my goal for every wedding I approach 'My aim is to leave you free to enjoy your day without taking up too much of your time away from the wedding party and to get the most natural and beautiful shots possible working within these guidelines'.
Testimonials
We would have no hesitation whatsoever in recommending Cameron Boardman for your wedding. We got married on 4th June 2011 and from the outset of booking him, it was clear that Cameron was on our wave length completely. He really listened to what kind of day we wanted and was so professional and helpful.
You hear stories of photographers been the director of the day, and that is true but how great it is to have a director who is so personable and friendly and knows how to have the craic with your friends and family! Everyone on the day loved Cameron and his John, I would have liked them as wedding guests! The outcome is that we got an amazing portfolio of photographs. We had our reception at Ballymagarvey Village, which is a stunning venue, so I'm so grateful we have the photos we do, that really show it off. We wanted our photos to be relaxed and show everyone enjoying themselves and that is exactly what we got. Cameron allowed us to mix with our guests when we arrived and we didnt even know he was snapping away in the backround. For us it was a totally relaxing enjoyable experiance, and that is thanks to Cameron.
A great photographer, and a great guy!
Naomi & Paul

Hi Cameron,

A huge thank you for our wedding photographs. We are thrilled that they have turned out better than we could have imagined. We love that you captured every moment of us laughing with each other as well as with
our guests. The spontaneous photographs of our guests enjoying themselves chatting and celebrating with champagne and cigars are great. They are extremely natural photos and you really did capture the best day of our lives. Thanks a million for being so relaxed as well as professional on the day. We are delighted you fit so well into our day which was about laughing and having fun and no stress!!

Thanks again and we have no hesitation in recommending you to all of our friends and family.

The photos are bloody fantastic. Everyone loves them. Thanks also for the link to the photos on your site. Great way for us to show people the photos and hopefully it'll make people thinking of getting hitched have a nose around the rest of it to see the quality of your work.

I knew what I wanted from a photographer but it was the one area of the wedding preparations I was most concerned about. Cameron was recommended to us by a friend. After our first meeting when we viewed his portfolio we instinctively knew that Cameron was the right person for our wedding as his photos were stylish, impromptu and sophisticated whist having a modern feel. I didn't want a lot of staged photographs and this like all our suggestions was not a problem for Cameron. On the day Cameron and his colleague made their way through the snow in plenty of time to capture me getting ready for my wedding. Like a lot of people I was nervous getting my photograph taken but Cameron with his very professional and relaxed attitude immediately put me at ease. He made me laugh and we had a fantastic time and I was only getting ready at this stage! Cameron captured our day perfectly whilst not being intrusive to our guests, had he not had a camera you would have thought that he was part of the wedding party! His friendly manner brought the best out in all our guests which is apparent in all of our photographs. When looking back at the photographs of our wedding day Cameron captured everything perfectly. Cameron's photographs have enhanced the memories of our day. I could not have asked for a better photographer and I would highly recommend him to anyone getting married.


Hi Cameron

We had to just send a really quick mail this morning to thank you...first of all for getting everything ready for us so quickly, and for the gorgeous framed images also - that was so nice of you! They are amazing.

We had a look through the dvd last night and honestly it was like re-living the day! You captured the atmosphere of our wedding perfectly, and really caught some gorgeous little moments of us and our guests enjoying the whole thing. The mini album and printed photos are also just stunning. We haven't even gotten to the full disk of images - I don't know how we're going to choose what to put in our main album!

Seriously, thank you so much, we are really thrilled!!

We received the photos just a few days ago and we LOVE THEM! We absolutely love them. I can't thank you enough for the fabulous photos!

I don't think we thanked you properly for our wedding album - it was absolutely perfect and we are both so happy with it. I was just looking at some of our wedding photos today and you really did do an fantastic job. We couldn't have nicer photos or a nicer person on the day to take them!

I worked for a brief period as a wedding photographer myself and Cameron was recommended to me by a friend, who knew how fussy I would be. He is excellent. The photos came out really well, he captured the day perfectly. Besides the fab photos I would recommened him as he is really calm and patient and puts people at ease.


We chose Cameron for our wedding because from the first phone call it was clear that we were dealing with someone who is extremely professional yet relaxed and down to earth. Cameron listens to what you want and offers suggestions and ideas casually without making you feel pressured to commit to a particular format. His laid back and friendly style does little to hide the serious passion he has for his work. In a nutshell, Cameron really cares about the end result and that you are happy with his work. On the day, he put us at ease and made us feel comfortable being ourselves in front of the camera. He has an unobtrusive approach and the care and attention he gave produced excellent results. His commitment and flexibility continued right through to helping us pick the final shots for our album and our requests to make changes to the layout were never a problem. We enjoyed every minute of working with Cameron and can't recommend him highly enough. Our wedding album is wonderful and everyone who has seen it has commented on how fantastic the pictures are. Thank you Cameron for capturing our day so perfectly!


I would highly recommend Cameron to any bride-to-be. Cameron was the ultimate professional on the day - whether he was charming our guests and capturing natural 'photo-journalism' shots or patiently directing larger groups. Cameron instinctively read the mood of our wedding and managed to catch all of the important moments and little details without any prompting from us. We were absolutely delighted with the results - a mixture of timeless black and white pictures and artistic colour images.


Cameron was the perfect photographer for us and I would not hesistate to recommend him. He asked exactly what we wanted, and listened! He and his assistant kept a low profile on the day but if we wanted him to capture something in particular, all we had to do was shout! Our photographs are amazing, just what we wanted. He really knew what he was doing, and was able to set people up for group shots etc without them feeling hassled. I have been to a few weddings where the photographer have been very pushy and bossy, but at our wedding, we were all relaxed and had a good laugh! So all in all, if you are looking for a great photographer, who will listen to you and who knows his stuff, look no further. We can't stop admiring our photos!


I had a clear idea of what I wanted from a wedding photographer - a good listener who understands what you want but with the imagination to suggest things that you may not have thought of, a consummate professional in terms of the actual photography and its presentation, and, very usefully, someone with the charm to get everyone into a group shot or catch those great spur-of-the-moment photographs of friends and family. Cameron proved to be all of the above and I would not for a moment hesitate in recommending him to anyone who needs to get it absolutely right, whatever the occasion.


We found Cameron Boardman to be excellent and very professional. We did not see him once in the church but he managed to capture every precious moment of the ceremony. Our bridal party were all very impressed with his enthusiam and attention to detail and he put everyone at ease, especially the very nervous bride. We had hundreds of photos to choose from and every element of our Wedding Day was captured. With the mixture of black and white and colour photos that were taken on the day we were very impressed and have a fantastic album that we will always cherish. Thanks Cameron for giving us fabulous lasting memories of our Wedding Day.