Mortell Catering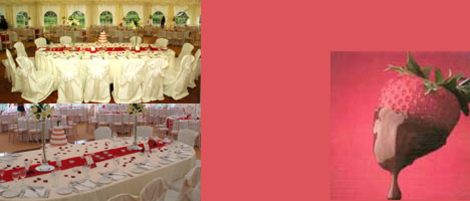 Supplier Details
Mortell Catering - Weddings
Your Wedding Day
Make that special day extra special by selecting the finest food from our innovative variety and unique presentation.
Just tell us your must haves, and we will commit out team to you, personally.
To discuss your plans call
061 415457 or 087 7973419.
Testimonials
Dear Brian, Thank you so much for all your hard work and attention to detail in making my niece's reception such a wonderful occasion. It followed on beautifully from the Thanksgiving Mass that we had earlier in the day. Cliona was a very special young lady and was the only thing missing from a truly memorable day. Please thank all your staff for their hard work especially the young ladies who were working the floor.

Brian, Quite simply we could not have had our wedding without you – and it was an absolute dream wedding! From the very beginning you were wonderful with your advice on every aspect of our reception…down to the very last detail. You truely made the whole experience so easy for us and also enjoyable! Thank you for being so readily available when we had questions and needed ideas and advice. And of course on the day, the food was absolutely fantastic according to our guests, we were too excited to eat unfortunately! Thank you also for managing the day itself allowing us to enjoy the day and not have to worry about any problems, we knew you would take care of everything.
I would heartily recommend Mortell Catering for any event and especially for weddings….and I'm only sorry that it's all over, we would do it again in a heart-beat and change absolutely nothing!
I've said it to you before but I'll say it again, we could not have done it without you and we are eternally grateful! All our very best to you and all at Mortells,

Dear Brian and the Mortell Crew!
Thanks a million for your effort and support in helping us create a drama free wedding day at Portlick Castle! We are living abroad and got married back home in Ireland so we needed to get a caterer that we could trust and was flexible to meet during our return. A friend recommended Brian and his team at Mortells to us who had used them before. From the moment we got in contact with Brian, we were made feel at ease due to his personal approach and flexibility.
Although we changed the menu on a number of occasions, it never posed a problem. On the day itself, his team were very professional in their approach to all the guests. From the moment we arrived at the venue, everything was perfect. We started with tasty canapés that whetted the appetite of our guests. The meal itself was superb and all the food was cooked to perfection and presented beautifully. Everything was done on the day to what we wanted and to when we wanted it. The best part was being able to forget about the responsibility of the food and leaving the responsibility in the capable hands of our super host!
We would highly recommend Brian and his team for an occasion and Ger expects a good deal for any christening we may have (not yet Brian!).
Again, a big thank you to all at Mortells for making our special day that little bit more special.

Brian, Thank you so much for making our Party such a fabulous memory. People are still raving about the seabass! The standard of all the food was exceptional and the ease in which all the people were fed was amazing. Thank you so much, there won't be a party held in Dawstown without you.
Thanks again!

Dear Brian, Thank you so much for providing the wonderful food for our wedding. Everyone loved their meal and some cannot stop talking about your fabulous doughnuts!
Thanks again for making our wedding such a special day.

Junior Chamber Ireland used Mortell Catering for our flagship event, The Ten Most Outstanding Young People in Ireland ceremony at Daghda Church in Limerick in June 2010. The service we received from Mortells and Brian Mortell in particular, was exemplary. The guys not only served amazing food that added to the glamour and excitement of a very special night, they also couldn't be more helpful in planning the event. On the night the food was excellent, served by polite and well trained, efficient staff in a smooth manner. All of our guests were delighted with the dinner. We look forward to working with Mortella again in the future.