Comedian - Paul Malone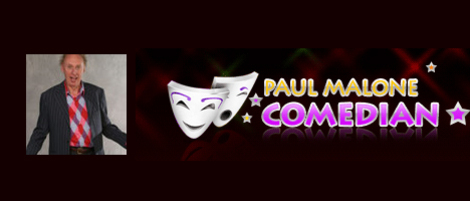 Supplier Details
"After all those speeches why not sit back and relax with a few good belly laughs, and who better to supply those laughs than comedian Paul Malone. Paul's original brand of comedy has been the highlight of many weddings up and down the country"
See Paul Performing at a Wedding
Paul Malone is the most titled comedian ever. He has been variously known as The Chancellor of Chortles, The Grandmaster of Guffaws, The Prince of Parodies, The Bishop of Belly-Laughs and the most coveted title of all The Count of Mighty Craic. Paul's show is non stop laughter and covers every subject under the sun - politicians, priests, marriages, growing-up, school, teenage years and hospitals, just to mention a few.
His send-ups of famous bands and singers have become legendary around the country from Daniel O'Donnell to Britney Spears. Paul leaves no stone unturned in his commitment to slagging off the rich and famous.
His original zany wit has taken him all around the world. Paul has performed many times in the Canary Islands, Ibiza and Cyprus and is a big hit with the package holiday brigade. Paul has also performed for Irish Societies in such exotic places as Hong Kong, Zambia and Uganda, Botswana, South Africa, Moscow, Iceland and of course the United States.
Paul has appeared many times on radio and TV and has worked as a scriptwriter on some programmes. Paul's Live CD 'An Ass In The Pane' has sold over 10,000 copies to date and his single 'Living Next Door To Albert' about the former Taoiseach Albert Reynolds went to number 1 in the Irish Charts.
Paul's latest offering is the most unusual version of The Fields of Athenry because Paul has recorded it backwards. This is the first time that anyone has ever recorded a song backwards and its receiving a lot of airplay around the country.
Paul is currently negotiating a deal with a major record company to produce a number of DVD's over the next coming years.
Serendipity, Phone: 0509-25767
Syngefield,Mobile: 086-8379258
Birr, Email: [email protected]
Co. Offaly