Ballybeg House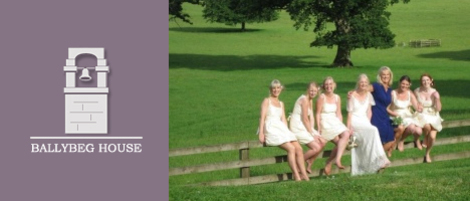 Supplier Details
A Bohemian style wedding in an idyllic location in a relaxed and cosy atmosphere - That is what Ballybeg is all about.
Yes Ballybeg is different to any other wedding venue and yes everyone who comes to Ballybeg for weddings leave happy, contented and suitably replenished in both mind and body!
With five years experience and more than 200 weddings later, we have perfected the winning formula.
Ballybeg is your venue for your entire stay and it is your wishes and your own special requirements that will be looked after by our friendly and efficient staff.
Grouse Lodge, on the other side of Ballybeg Hill is the most romantic, isolated "Hideaway" you will have ever seen! This unique retreat is also yours and may be used again to suit your own particular requirements.
Ballybeg does not promote its wedding venue at any wedding fairs or in any promotional magazines. Ballybeg is promoted by "Word of mouth" by the couples and their guests.
Every wedding is very special to us all at Ballybeg. Our philosophy is "We are only as good as our last wedding" and our last wedding must be at least as good as all the others!
To help with the big economic downturn that has afflicted us all over the last couple of years, Ballybeg has negotiated with all it's service suppliers and has come up with an unbeatable "Mid week Special Offer".
This mid week special as outlined on our website www.ballybeg.ie is our genuine effort to significantly help couples who would love to get married at Ballybeg but like many others have been affected by the downturn in the economy.
Contact Details
Ballinglen,
Arklow,
Wicklow
Phone: + 353 (0)402 38841
Fax: + 353 (0)402 38841
Mobile: +353 (0)87 756 2005
[email protected]
www.ballybeg.ie

Interact