The Waterside House Hotel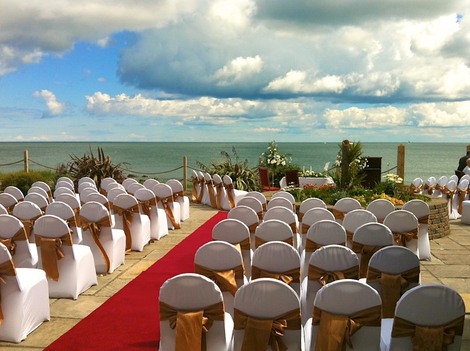 Supplier Details
Welcome to one of the most picturesque and exceptional wedding venues in Dublin. If you have always dreamt of hosting your special day at a beach wedding venue then The Waterside House Hotel can assist you.
Shortlisted for "Leinster Wedding Venue of the Year 2011" in the prestigious weddingsonline.ie annual awards, The Waterside House Hotel sits right on Donabate Beach along the North County Dublin coastline. The impressive view from the Sea View Terrace provides an astounding backdrop to your wedding photo album. 
The spectacular coastal views will leave your guests amazed and will also guarantee an unforgettable day for both and your bridal party. If the sandy beach and waves crashing on rocks isn't enough for the photographer, a landscape feature garden surrounds the wedding venue.
In summer and spring months you can enjoy a bright setting of sunshine, long evenings and light fresh sea breeze. In the autumn and winter months you can be treated to a back drop of high dramatic waves and a cosy setting with open lit fires and celebratory sparkling wine.
For your wedding day......
Arrival reception on the spectacular Sea View Terrace
Steps directly to sandy beach & waves crashing on rocks
Stunning photo location all around hotel
Martello Ballroom for weddings of 50-240
Lambay or Signal Suite for small intimate weddings
Complimentary bridal suite on the night of your wedding
Civil ceremony/civil partnership facilities both indoor and outdoor
Dedicated & experienced wedding coordinator
Variety of menu options and wedding packages
At The Waterside House Hotel, we promise you award winning service & the guarantee that your wedding is as important to our family & team as it is to you and your family.
To view our all inclusive wedding package click here
To view our wedding brochure click here
Testimonials
Thank you Niamh, Paul, and all of the team at The Waterside House Hotel for making our wedding day the best day of our lives. We were blown away by your professionalism, your attention to detail, and the consistently great service and high quality of food on the day. You are true wedding experts and I'd highly recommend this venue as a wedding one to my nearest and dearest of friends. Well done and thank you again.


Our experience at the Waterside was magnificent. Paul, Niamh and the staff were superb from the day we booked our wedding. The day itself was tremendous. Fantastic room, food and service. A truly memorable day! Thank you all so much


All the Staff at the waterside house hotel were expectional, Courteous and friendly. They couldnt do enough for us to make our wedding day run smoothly for us. The waiting staff were excellant. Id like to thank them all for their help on the day. Paul and Niamh are great to deal with anything we needed for the day it was done with high excellance. To everyone at the Waterside House Hotel Thank you ever so much.


Paul and Zara and the staff of the Waterside made our day so special, cannot thank them enough our day ran so smoothly and perfect.
Highly recommend The Waterside