World Vision Ireland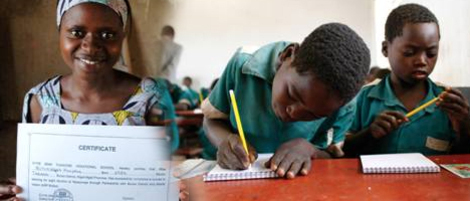 Supplier Details
WORLD VISION IRELAND COMMUNITY GIFTS CATALOGUE
Sharing the happiness on your special day! 
Gift buying these days can often be a bigger dilemma for wedding guests than the 'plus guest' nightmare for singletons. Most of us have resorted to the unimaginative gift voucher out of sheer frustration at trying to come up with a thoughtful, yet affordable gift that won't end up being added to the 'to be exchanged' pile.
But what if there was a way of giving a quirkier and more thoughtful wedding gift that will have a lasting impact on the newlyweds….and many more besides?
Sewing Machines for Women's Group - €89
In Tanzania and Sierre Leone, if a women is abandoned by her husband, she is often left with no possessions or means of supporting her children. With the help of theses Women's Groups, she can learn a new skill and create a steady income for her family.
Enter the World Vision Ireland Community Gifts Catalogue.
Giving a gift from World Vision Ireland's Community Gifts Catalogue gives wedding guests the chance to give a gift, in the name of the couple, to people living in poverty.
School bag, Copy Book and Pencils - €7
Your generosity will provide a child with a gift of a school bag, exercise book, pens and pencils to help them on their way to a brighter future.
Each gift is unique because it has been requested by the people we support in Tanzania, Uganda, Kenya, Swaziland, Sierra Leone, Mauritania, South Sudan, Senegal and Somalia.
The catalogue offers a range of 29 inspiring gifts to suit every budget - a traditional birth attendant kit can be bought for €50. Milking sheep, which provides a family with a means of supporting themselves financially and access to instant nutrition, can be bought for €98. And for €100 a Gala Goat offers women in Kenya the chance to boost their incomes and improve their families' nutrition levels.
And the region's economy benefits too because World Vision's gifts are always sourced locally.
The happy couples can also choose to hold a tailored wedding list with the Community Gifts Catalogue. They can create their own unique and inspiring Wedding Gift list, with a personal welcome page.
Ed and Katy Perret, who decided to use the catalogue as part of their list, said: "We felt that as we already have so much, we wanted to use the World Vision Ireland Catalogue as part of our wedding list to help change the life of a family or child overseas who don't even have the basics in life. Our guests thought it was a fantastic and unique idea - and are sure to use the catalogue for gifts again!"
Family Emergency Survival Kit - €65
Families who live through a disaster are often left with only the clothes on their backs. This Emergency Kit is stocked with essentials like blankets, water purification tablets, cooking supplies and hygiene products.
One very innovative recently married couple even decided to buy a small gift from the catalogue in the name of each of their guests instead of wedding favours. (How can a tiny box of three sweets cost €3 a head? €5 would buy fruit trees providing nutritious snacks for schoolchildren who often travel many miles from home to attend classes. Food for thought indeed.)
Full catalogue details are available on www.worldvisiongifts.ie or by calling 1850 501 101.
Immunise a child - €17
In Somalia, less that one in four children are vaccinated, resulting in needless deaths. This gift will literally save lives by providing protection against deadly diseases such as diphtheria, whopping cough, measles, polio, tentanus and tuberculosis.
Training for vulnerable children  - €250
Some children in Tanzania, as young as 16, have already become adults as they are forced to leave school to earn a living for themselves and their siblings after losing a parent to diseases such as HIV/AIDS. This gift provides a vulnerable child the opportunity of a brighter future as they learn new skills that will generate an income for years to come.
Click on www.worldvisiongifts.ie or call 1850 501101 to purchase any of these gifts or for full catalogue details.