Blacktye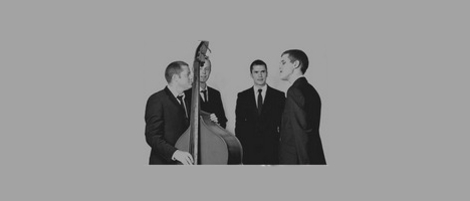 Supplier Details
Blacktye are Dublin's premier function band covering a wide range of styles including pop, soul, rock, reggae and jazz standards.

If you are looking for a talented, lively, professional and experienced band for your wedding, corporate or social event then you should contact Blacktye. They are constantly improving and expanding their repertoire and will arrange any musical selection upon request.

With very competitive rates, Blacktye offer a number of packages. Depending on the nature and budget of your event you can choose from our Platinum, Gold and Silver packages.
Testimonials
Apologies for the delay in thanking you for a wonderful day on
Saturday July 2nd 2011, Myself and Lina were both delighted with how
the day went. Everything was perfect from the church Music right
through until you finished as DJ. I received so much positive feedback
Its hard to know where to begin. Is there a place where you would like
me to do a more substantial review?
Ironically enough the only negative part for us was that the weather
was so nice and meant people wanted to stay out (again bitter sweet!),
I was very impressed with how you and the band were actually able to
beat the weather and encourage people to come in! I have no
hesitations in recommending Blacktye to anyone that asks.
Thank you for making our day very special.

Just to say thanks a million for everything on the 18th of June, they were absolutely brilliant.
I hope they get some bookings out of it! Thanks very much.

Hi Ruth, Darragh & all from Blacktye
Just a quick note to thank you for making our wedding day so special from the
church music and throughout the night!! You were amazing, all our guests are
still talking about how great it was. I think the dance off to ACDC with the
groom and bestman will hold many memories for everyone! Thanks also for our
surprise dance which was great fun. We will definitely be recomending you to
all our friends in the future, thanks again for everything.

Hi darragh.
Would just like to say i was thrilled and so where the guest at my wedding (29/05/07). Sorry im only getting round to thanking you now.You were brilliant.And ill highly recommened you too anyone thats looking for a jazz band.


Hello lads!
Karen here from Cork. You played at our wedding in Barnabrow, Middleton on Saturday the 16th of June.

I didn't get a chance to speak to you all at the end of the night so I just wanted to thank you for your tremendous contribution to the day. You were a huge hit with the guests and I will be strongly recommending you as a band!

You are a really talented bunch and I am so glad you were able to make the trip down to Cork for us, Thanks again and best of luck with your music careers

Hi Dara & all the Blacktye Band,

Thank you so much for providing such fantantic music entertainment for our wedding, absolutely everything was perfect. The Chuch music, the jazz duet, the band and the DJ the whole thing was just great.

I could not believe how many people where out dancing to the band, everyone really enjoyed the music and have been telling us how great they thought you all were.

We booked you from just listening to the samples on your website and from the great reviews on weddingsonline.ie, and are so happy we did, the music could not have been better on the day, it was exactly what we were hoping for & so much more!

Thanks again