Claire Sheerin - Church Singer/Musician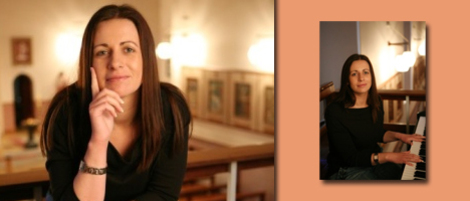 Supplier Details
Claire Sheerin - Church Musician/Vocals, piano and organ (optional). I have 13 years experience singing beautiful hymns and love songs. I can incorporate a special song for the happy couple. My rich, floating voice brings warmth and meaning to the ceremony. A complimentary consultation ensures that you can personalise the weddings ceremony and find the perfect selection of songs.
Testimonials
Hi, We had Claire playing music for our guests, during our meal, at our wedding on New Year's Eve.
Claire really added to the ambiance of the meal, and everybody loved it and most people commented how good she was.She gave us a great mix of songs, done is a very fitting tone for the meal.For arrival, meal or church music, Claire would be an excellent choice.

Claire sang and played the piano at our wedding ceremony in April 2011. She was fantastic both at the wedding and before it. Claire was happy to sing any song we wanted, and as we wanted a friend to sing a song at the signing of the register, she arranged to meet with her in advance of the wedding to practice with her.On the day she did an amazing job, sang every song beautifully and I'm so delighted to recommend her to other brides.

Claire performed at the church ceremony for our wedding in April 2010 and was really fantastic. I wanted someone who could play the full church organ and also piano/keyboard aswell as sing, so I was delighted when I found Claire. We went to hear her play/sing and choose songs with her and we loved her strong expressive voice. Claire really has great natural talent. On the day, Claire's voice filled the large church (Ss. Peter & Paul Balbriggan) with ease, and the piano/organ music was beautiful. People commented on her having a Norah Jones/Sarah McLachlan type voice and lots of people were asking who she was and saying that she was really fantastic. So Claire thanks so much for adding that extra special dimension to our day, it was even more than I could have hoped for and I would recommend you to anyone. I'm just sorry it's taken me a year to put up a testimonial for you!!!

I would just like to leave my recommendation for Claire Sheerin.
We had our wedding on the 17th of September and having gone through the music with her a few earlier I knew I wouldn't be disappointed, Claire has a beautiful voice (even though she doesn't take complements well lol) and is a wonderful person to deal with. She even managed to sing when we went to see her even though our little son was right in her face. She helped us pick our music, seeming to know what we would like. I would highly recommend Claire to help make your perfect day that bit more perfect.Thanks so much Claire, from me, Paddy and Kieran, and the little wink you gave me as I walked in the church, calmed the nerves no end.

Claire performed at our wedding in June 2010 and i just wanted to say she really exceeded my expectations her music was fantastic if i could do it all again, i would have hired her for the pre dinner reception, truly outstanding in everyway.
thanks so much

Claire performed at our church wedding in 2007, adding so much to the ceremony with both instrumentals and hymns performed beautifully. She accommodated our requests without hesitation, we couldn't have asked for anything more!