Lawler Chauffeur Drive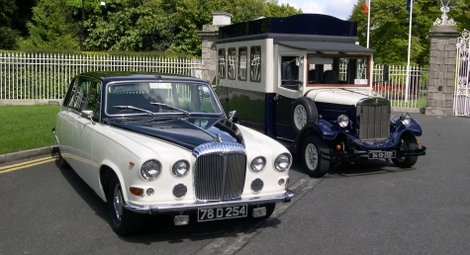 Supplier Details
At Lawler Chauffeur Drive we have helped thousands of couples make their big day a very special one. With the expertise of professional chauffeur company and the personal service of a family run business we'll help make you day one to remember.
We specialise in 7 seater Daimler DS420 Limousines, these cars have been the choice of royalty the world over. This purpose built Limousine is in a class of its own for space and comfort. It allows the Bride to enter and exit the car with grace and ease, and with it's extra fold down seating it can also be bridesmaids' car.
Asquith Palace Vintage Bus (14 seater - pictured above), finished in Ivory over Navy. This unique vehicle can transport all your bridal party in style and comfort.
Handcrafted period interior with mahogany detail throughout.
Keywords: Wedding Cars Dublin, Wedding Chauffeur Dublin, Wedding Cars Online, Lawler Chauffeur Drive
Testimonials
Having spotted the Asquith Vintage Bus in a sample DVD it became an absolute must for our big day! Richard and his bus carried our bridal party to and from our wedding locations in utmost vintage elegance and style! The bus complimented the theme of our wedding beautifully and provided a lovely focal point for the photos. Richard was a huge hit among the passengers and an absolute gentleman to boot! Organising the bus was the easiest part of our wedding planning thanks to Richards professionalism! We would have absolutely no hesitation in recommending Lawler Chauffeur Drive and wish Richard and his fleet every good wish for the future

Hi Richard, We wanted to say a big big 'Thank you' for making our day even more special . The vintage bus was a great hit with everyone , they're all still talking about it . We all travelled together in it ( all 13 of us) which was great craic . It looked fantastic in the photos/Video (it almost took the eye of me !!! ). Richard ,best of luck with the business although you wont need it . Cant recommend you highly enough .
Thank you so much

We had the vintage bus for our wedding,it was perfect for the day,carried bridal party of 10 very comfortably,great idea to keep the party together for wedding photos.Bus was in amazing condition and the champers was fab too.Richard was fantastic to deal with,and had no problem travelling to galway.Highly recommended,and dont be surprised if there are as many photos of the bus taken as the bride!!!

We had the vintage bus for our wedding, was a surprise for everyone on the day and went down a treat, talking point at the church. Loved the way the bridal party could all travel together, flowergirls and page boy included. Richard was great to deal with - even when traffic in Naas was hectic on the day.


The car was fabulous. We went for the Ivory and black Daimler. Arrived at my Mum's house in plenty of time. Interior of car was impeccible and the champagne was lovely on the way to the Reception.

Richard is a lovely guy to deal with and his cars were immaculate!!!