Velvet Lounge Band - Swing Jazz Rat Pack & Covers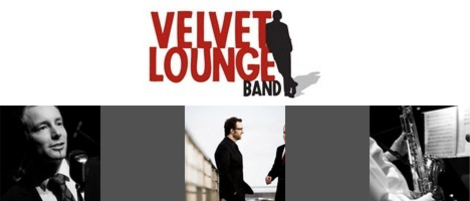 Supplier Details
The Velvet Lounge are, without doubt, Ireland's premiere lounge band. Featuring a set ranging from Ray Charles to Frank Sinatra and Michael Buble, to our own unique jazz/lounge style versions of contemporary artists such as Oasis, Radiohead and even The Cure. Performing music that appeals to both young and old, the Velvets will have your dancefloor full all night!
We pride ourselves in being different to other wedding bands, so you won't find any ABBA or 'Amarillo' songs in our set list! We leave that to the DJs! If you are after something unusual and memorable for your dancefloor, then this is the band for you!
We cater for weddings, corporate functions, private parties and exclusive events. We can offer our full six-piece band for dancing the evening away, or you can opt for a smaller lineup to play during drinks receptions, creating a unique party atmosphere with sophisticated background music.
Featuring Irelands top jazz vocalist, Cormac Kenevey (Hugely Impressive - Sunday Times, Five Stars - Sunday Tribune) and one of Irelands hottest and most experienced pianists, Cian Boylan, the combination of these two extraordinary talents guarantees music of the highest caliber.
The winner of Ireland's Wedding Journal, "Bride of the Year" chose the Velvets as their evening entertainment:
"With the formalities over, The Velvet Lounge, an incredible swing band really got the party started and as the evening passed and the dance floor filled, Claire and Gerard began to relax into their new roles as husband and wife." - Ireland's Wedding Journal Summer 2008.
Keywords: Velvet Lounge Band, Wedding Band Dublin, Jazz Band Dublin
Testimonials
Hi there,

I just wanted to drop you a note to say a big thank you for performing at our alumni event last night. The Velvet Lounge band provided the perfect backdrop to the evening and went down extremely well. Many thanks for a job well done!
We actually have another event later in the year which we would like you to perform at - we are holding an internal conference in October, I will forward the details shortly.

Kind regards,

Dear Cormac and guys,

Just wanted to say thank you for the great evening you put on for my birthday party at The House last Saturday.

You judged the evening just perfectly, really lifting everyone's mood and guaranteeing the party lasted into the wee small hours.

Everyone was impressed with the standards of the music and vocals, and I know for a fact that some people who haven't danced in many years were moved to get up and groove!

Wishing you every success, and renewed thanks,

Thanks so much to the Velvet Lounge for a wonderful performance at our wedding. It was a perfect highlight to an amazing day. People are still talking about how good you were!
:0)

Hi Cormac, We can't thank you enough for the incredible job that you did on Thursday night, you really helped to make our night, a true night to remember. Everybody commented on how good the music was, and how it added to the ambience of the evening. Thank you also for doing such a great job with our first dance, we both think you guys sounded great playing it! :-) Best wishes for the future and hope to hear you again...how far in advance do you guys need notice for a 10th wedding anniversary? :-)

Hey Cian, Great night the other night…thank you so much!

The Velvet lounge is without doubt the best live Jazz Band at the moment. Cormac and the guys bring a fresh look to the Jazz scene in Ireland whether it's a high profile corporate event or a relaxed staff night The Velvet lounge always deliver

Thank you so much for an amazing gig , everyone loved your show and a large number of our audiences have nominated you as favourite :)

Hi Cian and the band, A BIG thank you for performing at our wedding at Markree Castle 2 weeks ago. We can't thank you enough, ye were absolutely fab. So many of our guests commented on how wonderful you were and want to go see you perform in Dublin. We will highly recommend you to our friends for their weddings in the future!! Thanks also for letting our Bridesmaid, Lisa, sing 'At Last' with you - and thanks for learning that version for us! We thoroughly appreciate the effort involved, as fellow musicians, and enjoyed every moment. We were just saying, 2 weeks ago we were dancing at our wedding, and wonder where the time went! In fact, on the night it all just flew by so fast. We were caught up talking to guests perhaps more than our twinkle toes would have liked, but had a fabulous time and have many happy memories of the day. Thanks again, With best wishes,

We booked the jazz trio for the afternoon and the five piece for the evening - we have absolutely no regrets! The guys were fantastic from start to finish and this was highlighted by the full dance floor!
We would recommend Velvet Lounge 100%.

We booked Velvet Lounge for our wedding and I can honestly say it wouldn't have been the same without them. All our guests were blown away and wanted to throw money into a kitty to keep them playing all night! Thanks a million guys I'm just sad I'm only getting married once!

Dear Cormac & Co. Thank you so much for entertaining us so well on our wedding day in Tinakilly house in September. We were extremely impressed with all your music, from the duo at the ceremony, the trio at the reception and everyone at the evening set. You really helped to make our day a huge success. Thanks once again

Hi Cian and Cormac, Just to say my thanks again for putting on a fantastic show - the real highlight of the evening!

I just wanted to send a quick e-mail to thank you and the rest of the band for the fantastic music that you played at our wedding in August. Both myself and John throughly enjoyed dancing and many of our guests told us that they thought your music was brilliant. The music was the icing on the cake of a great day.

Hi Cormac,Cian, Thanks again 4 the great music at our wedding yesterday. Everybody thought the band was fabulous and we couldn't have asked for anything better. Thanks also for letting me play a couple of pieces. I really enjoyed it. I'll continue to recommend you anytime I get a chance.

The Velvet Lounge Band (5 piece) played at our wedding at Thomas Prior Hall on 1st July. They were fabulous!. Great musicians,punctual, professional and really nice guys. So many people commented on how good they were, people danced to them all night but even if one wanted to just sit and listen they were brilliant. Would definitely recommend them 100%. Thanks guys, Liz & Michael

Hi Cian, Thanks so much for playing at our wedding last Friday. We both were so delighted with you guys, you really made the whole wedding one to remember as almost all of our guests were saying how great the band was! Looking forward to hearing you at the Concert Hall again some time! Thanks again, Mr and Mrs Lynch!

I recently booked the smaller version (4 piece) of the Velvet Lounge band for a private party in a restaurant. The band were fantastic and perfect for the venue. All the guests, young and old were very happy with the music which was perfect for both listening to and dancing later on.
I wouldn't have any hesitation recommending Cian and Cormac for any occasion.

Velvet Lounge Band played at our wedding and I would highly recommend them. Dancefloor was full of both young and old (at the same time) all night.

I am really sorry that it has taken me a while to get around to writing this mail but i wanted to say a huge thank you to you and the band for performing at our wedding on 24th August - you guys were absolutely brilliant, better than we had hoped and one of the highlights of a truly amazing day. So many people passed on great comments about you guys so thanks again, it was super.

Just wanted to say a big Thank You for the amazing job you guys did at our wedding! Both families are still talking about you. Cian thank you for your help and organising the first dance. It was a pleasure to deal with you from start to finish! The music was incredible and the atmosphere you provided priceless!! We had an amazing day and you guys were the icing on the cake! Thanks from Mr and Mrs O'Rourke

Just a short note to say the band were fabulous on our wedding day. Everyone really enjoyed and appreciated the music. We were delighted it all went so well. Thanks so much & we would definitely recommend the band to anyone.

Just back from honeymoon, completely depressed!! Just a quick note to thank you for the brilliant job you did for our wedding. I have never heard so many people talk about a band like they did about you, Rory is handing out your number on a continuous basis!!! You stole the show. We thoroughly enjoyed it!!