Idol Bones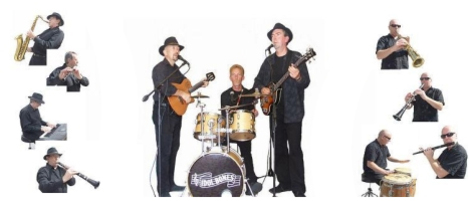 Supplier Details
" Idolbones. A touch of class with an international flavour for your special occasion. "
___________

IdolBones have a vast repertoire which provides
a wide variety of music to suit each occasion and includes,
Latin American, Swing, Jazz, Rock and Pop.

IdolBones are regular players at the Cork Jazz festival,
and the hospitality section in Croke Park and Thomond Park.
They have also played after major events at the RDS and Lansdowne Road .

They can be booked as a three, four or five piece to cater for any size event.

So whether it's easy listening sounds you want for your cocktail reception,
corporate event, or a lively band for your wedding or festival
then look no further than IdolBones.
Testimonials
Just back from our honeymoon and we have to say thank you so much to Idol Bones for turning a great day into a wonderful night [john says his head is still spinning after watching our friends dance around us in a circle to that greek tune ye played!!].Best of luck lads and oh yeah,i've passed on your details to some of our friends.

We booked Idol Bones to play at our Wedding next year after seeing them play at Adare Manor.They offered us a Wedding Package Deal which includes an Afternoon Reception 3 piece band plus an Evening Reception 4 piece band plus a DJ.Great band,great deal.

My fiance and i booked Idol Bones to play at our wedding next year having seen them play at my friends wedding in Tralee.When we arrived at the hotel in the afternoon they played a pre dinner gig as a three piece which created a fantastic atmostphere for all the guests with an interesting mixture of international romantic tunes.Then we were pleasently surprised to see Idol Bones back playing on the main stage this time as a four piece band for the evening reception.This time it was full on with hit after hit songs that keept the floor packed for the night.Well done guys and more of the same please for our wedding.