BUMBLEBEE HONEY – DANCE THE NIGHT AWAY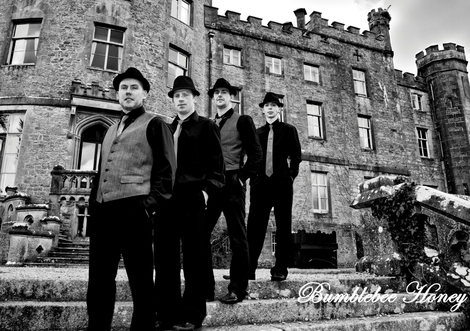 Supplier Details
Bumblebee Honey are an exciting and dynamic band that specialises in wedding entertainment. The band offers customised packages tailored to meet your entertainment needs. Bumblebee Honey have compiled a comprehensive repertoire that is guaranteed to get a crowd up and dancing. If you are looking for a fantastic night's entertainment, you have come to the right place. 
What makes this young and energetic outfit different to the rest is that they focus on entertainment along with the music. The band reads the crowd intently, to provide world-class musical entertainment.  Thrilling music that is guaranteed to keep the dance floor full all night! For a full set list, see their web-site.
Every show is unique and the band has customised packages that are made to suit your very own requirements. Bumblebee Honey can provide the right band size to suit your special day, be it a two piece to a five piece band. The band also provides additional wedding packages as follows:
Church Service Music
Being classically and traditionally trained musicians, Bumblebee Honey also provide the option of playing at your church ceremony.
The Cocktails'/ Champagne Drinks Reception
Tasteful and sentimental classics are performed in a background setting for your drinks reception.  This is truly a touch of class and it is especially calming for those anxious about their speeches to come.  The acoustic feeling resonates with both traditional and contemporary numbers that set a magical ambiance. 
DJ Service
Most weddings require the services of both a live band and a DJ. Often there is a lengthy changeover between these two acts, changing all light and sound gear, resulting in a loss of momentum in the party atmosphere. To ensure that the night's entertainment flows with no intervals, the band also provides the option for a high quality DJ service to follow on from the band using state of the art pro mixing and lighting DJ equipment.
So whatever your wedding entertainment needs are, don't hesitate to contact Bumblebee Honey !
Phone  Will 087 2901200 / Elizabeth 087 6395105
For play lists and further information why not visit their website at:
Testimonials
We would love to share our experience of having Bumble Bee Honey as part of our day. Coming over to Ireland from the UK to organise a wedding was very daunting for us, especially as we had no friends or family in Ireland to advise or even provide an indication of where to start with it all. But that was our dream wedding so that is what we did!
The band is a huge part of the entertainment as you can all appreciate and it was something that we were very anxious about. After I initially found Bumble Bee Honey through the internet and even after reading all the extremely positive feedback from other people we still were not convinced. So off to Ireland we went to meet them and there we met Elizabeth. I have to say I have never come across such an all round band. Having quite a lot of experience in using bands in the UK for events and functions, this band is superb. You not only get the quality and variety that is so much needed at a wedding but the professionalism, humour and willingness to accommodate is outstanding. They certainly made our day truly memorable and went the extra mile to ensure ALL our guests did, from the very young children to our grandparents. I would have no hesitation in recommending them and if they can entertain 170 monkey hangers they can do it for you.


Found Bumble Bee to be fantastic, they played at our wedding Aug 09, they kept everyone on the dance floor and party games were great fun every one enjoyed the music and the craic. we got them to do the church , band and DJ. could not reccommend them highly enough. even my mother-in-law said they were really good (and she can be hard to please) resonable rates and a great service. 2guests took their contact details.