Ama Deus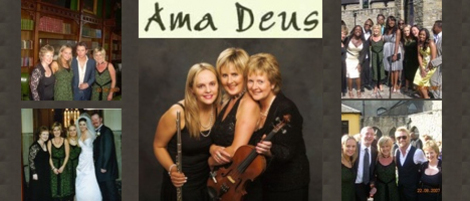 Supplier Details

Ama Deus are pleased to offer flexibility in our lineup - you can book any two or all three of us.
We can tailor our packages to suit your budget.

Amadeus recently played at Shane Lynch`s wedding.
Ama Deus recently played at Sile Seoiges Wedding in Kinnitty Castle Co. Offaly....
Amadeus cd "give a little sunshine" and Theresa Larkin "school of music" to date have raised €28,350.00 for organisations and charity events in Tipperary such as Nenagh hospital, St.Annes, St.Vincent de Paul, Dean maxwell hospice Roscrea, and friends of children of chernobyl nenagh. Most recent event raising €4000 for bru colmbanus university hospital cork. Amadeus also have a fourth member if required to join the 3 ladies for weddings, reception, etc.........
Austrian born Elizabeth Mccartain classical violinist and now living in Ireland.
Ama Deus invite you to choose your favourite song/piece for your special day.
They have been playing together as a group for the past 13 years, and play Classical, Folk Traditional and Modern styles. They will cover many different aspects of your day, whether it be church music, pre- wedding reception or music during your meal.
At the church Ama Deus will entertain your guests from their vast Repertoire of songs and music up to half and hour before the Bride arrives.
Ama Deus are ( from left to right)
Theresa Larkin LLCM,TTCT, ALCM
Piano, keyboards, silver-flute, violin, whistle,vocals, accordion.
Kathleen Costello
Violin, piano & guitar
Sheelagh Chadwick
Soprano
Ama Deus have music for each section of your wedding, including:
Prelude & Entrance
Responsorial Psalm & Offertory
Lighting of the Candles & Sign of the Peace
Communion
Signing of the Register and the Recessional.
2nd contact; sheelagh chadwick 06733036   /  0863904722.
Testimonials
I'll be honest we never heard Ama Deus play before our big day in Sept 2010. We booked them as everyone we'd spoken to had said how fantastic they were and they were so right. Ama Deus were amazing. Everyone in the chapel was bowled over by the music. Theresa was so helpful and generous with her time. She was a huge help with our booklets. We left the chapel to "haste to the wedding" and it really set the tone for the rest the day. I cannot recommend AmaDeus highly enough.

Hi Ladies,
Sonya and I just want to say thanks for performing at our wedding ceremony on October 15th. We are delighted that we had such a talented group play at our wedding.
As we both come from a family of amature musicians, we can tell the difference between good musicians and great musicians, and you are definitely great.
Your performance exceeded all expectations and was a talking point for the following days. The scottish, irish and english guests were utterly captivated by the beauty and skill of your peformance. So we would like to say a sincere thank you and wish you every success in the future.

ladies,

Thanks so so much for the fab music and songs at my wedding friday.everyone was talking about you.also thanks for all your help before my wedding as it ment so much to David and I.
Vanessa xx

No words could describe how utterly and absolutely talented these ladies are. They are a dream from start to finish. People thought it was a CD at our wedding!!! They were absolutely fantastic! This is the church music you have to have!!! Theresa..you and the ladies made our ceremony so special...thanks so so much. Gary & Amy


A beautiful job by this group. The music at my sister's wedding was perfect.


Caught ye at Sheila Seoige's wedding. Love yer music. Great combination of instruments.
Best of luck for the future.


Girls I just want to say thank you so much for performing at our wedding last week.ye were just brillant...I loved the song of Ruth and the flute piece.Thanks again....xx mag