Astral String Quartet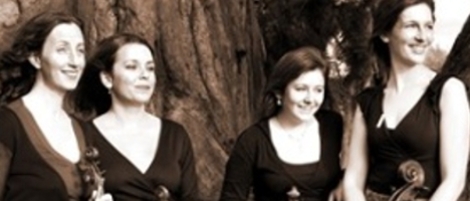 Supplier Details
Established in 2001 the Astral String Quartet are available to play during your wedding ceremony or your drinks reception. We are a group of four string players with a vast musical repertoire from Baroque to Modern, but we also enjoy playing with other instrumentalists and/or vocalists. We can also be booked as a quartet with the option of music arranged for String Trio, with one of us as a solo vocalist.
Basically we can meet your every musical need!
Please read some of the testimonials from our website.
Testimonials
Hi Eileen, Just wanted to say the music was AMAZING!!! I loved it and so many people said how wonderful it was.
My new father in law was thrilled, he said it was the best wedding music he'd ever heard!! So thanks to you and your wonderful musicians

Dear Eileen, I did not have a chance to thank you and the other members of Astral. Everything was great and everything went exactly how we discussed. Thank you so much for taking part in our special day and making it even more special! :) Kind Regards, Naz.

Eileen, I Wanted to send a note to thank you and the rest of the quartet members for the music on the 29th July. Seriously, we could not have picked better musicians than yourselves for our wedding. There was a real connection with the songs performed during the ceremony and we got so many positive comments about your music during the ceremony from our guests which made us feel great. Really appreciate your performance on the day and the length of time you played during the reception. It was a wonderful day and night and we thank you for making it so special! Sincerely, Best wishes,

I would just like to say a huge thank you to you and the ladies. You did an incredible job. EVERYBODY is talking about the church music. I can assure you that I will be going out of my way to recommend Astral! Thanks again

The astral string quartet played at my wedding on the 27th December 2010.
It was a perfect day, the music was fabulous better than i Could have imagined!
It was just the music I picked and it sounded beautiful in the church!
I couldn't recommend them higher.
I would get married again just to hire them again!

Hi Eileen, a belated thanks to "Astral String Quartet" for the wonderful music and singing you
provided at our wedding on 11th September 2010. It was a pleasure to deal with you as everything was so easy and the music in both the church and venue (Grand Hotel Malahide) was fabulous. Please thank the other members of "Astral String Quartet" kindest regards

Just a very short note to thank you and your musician's for such an amazing wedding service on April 9th - we loved every minute of it and really appreciated the advice and guidance in the run up to our wedding. The music was so lovely and everyone loved it - you really made the service - even Fr Kenny couldn't stop talking about how great ye were!



Thank you for making our day exactly want we wanted.

Just a note to thank you & your musicians for the fantastic music at our wedding on 13th March. I was just sorry I couldn't hear more of it!! From the minute I stood in the church porch it sounded fantastic- Like I say, I was sorry I wasn't there to hear the settling music but I know that everyone was really impressed and my mother in law was delighted to hear the Rose of Mooncoin (haven't had time to talk to the Cork crew yet but I'm sure The Banks was even more impressive!)!! I absolutely loved "If you love me" and particularly "Jersey Girl" but the photographer kept telling me to concentrate on him & not you guys!! Thanks so much for all the time and effort you put in, You were incredibly helpful from the minute I contacted you and made it all very easy. We didn't have a video but I wish that we had a recording of the music!

Thanks again,

Astral kindly played my wedding 3 weeks ago, and I just wanted to say how happy I was with everything.

I LOVED all the pieces and was very aware of the music during the ceremony. Many thanks for all your help in the selection and for even taking the booking on such short notice. I will be recommending you guys to the "hilt" for any of my friends getting married in the future. I cannot say enough good things so will stop here to avoid gushing
:-)

Kind regards,


I'd just like to say thanks again to you and the rest of the Astral String Quartet for playing at my wedding. Myself and Aileen thought that the music and singing was beautiful and we really appreciate the fact that you could help in making our wedding day a fantastic experience.


Astral Strings provided the music for our wedding and it set the most perfect tone for the ceremony. They were a pleasure to deal with when we were picking the pieces we would like and had no problem learning and performing a new piece that we requested which they had not done before. The music was a lovely mix of classical pieces, hymns and modern songs. It was fantastic to have the option of both instrumentals and a singer using only one group. All our our guests commented on how beautiful the music was and it helped make our ceremony one of the most perfect we have every been to (even if we are biased:-)). We would highly recommend Astral Strings too anyone looking for music for their wedding. Thank you Astral Strings!! Gráinne and Cathal.



Best wishes for 2010,

We had Astral as our string quartet / trio with singer at our wedding in Kilcullen September. They played in the church and at the drinks reception aferwards. We cant speak highly enough about them and all of our guests commented on how much they contributed to the occasion. Thanks for all you did for us on the day.

Mark & Laura

I couldn't have been happier with the music at my wedding. I was so worried leading up to it as I wanted the music to be perfect, but my friend told me about the Astral String Quartet and I couldn't have been happier. They were more than I could hope for and were so flexible and played everything I had dreamed of! I couldn't have wished for better.


I can't recommend Astral strongly enough. They played at my wedding a couple of weeks ago in Longford and really made the ceremony. Everyone there commented on how good they were. I had them play at the church and even my uncle our priest (who is very fussy) was impressed. They played later at the reception and set a wonderful tone for the day.