Middleton Park House . . .where dreams come true . . .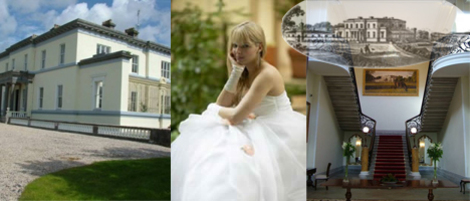 Supplier Details
Congratulations on your engagement! Now that you have started to plan for your beautiful wedding day let us show you why Middleton Park House is the perfect and beautiful venue for you and your guests.
Private Weddings at Middleton Park House
Middleton Park House, a magnificent late Georgian mansion set atop a long avenue in a private country setting, is the perfect private venue for couples seeking personal attention, exclusivity and a fantastic location which is within striking distance of the M4/N6 Dublin routes. Middleton Park House exudes a stately refinement that is difficult to capture in words alone and is perfect for a couple who deserve the very best on their most special day.
Exclusive Use
We accommodate only one wedding per day. This is our commitment to you to ensure you receive the special care and attention you want on your wedding day. Our policy is simple - it's your private venue for your special day.
Once you reserve Middleton Park House, you have use of the entire house and grounds - the Drawing Room, Library, Bars, our beautiful conservatory, the Grand Hall, four suites situated around the Gallery Landing in the Main House each with private sitting room and bathroom and twelve bedrooms, all of which are en-suite and situated in the Bell Tower Wing.
We can cater for up to 210 people. We have some excellent value Wedding Packages which include Wine, Pre Dinner Reception and Afters.
Photography
Both within the house and around the grounds there are fantastic opportunities for some of the most beautiful and unique wedding photographs you could ever dream of. We are happy to facilitate advance visits for your photographer as part of their preparation for your shoot. Our wedding planner can also provide you with contact details for local photographers, as you require.
Wedding Preparations
Our wedding planner will be delighted to assist you with the details of planning your perfect day. Whether you are looking for advice on local churches, entertainment, menu content, timing of events or any other detail of your wedding preparations, our expertise is at your disposal.
Testimonials
From the moment we saw Middleton Park House we knew it was where we wanted to celebrate our wedding day, and we were not disappointed. Everything from start to finish was perfect. It is such a special venue and and all our guests still talk about what an amazing day they had. I loved the fact that we had the venue to ourselves. The food from the canapes on arrival right up to the afters food (people are still talking about the cones of sausage and chips)was amazing. The staff were so friendly and professional and really looked after everyone. They made it such a relaxing and enjoyable day. I would recommend MPH as a wedding venue to anyone and I would just love to go back as a guest to enjoy it all over again.

We chose Middleton Park House, in the beautiful setting of Castletown-Geoghegan, in the Irish midlands for our wedding reception, in August 2010. One of the key factors in our choice lay in the privacy it offered. We saw so many potential wedding venues which were crowded with gawking onlookers, and found it most off-putting. Naturally, we were also impressed with the way we were treated by the staff when we called (unexpected and uninvited) to inspect the premises. The service was impeccable, the food was excellent and we received so many compliments from family and friends, many of whom had come from overseas to enjoy our Irish country wedding. How delighted we were with the outcome. Not only were our expectations met, but exceeded. We wouldn't hesitate to recommend it to anyone who might be considering the Middleton Park House for their own wedding.

As a family member just got engaged at christmas it brought back some of the fabulous memories of our wedding day. we were married at Middleton Park House on the 28th of August and it was the best day of my life.The venue was absolutely fabulous and the staff did everything and more to make sure our day was perfect. The moment we arrived we were treated like royalty, champagne and red carpet, it was brilliant. The food was 5 star, our guests were commenting all day on the fabulous taste and they still to this day praise our starter, black pudding fried rolls! which was an unusual but gorgeous starter!Having the place to ourselves made a big difference, guests could relax and my nieces and nephews were nowhere to be seen as they have a big entertainment room to keep the kids occupied! I especially loved cutting our cake on the landing and everyone watching as we came down the big stairs for our first dance. It was no bother for the guests getting to the local b&bs and hotels as they provide a small minibus. and the bar did not close til we wanted it so we did not get to bed til 6 am!It was a magical day and i cant praise the staff or the venue enough! Highly recommended and the food is divine!

A dream wedding venue, summer or winter, this place handles it all. We came from Australia to get married here at Easter 2011. We had viewed many venues but immediately liked Middleton due to the character the venue offers, the exclusivity, the quality, the simplicity of process, the choices in areas for the breakfast/dancing, the service, fluidity of venue for guests to relax and completeness of package. Staff were pleasantly on hand at any time during our two days there and granted us the freedom when needed eg serving up til the early hours on the wedding night! Ger knows what works in a venue such as this and will guide you to a successful decision due to the flexibility of all that is possible. The conservatory was fabulous for our reception. Thank you to all the staff for our wedding, we want to return and feel that special again!

We got married in Oct of this year and had reception in Middleton. It was everything we expected and much more. Staff were so accomodating and made us feel really relaxed. It felt very special to us both as we had exclusive use of the venue.The drawing room was perfect for older guests to have a natter! Whereas younger guests took over the main bar area and dance floor! Food was amazing also. I honestly could not fault Middleton and I will be reccomending it highly in the future.

Got married here in October 2008. Fantastic venue. We kept it very small and intimate but had an amazing time. Food was beautiful and very well laid on. Guests still speak about it.

We held our wedding in Middleton Park House this summer and it was the day we always dreamed it would be! Gerard and John really know their business. They ensured that the day was relaxed, ran smoothly and made all the decisions, so we didn't have to worry about a thing. Our job was just to sit back and join our guests in enjoying it all. The entire body of staff worked around the clock to ensure that our guests were well catered for for the whole weekend - from breakfasts to barbeques and singsongs by the fire. They were there when we needed them and left us to our own devices the rest of the time, and as a result, it really felt like our own private venue for the weekend. Our guests have been complimenting our choices ever since. The food was served as restaurant service ensuring that every meal was cooked to order and, to perfection. Some of our guests were even treated to seconds. Our dancefloor was full all night and we partied well into the wee hours. To all at Middleton Park House - thank you for making our day so wonderful!

We got married in Middleton Park House in May this year and it was such a fantastic day, a really terrific venue. We'd already viewed 5 other country house type places in Leinster and found this one almost by accident but just loved it from the start, it has a real authentic old style charm - the entrance has a bit of a wow factor, the dining room is really elegant and the conservatory adds to the charm of the place. We found Ger and the staff really easy to deal with, very accommodating to any of our requests. Food was top class, the canapes, the main meal and for some reason the evening buffet is what everyone remembers most and still talk about! We loved that guests could suit themselves, the oldies could drink tea and chat in peace in the drawing rooms, the drinkers could prop up the bar and the rest of us could dance away in the main hall - it worked really well. We'd recommended this place to anyone who wants something a little different and somewhere you can really make your own for the day.