Cassidy Chauffeur Drive - Wedding Cars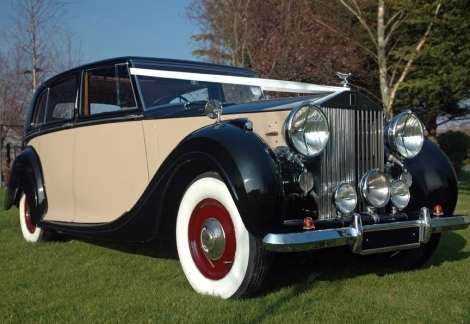 Supplier Details
Cassidy Chauffeurs is an independent family owned business.
Established in 1990, Cassidy Chauffeurs has consistently delivered on its promise - a reliable service dedicated to maintaining quality transportation services to all of our clients.
We Provide:
Suited drivers, all with refined driving skills and excellent working.
Knowledge of Dublin and the Home Counties.
Regularly serviced and valetted vehicles.
Client assistance, entering and leaving vehicle and luggage assistance.
Keywords: Wedding Cars Dublin, Wedding Cahuffeur Dublin, Cassidy Chauffeur Drive, Wedding Transport
Testimonials
I Was Married 10 Years last July and was delighted with the service.... It makes all the difference.....I would recommend your service to everyone!!!

Absolutely great service from these lads! The driver on the day could not have been more helpful. Thanks again!

We would like to thank Cassiy Chauffeurs for their service on our wedding day. We used a Vintage Rolls Royce on the 25th July this year. They travelled down to Kildare at no extra cost. I have to say the car was absolutely beautiful and I was so excited when it pulled up outside the house! I was a bit nervous but the driver was really nice and had myself and my Father in stitches laughing on the way to the Church which really helped calm the nerves!
Afterwards outside the church we were presented with a bottle of complimentary champagne, then brought for our photos and onto our hotel. I would highly recommend Cassidy Chauffeurs to everyone.
Thanks a million


I got married this year and used a black & ivory 1950 Rolls Royce from Cassidy Chauffeur Drive. They really helped the day go smooth from picking me up in the morning, arriving in style at the church, bringing us to get our photos done and then on to our hotel. The complimentary champagne was really nice and the driver was so nice too. I would defnitely recommend Cassidy Chauffeurs to anyone getting married. They have a lovely range of cars to choose from and also have limosuines which is a great idea for bridesmaids transport.


We used a Rolls Royce from Cassidy Chauffeurs for our wedding in June 2007 and I must say we were very impressed with the service. The chauffeur picked up our bridesmaids and brought them to the church, then came back for my wife. She had a laugh with the driver who put her at ease! After the ceremony, we got a lovely bottle of Champagne and were transported to get our photos done and then to our Hotel. Would recommend Cassidy Chauffeurs to anybody looking for a great service and they have beautiful vintage cars to choose from.

Contact Details
Dublin
Club Road, Fox and Geese, Clondalkin, Dublin 22
Dublin
Contact name: Richard
Phone: 01-4501533
Mobile: 087-2567822
www.cassidychauffeurs.ie

Interact