Barberstown Castle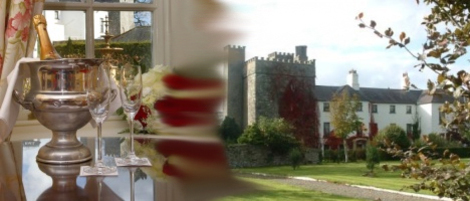 Supplier Details
Barberstown Castle is the most romantic location for your Irish Castle Wedding
For over Seven Hundred Years Barberstown Castle has welcomed and provided a unique experience for all who pass through its ancient Halls. You both deserve this wonderful Irish Castle for your Wedding Day. Only one Wedding a day is catered for at the Castle. Ensuring privacy, quality personal service, excellent cuisine combining to make your bespoke and intimate Wedding day a memory you will treasure always.
Dating from the 1560's the Medieval Banqueting Hall at Barberstown Castle is the most romantic location to host the most important day of your life. Originally utilized as the coach house, the building retains the unique features and style including the original exposed Stone Walls, flagstone floors, cosy open log Fireplaces, Medieval Tapestries, outdoor medieval courtyard garden featuring a gothic glass gazebo ideal for a unique BBQ afters buffet and the Hall opens out onto a private courtyard garden. 
For your Civil Ceremony, you can walk down the Aisle while overlooking the Original Castle keep built in 1288, to join your partner in front of the crackling fire. This unique conservatory offers the convenience of hosting a legal wedding ceremony and your Wedding reception in one unique location making it the perfect civil ceremony venue.
To receive a wedding pack or schedule your special visit to view the Castle for your big day, please contact Eimear, Gretchen or Richard directly at 01 628 8157 or [email protected]   We look forward to welcoming you to the Castle!
Wedding Capacity of 50 - 280
Suggested Weekend Itinerary
Friday morning arrival:
Guys play golf at the K Club or Carton House Golf Club, Girls enjoy Outlet Shopping in Kildare Village or Spa Day Away,
Rehearsal dinner in the Original Castle Keep
Saturday:
Enjoy the most memorable day of your life with your Wedding Reception in the Medieval Banqueting Hall.
Sunday:
Champagne breakfast in bed for Bride and Groom,
Enjoy a BBQ lunch for all your friends and family in the Garden Suite.
Monday:
Depart for the honeymoon!
Testimonials
Thank you so much for a wonderful day & also many thanks to Richard, Paddy & staff.
We can't thank you enough; everything was spot on & service exceptional. We got so many compliments about the venue, service but above all the food on the day. It so impressed all our guests & they are
still talking about the beef!!
Again, thanks so much and if we decide to do it again your top on our list...All the best for the future in Barberstown.

Myles and I wanted to pass on our huge thanks for you guys for your help in organizing our wedding.
Everything went very well, and we were delighted with the room layout, the meal, the staff and the hospitality our guests were shown. We were also thrilled with the great job that Paddy did for us on the day, he really looked after us all very well. We will drop by at the weekend to say thanks in person.

"Words can barely describe how grateful we are to the Barberstown Castle team for making July 2nd 2011 as perfect a day as we could have ever imagined. We can have nothing but good words to say from the first interaction via web enquiry to the checkout the morning after our wedding.
Richard was very patient in showing the banquet hall to a few family members who needed to act as our eyes as we were living in the USA.
Gretchen and Eimear sent numerous photos to act as back up for the good reviews we had received. Management were so confident (and rightly so!!) that we would love the venue when we saw it in person that they were willing to work with us on the deposit required to secure the date. After we saw the venue in person we knew we had made the right decision. All subsequent emails and telephone calls were dealt with in a timely and professional manner. Thank you for your patience too as we had many queries!
The wedding day itself can only be described as perfection. The moment we stepped out of the car and on to the red carpet we were greeted by Paddy with a glass of champagne. It can't be easy making more than 200 guests feel that they were very important to the success of the wedding, yet they managed to do it flawlessly. The banquet hall itself was better than we expected the flowers and candles really added to the magical feel. The top table set up makes you feel like a high chief and many of our guests felt the need to bow in jest as they passed us to get to the bar area! The food was amazing and all our guests commented on how much of it there was, many guests had second helpings! The wait staff were phenomenal in how they managed to ensure everyone was served very promptly. The wine kept flowing during dinner and the bar tenders worked tirelessly until the early hours of the morning. The late night barbeque is a lovely add on and it really separates Barberstown's package from the standard sandwiches and tea that you receive at other venues.
The Irish weather decided to play its part which meant that the courtyard and gardens were utilised to their full potential. They are perfect for photo opportunities. We had many travelling from the States and further afield and all commented on how beautifully maintained the gardens were. The accommodation in the castle can only be described as magical, All our guests felt the same way! Four poster beds a plenty! We had block booked every room and nobody was disappointed!
As with many other people who have reviewed your venue, we forgot to pass on our thanks to Paddy on the night in question. The best man found him a pleasure to deal with and no request was too much for him or his team.....so thank you Paddy and please pass on the same to your wonderful team! You all played a criticial role in creating a day and night we will never forget! "

We had an outstanding day on the 30th and cannot thank all the team in Barberstown enough for your professionalism and expertise. Please extend our heartfelt thanks to Paddy (every home should have one!!). As soon as we pulled up to the door and Paddy handed us a glass of champagne, we knew we were in the most capable hands and we did not have one single worry for the rest of the day. He was just fabulous and my only regret is I don't think I conveyed to him on the day what a difference his capable calm nature meant to us.
I think everyone who attended remarked to us about the quality of the food and most people said it was the best meal they have ever had at a wedding. The waiting staff were so effortless in the way they glided around the room and even from the top table, I could see that their professionalism didn't waver once. Once we booked the hotel nearly 2 years ago, we felt very confident that we had made a really good decision but even knowing that, our experience exceeded our expectations. I would wholeheartedly recommend the Castle to anyone thinking of booking and the atmosphere of the room on a chilly December evening is quite simply hard to beat.
To you Jennifer, a massive thank you. You were a pleasure to deal with and the speed and efficiency with which any query we had was dealt with was really very impressive. A special thanks to Gretchen too.
We are happy to provide a testimonial to couples considering Barberstown Castle for their special day. It will always hold a very special place in our hearts. Many thanks to you, Paddy and all the Team.

We got married here in May 2009 and it was the best day ever!
The team at Barberstown are great to deal with and helped my out with everything, nothing was too much trouble for them.
The venue is beautiful also, if I could do it all again I would choose Barberstown in a heartbeat!


we are getting married in barberstown on 31/12/10 and we have found them to be really helpful. we were supposed to get married in a hotel in the Citywest location, but we found Richard and the gang to be really accomodating to our needs, and so much more professional. i would recommend them to anyone thinking of a unique wedding to remember