Irish Music Weddings - Uilleann Pipes, Flute and Whistles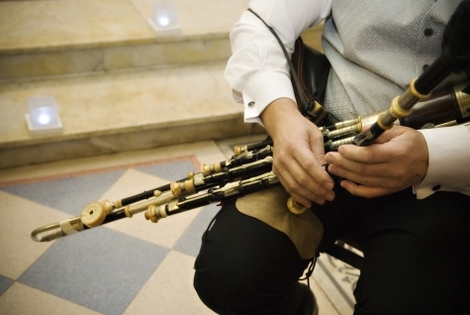 Supplier Details
Hello!   My name is Ronan Browne and I play Irish music on the Irish uilleann pipes,flutes and whistles.  (Quick Bio: I was the original piper with both Riverdance and theAfro Celt Sound System and have been performing music publicly since 1977 when I did my first concert at the tender age of 12!)
I have played at select weddings over the last 25 years and I treat each and every one as a special and personal occasion.I delight in the sound of my instruments in a church or in a castle and I love to share that pleasure.


The melodies and the lovely old instruments I play create the perfect mood for a wedding ceremony.
My music ranges from lively dance music to haunting slow airs many of which will be instantly recognisable.
Please feel free to contact me just for general advice about your musical needs (you don't have to make a booking) - I will be honoured to answer any and all of your questions
A small scrap of trivia:
"Uilleann is one of the most miss-spelled words I have ever come across: uilin pipes, uillin pipes, uilinn pipes, uilean pipes, uileann pipes, uillean pipes, ilin pipes, oilin pipes, oilean pipes, illaun pipes, illyin pipes, illian pipes…    "
Testimonials
Dear Ronan,Thanks so much for playing at our wedding on the 3rd of September 2011.
You traveled all the way from Galway to play for us, it was very special and we felt honoured to have you play at our wedding at our church and reception.I will always remember your Uileann Pipes playing as I walked up the aisle.You played music we had dreamed of and all we wished for,even playing our requests such as the lonesome boatman during the signing of the register.Meeting Ronan was such a pleasure, you are so passionate about your music and this shines through in your music too. You took time out to go through our wedding cermony music with us and made the whole experience very exciting and enjoyable. Ronan even gave us help with our wedding cermony by suggesting a Reflection prayer and playing gentle music to it, which worked great.We both think you are an incredible Irish Musican. Everyone commented how original and brilliant your music was and how friendly you were. When we looked over at you on our wedding day you were always smiling.Ronan played music that we will talk about for years to come and memories we will have forever. Ronan played a hugh part in making our wedding day very special.
Thank you Ronan

Ronan played at our wedding in February and don't take the lateness of this testimonial as any reflection on Ronan playing- He was brilliant! Ronan's music set the tone for the day and certainly eased us and our guests into the ceremony and the celebration. Even the crankiest of relatives were very impressed. Having attended more weddings than I care to remember, it was easily the most elegant and pleasing musical accompaniment I have heard, and that's even with removing any personal bias.

Ronan was great at our wedding in July. The sound of the uileann pipes as Siobhan entered the church had everyone in tears. He created such an emotional atmosphere which my wife and I will never forget. The music was perfect for our wedding and our guests loved it. Ronan was very helpful with the song choices and accommodating if we wanted to do something different. Thanks again Ronan. Kind regards,

"A joy to hear" was just one of the many positive comments about Ronan Browne from our wedding guests. The sounds of his pipes, flutes & whistles were magical, romantic & spiritual. Those gorgeous old uilleann pipes in particular filled the church with warmth & happiness.
Ronan was a joy to work with too, full of good advice and helpful suggestions when selecting tunes for the ceremony. We had a friend singing also. Ronan was very accommodating and happy to work together with her. Thanks Ronan, you are a master musician and a gentleman. You really helped to make 'our special day' genuinely special!

Hi Ronan, Just a quick note to thank you so much for the wonderful music you gave us at our wedding. It was exactly what we wanted and created an amazing atmosphere. It provided us and our guests with exactly the right mix of traditional Irish and sacred music. Many of our guests had not been to Ireland before and you helped to show them that there is so much more to Irish music than jigs and reels. Your contribution was so special and will be remembered by us forever. Many kind regards

Dear Ronan,
Many thanks to you for your incredible part in making our wedding day such an enjoyable event for everyone. Guests from 9 countries agreed that you were one of the highlights of our wedding and they treasure the music on your CDs to bring back the memories of Ireland. Your extraordinary music, fabulous personality and sincerity were overwhelming. You have made everybody feel at ease, you were simply magnetic! You came close to being the most photographed person after me (everybody wanted to pose with you!!!!)! I need to send you a DVD with all the pictures of you and the guests =) Thank you for being such a joy to be around – Travis and I are your biggest fans. Tons of thanks – you are awesome!

Ronan brings a variety of musical options with the Uilleann Pipes, flute, low whistle, tin whistle - and just himself! Ronan was easily the best vendor we worked with for the wedding. We are living in USA and had our wedding in Mulranny, Mayo in June 2009. About a month before our wedding day on the urgings of my mother, we started looking for some live music options for the church. We were trying to keep the day simple, so didn't want any heavy duty singing or instruments. I happened across Ronan's page on the weddingsonline website. Ronan sent recordings of the tunes we had chosen and even learned one of them that he did not already have in his repertoire. He was very timely with follow-ups in the communications in the days getting the playlist finalized. On the day he was completely professional, very relaxed and smiling all the way - helping to put everyone at ease. His rendition of Tabhair dom do Laimh on the low whistle was unforgettable. We definitely recommend Ronan and his music for weddings and events.

Well where should i start, From the first time i came across Ronan's web page i could not wait to hear his music as my dad walked me down the isle.
From that first email Ronan was an absolute pleasure to deal with, a complete Gentelman. Ronan has a kindness about him that just puts you at ease. I found my self when things got tense on the build up to the big day pulling up Ronan's web page and just listening to his beautiful music.
As i started my walk down the isle it could not have been more perfect, Ronans music was beyond amazing.
As i'm irish and my husband is dutch we live in U.S.A and travel the world working with horses, our wedding was like the united nations. Every last person commented on how magical the music was in the church.
Now we are back in the U.S.A. family and friends all over the world, but we are left with the momories of a wonderful day that Ronan and his amazing talent made enchanting....
Ronan 'THANK YOU'
Caroline Collins Janssen & Wim Janssen
Our Wedding 14th October 2010

Myself and Joanne were just going to have a cd player playing in the church, when my mother happened across Ronans page and we quickly decided that the Uilleann pipes gave the haunting beautiful sound we were looking for. Ronan was unbelievable in the advice he gave and very forthcoming with advice and recommendations. The music in the church on the day was perfect absolutely perfect, I couldn't use any other word to describe it. I'm just sorry I missed "the banks" at the hotel. Thanks Ronan, very very much thank you.

Sean and I were lucky enough to stumble across Ronan when planning our wedding back in 2008. He was one fo the very few suppliers who made the effort to come and meet us in the Church and give us a real feel for the music he would play. From the very first notes I knew it was perfect and he did not disappoint on the big day. The music was magical and atmospheric, just perfect for our setting and exactly what I wanted for our Connamara wedding on the 12 July 2008. Many many thanks Ronan!

While looking for a Uilleann piper for my wedding, I came across Mr. Browne's website. As a musician, I was immediately caught by his talent, along with the true beauty and soul in his music.
Living in the States, I know I couldn't afford to fly Mr. Browne over for our ceremony. However, Mr. Browne still took the time to send me advice as to where I could look for a good piper in the states.
Thank you!!!

Where do I begin? Ronan- you are an absolute treasure! Your talent is just outstanding and everyone was talking about just how magical and beautiful your playing was. I will never forget walking into the porch of the church on that very rainy wedding day fresh from my unplanned journey in a white transit van, flustered and anxious, and hearing your beautiful music from inside immediately calmed me and made me feel completely serene and happy. From the bottom of our hearts we can never thank you enough. The ceremony was made so much more special because of you. x

How are you? Hope you made it home ok? Now, where do I start – Oh My God, Ronan, you were simply outstanding – so many people were still talking about you, even at 3AM! Your mixture of music was amazing and the way you'd wink every so often was so nice and you relaxed me so much.
My poor father said you brought tears to his eyes so many times – sure, the poor man never stopped crying throughout the whole mass and here's me thinking he was emotional over seeing the apple of his eye getting married!!!! On behalf of both myself and the hubby (oh ya!!) we want to once again thank u so much for yesterday and wish u every success in your amazing talent.

Dear Ronan,

We just wanted to drop you a line to say thank you for what you did on our wedding day. The music you played was absolutely perfect for the day and you even made Paula and I relax with your smiles and chilled out approach.

We cannot recommend you highly enough and have been shouting your praises to everyone. Anything we can think of, to promote your beautiful music, we will!

We wish you continued success and happiness.

James and I would like to thank you very much for the music you provided in the church at our wedding on 17th July in Enniscrone. It was absolutely beautiful and we had many lovely comments about it on the day. I am sorry we did not have enough time to chat to you afterwards and thank you in person. We will be recommending you to everyone!

Thanks again,

Roisin & James

Hi Ronan,

I just wanted to get in touch and say thanks a million for doing an amazing job on the day. I had no doubt that you would be absolutely excellent and you were!

I really enjoyed the ceremony and am looking forward to sitting down and hearing it all again. I love your music and was so happy that we had it as part of the wedding.

I will be telling everyone about you. Thanks again and maybe our paths will cross some day again.

Hi Ronan,

Myself and Maria just wanted to send you a quick thank you for doing the music at our wedding on the 14th of May.

The music was beautiful and added so much to the day (even easing the tension when you struck up the pink panther theme!).

We had people who had travelled from the US and England, some of who had never been to Ireland before so they also loved hearing some genuine Irish music and it really added to the occasion for them. So many people were asking us who you were and saying how wonderful the music was.

Thanks again for being part of the day.

Hi Ronan,



How are you?



Just a quick email to say Thanks a million for helping to make our wedding day one of the best days of our lives so far.



Everyone is still talking about the wedding and we were all so impressed by your music. It was truly amazing!



You were exceptionally good at making everyone feel at ease during the ceremony and also in particular the photographs :) which was very much appreciated by everyone.



Thanks again.



Best wishes,

Hi Ronan,
We'd like to say a huge THANK YOU for making our wedding day that little bit extra special with your beautiful music. Everything was just perfect from start to finish - I really thought you and Claire worked so well together - everyone is still raving about it!! Your help, advice and of course, sense of humour really helped to keep everyone nice and calm on the big day.
THANK YOU!!


HI Ronan. We have been meaning to do this for a while! We again wanted to send a sincere thank you for the beautiful music you played at our wedding back in June 5th. Our friends and family are still talking about it. It added to the magic and the imtimacy of our day. And even though i was as nervous as a cat on the day!, the music had a 'calming' effect on me, so that i could really absorb the magic of our day. Its true what your other testimonials say, you were a true gentleman to deal with, not only on the day, but with all our random emails to you beforehand seeking your advice and assistance!! I know we have been in contact...days after the wedding, but i think others need to know what a gift you have. Hope to hear your music again.


To Ronan,
Thank you for helping make our wedding day so special. Your music moved us & many others to tears. The ambience that you created could not have been more magical & perfect; it has been imprinted in our memories forever!


I would like thank Ronan so much for his contribution to our special day. The support and time Ronan gave in the months before in choosing the music was greatly appreciated. Even when he didn't know one of the tunes, it didn't take him long to learn it and play it to perfection. I will never forget the moment I heard it standing in the porch with my dad waiting to make my entrance! Everyone commented on how beautiful the music was, a friend of mine even rang Ronan after the wedding to book him for her wedding next year. I can't wait for the DVD to arrive to listen to him again and again! I would certainly recommend Ronan to anyone not only for his musical talent but he is a true gentleman to deal with. Thanks so much Ronan it was perfect!


Hi Ronan, Thank you so much for playing so beautifully at the wedding, it was absolutely perfect in a way I dont even know how to describe. I really wish we had gotten the ceremony recorded so we could watch it all again and hear the music. Everbody enjoyed it and said how great it was to hear something different at a wedding. Take Care,


Hi Ronan, We are about to head away for a few days, but I had to mail and send
our sincerest thanks to you. The music was amazing, no exaggeration!
Everybody commented on it, and all said that they had never heard anything like it at a wedding. It was truly moving; I get a bit weepy thinking about it! The 2 Bridemaids commented how you seemed to be always smiling! Wishing you the best, and our deepest heartfelt thanks,


Thank you very much again for you wonderful Music! When we asked our son what he liked best on our wedding day - guess what - he didn't say: "the cake" (and consider the amount of choclate in it...!). Oh no, he said: "Ronan"! (and you probably know how much chocolate means to kids!). Kind regards - and hopefully we meet again!


Just a quick note to give praise to this guy, even though I didn't have him for my wedding as a friend of the family plays the uileann pipes I found ronan to be more than helpful in helping me with my music choice's for my wedding ceremony (wow) & listening to his pieces would love to have had him..
missy09


I can honestly say the most memorable aspect of our wedding ceremony was Ronan Browne playing his uilleann pipes. We originally hired a wedding coordinator who said our dream of having the pipes at our small castle wedding would not be possible since the pipes would be too loud for a small ceremony site. Well, I fired the coordinator and contacted Ronan. He confirmed that the uilleann pipes would work out perfectly and he was such a help with choosing the music that it took away all my stress. Ronan was such a joy. He worked well with the Priest (Fr. Molloy) and the photographer to make the ceremony run smoothly and perfectly. Our guests loved his music and his personality. He was so much fun and the best entertainer we could have imagined for our wedding. Instead of doing a lot of readings, we chose to have more music in the ceremony and it could not have been better. I still get an excited feeling when I think back to the point when I was walking up the castle steps to enter the ceremony room; the sound of Ronan's music floating down the castle steps was nothing less than magical. What more could a bride ask for on her wedding day than the feeling of magic in the air? I would highly recommend Ronan to anyone wanting a memorable musical experience on their wedding.


Ronan is fantastic, an absolute joy to deal with. He played at our wedding in December last and really added to the whole occasion. His music really made the ceremony something special. The church was magical and afterwards at the drinks reception he kept everyone entertained with his mix of tunes.

We would have no hesitation recommending Ronan to anyone. Guests of our wedding are still talking about him.

Ronan wasn't available for my wedding date however his help in finding another piper was second to none and I wouldn't hesitate to recommend him!


My wife and I hired Ronan Browne to play at our wedding reception in September 2007, along with Kathleen Loughnane on the harp.

Their performance on the night was nothing short of amazing. Both Ronan and Kathleen far exceeded our expectations, by not only commanding their highly expert music skills, but also in reaching the audience, instilling additional life and soul into the proceedings. Ronan and Kathleen created a magical and joyous atmosphere of celebration for the evening that had everyone dancing and touched the hearts of all there!

I cannot recommend Ronan Browne highly enough. If you like irish trad music, or just want something a bit different from the standard wedding band, Ronan's musical skill is a must to make your wedding truly special.