Blush - Nicola Walsh - Professional Make-up Artist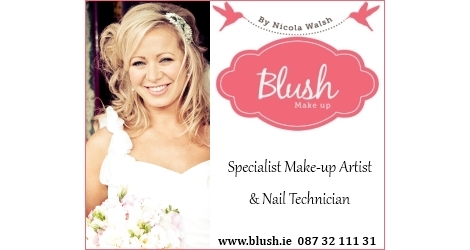 Supplier Details
Finalist Bridal Make-up Artist of the Year 2012
Make-up:
As a professional make-up artist, I believe in enhancing a bride's looks rather than changing what they look like for their special day. With this ethos in mind I aim to create a fresh natural look that is flawless and long lasting.
I also offer a full range of cosmetics, manufactured in the same factory as current leading brands. Blush offers all brides a top-up make-up pack of products used for their make-up on their wedding day for top up later on in the evening.
False Eyelashes:
Get the best look for you! I use a temporary false eyelash system which lasts up to 24hrs. This makes the look impressive for your wedding day, yet inexpensive. Depending on the make-up finish, lashes can be done on just the outer eyes for a slightly enhanced look, half way over the eyes for a fuller look, or over the full eye for a very elegant enhanced look. Various lengths are available and they are applied within minutes.
Nails:
Shellac nails - the ultimate bridal manicure - are ideal for brides on their wedding day and they last 2-3 weeks which makes them suitable for honeymoons too!
Polished nails - alternatively I can polish your nails in either a colour or a French Polish finish.
Please contact me on 087 32 111 31 for any further information or to make an appointment. View more information on my website www.blush.ie.
Testimonials
Just wish to say that I had a trial with Blush make-up, www.blush.ie and it was fabulous!
Nicola listened to what I had in mind and discussed the opstions with me. She gave me the look I was hoping for, only it looked so incredible.
She also offers Shellac Nails and Nail Polishing, so she'll be doing my bridal party.
I can HIGHLY recommend Nicola at Blush.