Michael Barry Chair Cover Hire/Chair Cover Express Ltd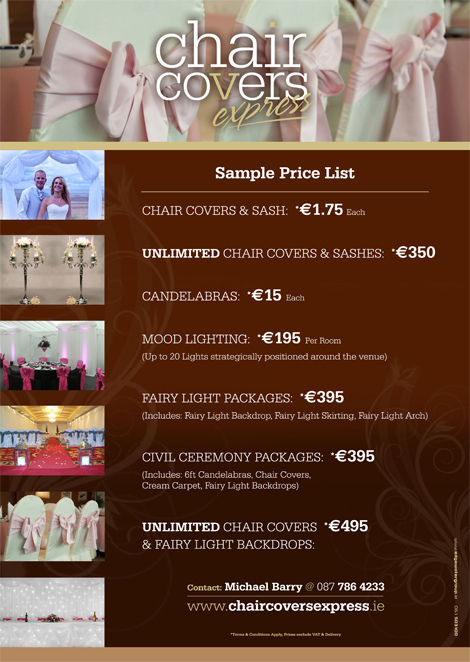 Supplier Details
Special Offer = Free FairyLight Arch with packages B&C & D - see www.chaircoversexpress.ie for details
Unlimited Chair  Covers only $350e  check out www.chaircoverexpress.ie
Moodlighting only 195e per room - upto 14/16 lights  check out www.chaircoversexpress.ie 
Fairylight Backdrop from 249e - check out www.chaircoversexpress.ie for availability 
New Fairylight Arch only 99e - check out www.chaircoversexpress.ie
Free Cake Table Skirt with Fairylight Top Table Skirt - 99e = check out www.chaircoversexpress.ie
New Crystal Candlebras - only 25e - check out www. chaircoversexpress.ie  for availability
Traditional Candlebras only 15e - check out www.chaircoversexpress.ie
Sash Hire - we also hire out sash only - at 99c each - we have over 40 different colours - ckeck out www.chaircoversexpress.ie  
Civil Ceremony packages available - check out www.chaircoversexpress.ie
key words : Chair covers - sash hire - fairylight backdrops - fairylight arch - fairylights skirts - candlebras - moodlighting - civil ceremony
**Special Offer All Chair Covers for a Set Price of €400 including sash, delivery & set up ***
Chair Cover hire for all receptions
We supply Chair Covers including ribbons (black, gold, white, pink, silver, ivory, navy, blue, purple, lilac, sage green, holly green, red, claret red) for your wedding reception. More ribbons available on demand.
All your chair covers (no limit) with sash and Fairy Light Back Drop (30ft x 12ft) €595
Also we hire Fairy Light Back Drop €249 and lovely camelon sashes only 99c each.
Candlebra hire from €19 each - contact Michael Barry www.chaircoversexpress.ie 087-7864233

From €1.99 per chair*, ex vat including organza sash of your choice (Gold/Black/White/ Ivory/Pink/Blue/Claret Red/Burgundy/Purple/ Choc Brown/Green/Silver).
*For over 200
Ask about our new Mood Lighting from €200 per room.
We are prefered supplier to Dundrum House Hotel, Ballygarry House Hotel, Kilmurray Lodge Hotel, Falls Hotel Ennistymon, and Castleoaks Hotel Castleconnell.
Keywords: chair covers Limerick, chair cover hire