Deirdre Langan Photography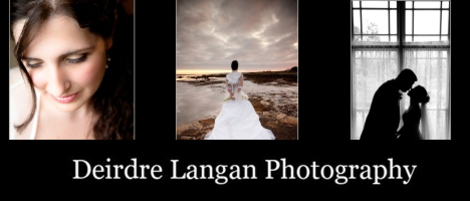 Associations
Supplier Details
I am a full time professional wedding photographer and member of the IPPA. I have been awarded my L.I.P.P.A and am a prize winning member of the Society of Wedding and Portrait Photographers & The British Professional Photographers Association (SWPP & BPPA).
So, what can I do for you?
Your wedding day will be one of the most joyous and memorable days of your life - and a celebration with family and friends.
On the big day, there will be plenty of people vying for your attention. With preparation carried out prior to the wedding day, I ensure that the photography will run smoothly, unobtrusively and with little fuss. It will take as little or as much time as the bride and groom desire. It is your day, not mine, so I listen to your requirements and suggestions so that you get the pictures you want ... and more.
But as the old adage says 'a picture paints a thousand words' so go and have a look at my photo galleries at www.deirdrelangan.com to see what I mean! And please email me at [email protected] or call me on 086 3861764 so that we can discuss your day.
---
Testimonials
Hi Deirdre, I just wanted to drop you a mail to say thanks so much for our wedding album. We are delighted by the beautiful product delivered and have received amazing comments from friends and family who have viewed it already. The parent albums are also stunning and our parents and grandmothers are delighted with their little surprise from Eugene and I. Thanks for all your hard work and FAB pics, I am so happy with everything and all our families have commented on how great you were on the day!! My dad didn't even realise you were taking so many pics!!. I will be recommending you to all my friends and will hopefully get an opportunity to work with you again.
-Ciara & Eugene Boyce
Oh my God!!! The photos are sooooooooooooooooo beautiful. We are all thrilled with them, Dara,myself, our families and all who are in the amazing pictures. I knew I loved your work and photo style the day I met you and your work didn't disappoint. (I knew that it wouldn't) The flaggy shore looks beautiful all of the colours etc....
-Grainne Canny
Deirdre, We are over the moon with our wedding photos and wanted to thank you so much. There are so many wonderful pictures to choose from. We also want to thank you for all your hard work that went into the day, your preparation was much appreciated and it definitely shows in the quality of the photos. All our family and friends have commented on how amazing the photos are and we feel very lucky and privileged to have you capture our special day. Your calm nature and efficiency made everything go very smoothly on the day and we will definitely be recommending you to others
-Sara and Gavin Duffy
THANK YOU so much for the photos, We are really, really pleased with them.
You have done an absolute fantastic job on all of them. I enjoyed looking at them and to be honest I was dreading the photos as I don't like cameras at all. I usually seem to make a face for the photos!!! I will be recommending you to my friends, whenever they tie the knot. You were worth every penny!
-Diane & Glyn Johnson
Wow! A huge WOW. We are IN AWE at how amazing your photos are! We are so happy, thank you so much for all of your hard work that day (and since!) I just wanted to tell you how thrilled my family and David and I were to see the photos today. We feel so lucky to have found you for our wedding.
-Christine and David Kilbride

Just a quick note to say thanks again for the amazing job you did on our wedding photos - they are FANTASTIC, even better than I could have asked for, you captured the whole day, thank you so much,everyone talking about them. Thanks.
-Roberta Holland.
What can I say. It is absolutely fabulous. The packaging and design of the album alone is so elegant and luxurious. We were impressed with that before we even looked at the photographs. The whole layout is beautiful. We were so happy with it. As I told you before, you did an absolutely wonderful job, so professional, calm, pleasant. You made it so easy for us on the day and I got the same comments from a lot of the guests. If I ever hear of anyone looking for an exceptional photographer for a special occasion, I will recommend you wholeheartedly!
-Martina & Richard Goard
Thank you so very much for the link and the chance to look at our photos. It's only been a few weeks since that day but so many things have happened since and it's lovely to be reminded again of how wonderful our day was. The photos are exquisite, words can't express how grateful we are, to you, for making our day truly memorable. Our sincerest thanks,
-Sue & Kim Quvang
Sorry it took us so long to get back to you, but we really loved your photos and had a terrible job eliminating so many photos. In fact, we would have loved to see all the photos in the album!! Looking forward to seeing the album. We know it will be fab.
-Tommy & Emer Lee
The photos are amazing! Thanks so much, you did a fantastic job.
-Amy & Oli Wragg