Soul Purpose – Soul Band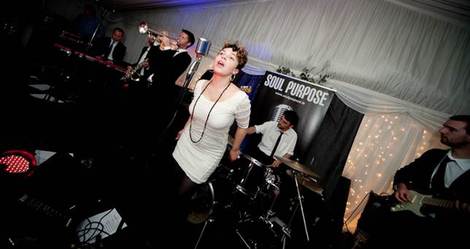 Supplier Details
Soul Purpose recreates the music of the best Soul performers of our time and has cultivated an esteemed reputation as one of the best Soul bands in the country. They have toured all over Ireland, gaining an almost religious following from their unforgettable wedding & club performances. In their travels they have headlined the prestigious Cork Jazz Festival at the Metropole, entertained at the stage premiere of Shawshank Redemption and played at numerous festivals throughout the country, converting all to The Groove in their path.
Fronted by Diva Jess Kavanagh, her dynamic performance has raised the bar for fellow cover bands. Still in her twenties, she has worked in the Dublin music scene since she was old enough to have attitude, and her engaging & energetic performance is something not to be missed! Backed by an A Team of Funk and Soul musicians, their unique mix of Soul classics and live Rare Groove will get everyone - from the most particular of groove devotee to the complete soul novice - up and doing their thing!
Soul Purpose is a Soul band that does weddings, not a wedding band that attempts Soul. Their genuine love of the genre shines through in their stage show. Your chances of tapping your feet conservatively throughout their set are slim to none. Prepare for some serious dancing and an exceptional night out. What more do you want? Go experience them soon!
While you're waiting, how about checking out their video at www.soulpurpose.ie.
Testimonials
Hi Gary, You were absolutely amazing. Perfect. Couldn't have been happier. Thank you for making the night!

Hello Gary, We're just back from our honeymoon this week. We're not sure what to say to you guys... Words fail us. We suppose that best compliment we can give you is that we know everyone who was at our wedding could not get over how exceptional the band was... put it this way, your performance that night is still being talked about and will be talked about for years. We were delighted to see all (and we mean, ALL) our guests up on the dance floor, there were people up there who by their own admission don't dance at weddings, yet there they were, going for it! Every song you played was note-perfect and we like to think you guys enjoyed it too. Our compliments especially to your lead singer - a lady. It was a true honour to have Soul Purpose be our wedding band. Thank you all.



Meath 09-10-2021

Every one of our guests were blown away by the high level of performance and professionalism you all showed. We have done a lot of parties in the last few years, but everyone agrees, this was the best yet! We'll never be able to top it and, again, this was down to you guys; so, from the heart, thank you.

Our feet were falling off from dancing so much. I have never seen a band play so professionally with that kind of audience appeal. Soul Purpose were the highlight of our Wedding Day.


A Stunning Performance! I highly recommend this group!


This band is electric, they really know how to work the crowd!